Schon vor einigen Wochen wurde Rancid als Headliner für das Groezrock 2016 bekanntgegeben. Nun sind für das Festivals die nächsten Bands bestätigt worden.
Auf dem Groezrock 2016 am 29. und 30. April werden spielen: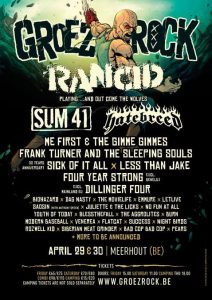 Sick Of It All, Biohazard, Youth of Today, Dag Nasty, Hatebreed, No Fun At All Official, Venerea, Letlive, Modern Baseball, Night Birds, Rozwell Kid, Pears, Bad Cop/Bad Cop, Success, Emmure, Siberian Meat Grinder, The Aggrolites, Less Than Jake, Blessthefall, Saosin, Sum 41, Four Year Strong, The Movielife, Dillinger Four, Flatcat, Me First And The Gimme Gimmes und Frank Turner.
Hier die offizielle Mitteilung vom Groezrock Festival:
Hello boys and girls,

We already announced that Rancid will be performing their classic album "…And Out Come the Wolves" in its entirety. But you want more names, right? Well, here they are:

Let's start with Sick Of It All who will be celebrating their 30th anniversary with us. They invited fellow New York hardcore legends Biohazard and Youth of Today (Ray, Porcell, Walter, Sammy) to party along with them.

Wait, still not enough legends for you people? Jeez, tough crowd.

But okay, progressive hardcore pioneers BURN are coming over for a gig. And Dag Nasty have reunited with their original vocalist Shawn Brown. You don't want to miss this!

Next up, the equally legendary Hatebreed with a new record via Nuclear Blast and Swedish skatepunk vikings No Fun At All Official and Venerea. Yes, vikings.

Now, seriously, re-read these names. This is a pretty awesome hardcore and punk rock history lesson, kiddos. And you'll get all of that musical wisdom over the course of just one weekend!

Now don't worry, it won't be all old farts and wrinkled kids on stage. We found some exciting new-ish acts too.

Like letlive. They're pretty awesome. As is Modern Baseball. And Night Birds, although they do sound like old farts, with their 80's style hardcore punk.

Rozwell Kid is releasing their SideOneDummy Records debut soon. PEARS – the band are the newest Fat Wreck Chords sensation. Bad Cop / Bad Cop completely won us over with "Not Sorry". And Success did their name justice when they released the near-perfect record "Radio Recovery".

A bit of recovering is exactly what you'll need after slam dancing to the über-brutal Emmure and Siberian Meat Grinder, a name that pretty much says it all.

You prefer to skank around the lush Groezrock meadow? We're happy to oblige, with the happy tunes of The Aggrolites and Less Than Jake.

Or maybe you just prefer to wipe away a tear while enjoying some emo tunes by Blessthefall and Saosin with Anthony Green.

Now, let's huddle up all close and cozy because we are going to talk exclusive shows here. You ready?

Sum 41 will be playing their first festival show in a long time at GROEZROCK. Four Year Strong is doing an exclusive Benelux show. And even more exclusive are the only shows on the European mainland by The Movielife (on this run) and none other than the mighty Dillinger Four!!!!!! WOW!!!

With all these amazing foreign bands, it's sometimes easy to forget that we have some solid punkrock acts in Belgium as well. No worries though, the guys in Flatcat will make sure you remember that little nugget of wisdom.

Maybe some of you are like 'well, that's all fine and dandy but I don't see no R. Kelly or Celine Dion on your list'! And you'd be right. We tried, but they weren't available. Which is why we booked all-star band Me First And The Gimme Gimmes instead.

Last, but certainly not least, we're having a friggin' movie star on our little fest this year: Juliette Lewis and the LICKS are back together.

How's that for an early Christmas present? Pretty solid, huh? And since you've been so nice this year and because we're so goddamn generous, we'll throw in one last name: Frank Turner and the SLEEPING SOULS.