Devil In Me legen im Januar mit On The Grind ihr erstes Album seit sieben langen Jahren vor. Bevor die erste Single aus dem Longplayer dann am Freitag überall digital erhältlich sein wird, freuen wir uns, euch schon heute die exklusive Videopremiere von War zu präsentieren. Hier das Musikvideo, dem ein Interview mit der Band folgt:
Länger war es ruhig um um die portugiesische Hardcore-Combo gewesen. 2019 veröffentlichte Devil In Me mit Celebration dann den ersten Song seit vier Jahren und spielte auch wieder einige Live-Shows. In diesem Jahr kündigten Devil In Me dann ihr erstes Album seit 2015 an, das dann am 14. Januar 2022 über ihrem neuem Label Dead Serious Recordings erscheinen wird.
Für die Band um Frontmann Apolinário "Poli" Correia geht es pünktlich zum Release dann auch auf große Europa-Tour mit Comeback Kid, Be Well und Scowl. Einiges los also bei Devil In Me. Grund für uns "Poli" einmal etwas auf den Zahn zum Bevorstehenden zu fühlen.
Interview mit Devil In Me-Sänger Apolinário "Poli" Correia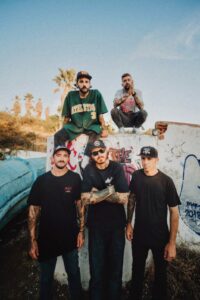 AFL: What is the new song War about?
Poli: War is about being around long enough to actually get to witness the truth being unfolded and foes getting caught in the mix. This is song is one of those songs that might come across as being a bit "thug" in a way but it is actually just the plain truth. It's inspired by stories that happened to us as Unit/band in our country scene over the years, after more than 15 years we're able to sing about it in way that is only possible due to our experience and existence as a band HxC "kids" throughout the years. We're still here despite every bump or War that now and then a fallen few tried to carro kn or start without success on their end. War is a statement.
AFL: On The Grind will be your first record after almost 7 years. What have changed in this time? Would you say there is some difference in the sound of your new record to the previous ones?
Poli: Yes, there's definitely some changes although we look at them more as evolution, we have a new guitar player who's a longtime friend and he did brought in a new flavor with his licks. We were always down and never afraid to try different approaches to our songs and sound as a Punk -Hardcore band and man, we had our share of experiments and try outs 'till the "The End " recordings, after that one i think we just naturally evolved to this sound that we have today ,i mean you could taste way more heavier and crossover riffs on "Soul Rebel" record and to be honest that one was the pusher for our new path sound wise, although we're actually ending up just having a more Roots approach I do believe that Devil In Me had to go through all this process along these years so we able to get to a point that we do understand ourselves as "HxC musicians" and we don't even know if that's a thing anyway, but that's the truth and we couldn't be more proud of it all.
AFL: How came the contact between you and your new label Dead Serious Recordings?
We've always knew each other's work and crossed paths a bunch of times in the past and to be honest it was pretty natural and chill from the first chat/idea until today, we're really happy so far and Label makes us feel like Fam, easy going and super respectful about our views and ideas, we believe that we will work for a long time together.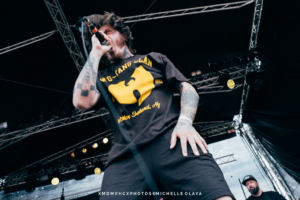 AFL: In the beginning of 2022 you will not just release your new full-length, you come also on tour in a very nice package. What comes you first in mind to the other bands you'll play with?
Poli: Aaaaah yes! Great line up, we're stoked to be a part of it. Comeback Kid and Devil In Me have a long lasting Bond and Friendship, they are a huge influence as well and one of the best to be on the road with we just love them.
With Be Well it will be our first time but we're really down with their music I mean…have you listen to the Weight and the Cost Album? It's so good! Can't wait to see them live and this is also how we feel about Scowl, we didn't knew about them 'till the day the tour was announced but I got really caught up on their sound, I'M sure it will be a sick tour.
AFL: Have you any last words or something to add?
Poli: We would like to thank you for the interview, Andy from Dead Serious, M.A.D and everyone's who's been supporting our music and giving us love! All the Best – Devil In Me
Comeback Kid, Be Well, Devil In Me & Scowl – Europa-Tour 2022
19.01.22 Germany Berlin @ Hole44
20.01.22 Germany Hannover @ Faust
21.01.22 Germany Bochum @ Matrix
22.01.22 Germany Karlsruhe @ Weisse Rose
23.01.22 Netherlands Utrecht @ Tivoli Pandora
24.01.22 UK Bristol @ Fleece
25.01.22 UK Birmingham @ Mama Roux
26.01.22 UK Leeds @ Key Club
27.01.22 UK Manchester @ Rebellion
28.01.22 UK London @ The Dome
29.01.22 Belgium Hasselt @ Muziekodroom
30.01.22 France Paris @ Gibus
31.01.22 Switzerland Wil @ Gare De Lion
01.02.22 Italy Milan @ Circolo Magnoilia
02.02.22 Germany Munich @ Backstage
03.02.22 Czech Rep Prague @ Futurum
04.02.22 Germany Leipzig @ Conne Island
Devil In Me – On The Grind (2022)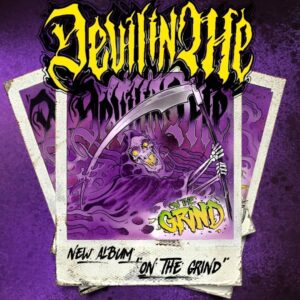 Will
Awake
In Loving Memory
DLT
War
Unchained
Never Give In
Glory
Links: