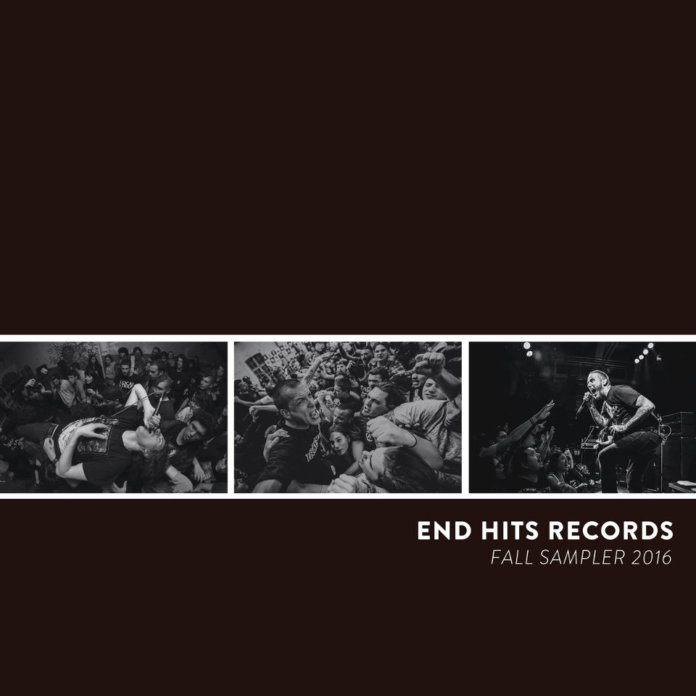 End Hits Records hat einen digitalen Sampler mit 15 Songs veröffentlicht. Das beste daran ist, dass der Sampler gratis auf Bandcamp heruntergeladen werden kann.
We like to think that End Hits Records is a label "by the people, for the people" and that all artists in our small family believe that we can create a better world together.
Dort vertreten sind 14 Bands, die das Label in der Vergangenheit veröffentlicht hat. So geben sich folgende Bands und Künslter die Ehre: Boysetsfire, Stick To Your Guns, Swain, Trade Wind, End Begins, Matze Rossi, Wolf Down, Great Collapse, Nathan Gray Collective, Funeral For A Friend, Supreme Ritual, Red Tape Parade und Bane.
BANE (Pic by xmdmxhcx photos)

We would like to hand out this Fall 2016 Sampler for free to all of you. Please download, share, enjoy and most imporantly – never give up!
Boysetsfire sind dabei gleich mit zwei Songs vertreten. Die Band veröffentlichte am 11. November ihre DVD-Box mit ganzen vier DVDs zu ihrem 20jährigen Jubiläum. Wir konnten im vergangen Jahr mit den End Hits Records Bands Bane, Wolf Down und Stick To Your Guns Interviews führen, welche ihr auf AWAY FROM LIFE nachlesen könnt.
Hier der Sampler:
Mit dem Laden des Inhalts akzeptierest du die Datenschutzerklärung von Bandcamp.
Mehr erfahren
Tracklist "Fall Sampler 2016" – End Hits Records
1. BOYSETSFIRE – Heaven Knows 03:53
2. STICK TO YOUR GUNS – Universal Language 02:51
3. SWAIN – Hold My Head 01:39
4. TRADE WIND – I Hope I Don't Wake Up 03:16
5. END BEGINS – Conformity Denied 03:34
6. MATZE ROSSI – Kein Zweifeln Und Bedauern 03:21
7. WOLF DOWN – True Deceivers 03:34
8. GREAT COLLAPSE – Break In Case Of Emergency 04:04
9. NATHAN GRAY – Wolves 05:25
10. FUNERAL FOR A FRIEND – All The Rage (Live) 04:08
11. SUPREME RITUAL – Cannibals In Eden 03:36
12. BANE – Calling Hours 04:59
13. FUNERAL FOR A FRIEND – 1% 03:43
14. RED TAPE PARADE – Leap Year Of Faith 02:29
15. BOYSETSFIRE – Torches To Paradise 04:19