Nun ist es raus! Dass die Street Dogs ein neues Album veröffentlichen werden, ist kein Geheimnis mehr – doch nun wurde nicht nur bekannt, wann das gute Teil erscheinen wird, sondern auch welchen Titel es trägt.
So wird die Punk-Rock Band aus Boston am 22. Juni 2018 Stand For Something or Die For Nothing über Century Media veröffentlichen. Der Nachfolger zu ihrem selbstbetitelten Album Street Dogs (2015) wird 11 neue Songs enthalten. Hier die Tracklist und das Cover zu Stand For Something or Die For Nothing.
Die erste Hörprobe soll in den kommenden Tagen folgen.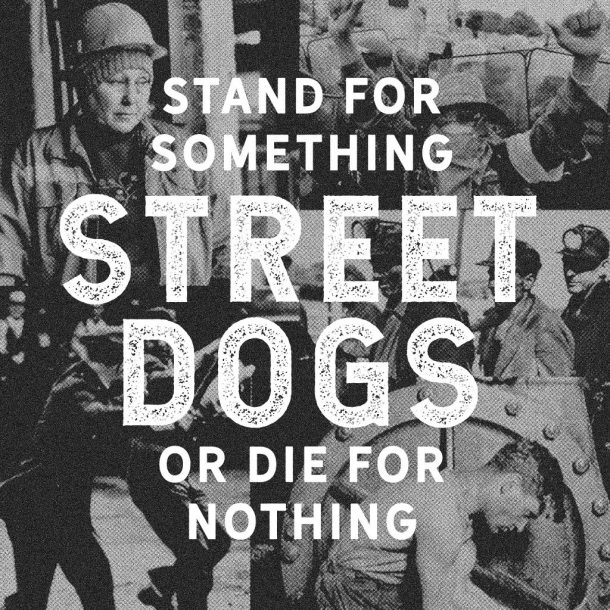 TRACKLIST
Stand For Something Or Die For Nothing
Other Ones
The Comeback Zone
Angels Calling (feat. Slain)
These Ain't The Old Days
Working Class Heroes
Lest We Forget
The Round Up
Mary On Believer Street
Never Above You, Never Below You
Torn And Frayed
"The dumbing down of America is a reason to write songs in 2018," vows Mike McColgan (vocals). "The theme is wake the f*ck up and the working class needs to unite across all colors, creeds, nationalities, genders and realize that we are being pitted against each other by snake oil salesmen and autocrats."

"Punk, to me, is people living how they want to not how they are told to," says McColgan. 'Stand For Something or Die For Nothing' expresses that ideal through songs like the title track that focuses on freedom of speech and "Working Class Heroes" that focuses upon living the American dream.
- Spotify-Playlist -
Auf der Suche nach neuen Hardcore-Bands? Dann check unsere Spotify-Playlist
New Hardcore Bands
: