Bane wird in ihrer Heimat Boston am 18ten Juni 2016 ihre letzte Show spielen. Davor stehen ab Ende März bis Mai über 30 weitere Shows quer durch den Staaten an. Mit dabei sind dort unter anderem folgende Bands:
Burn, Twitching Tongues, Down To Nothing, Axis, Expire, Give, Malfunction, Grade, Boysetsfire, Death By Stereo, Get The Shot.
Liest sich gut! Hier das Statement der Band:
Well, this is it and we knew it was coming. This will be BANES final final final and last tour. We got so lucky to be doing it with so many of our favorite bands and we hope you can all make it out to enjoy it with us…

DIFFERENT BANDS WILL BE ON DIFFERENT LEGS ANNOUNCED TOMORROW AND TICKETS WILL GO ON SALE FRIDAY AT 10am EASTERN TIMEZONE ALONG WITH ALL SHOW INFO. ❤❤❤❤❤❤

So much thanks to @noraanraad for designing the poster and doing so much for us in the design world over the years. We love you.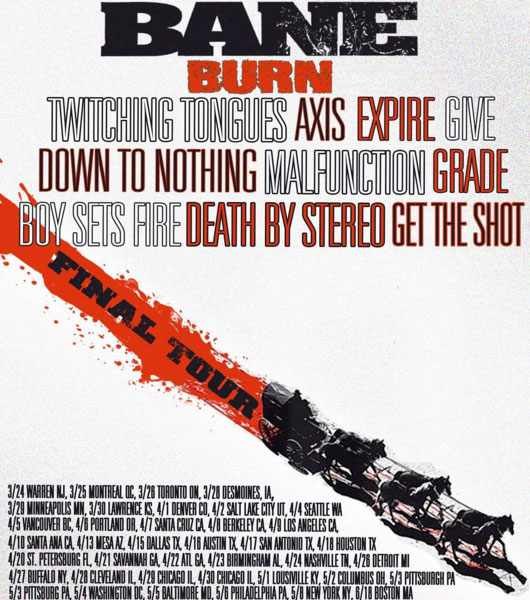 SUPPORT US

Wenn ihr cool findet, was wir machen und uns dabei etwas unterstützen möchtet, gönnt euch ein T-Shirt!