Die erste Show, die erste Platte und seine größten Einflüsse! Wir sprachen anlässlich der neuen EP Reflekt, die am 10. Januar 2020 über Demons Run Amok Entertainment erscheinen wird, und der bevorstehenden Persistence Tour mit Cutthroat-Sänger Neil Roemer über seine Hardcore-Punk-Roots und wie er zur Musik und Szene gekommen ist.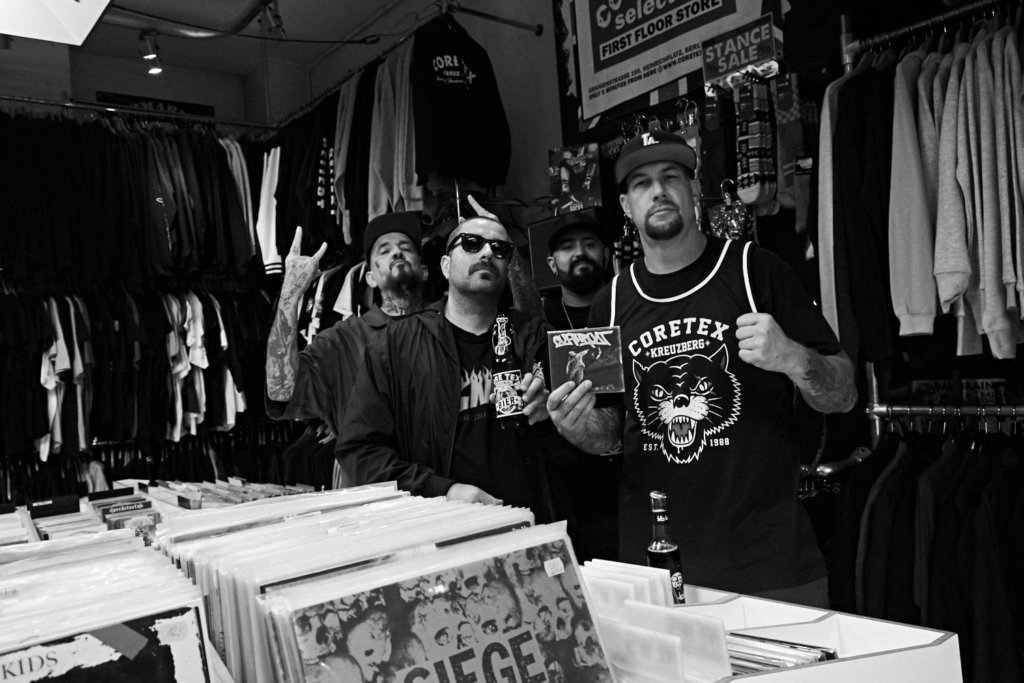 AFL: Do you remember the first hardcore / punk show you went to? Is the club still open today?
88 or 89 Suicidal Tendencies and Excel at the Reseda country club. The County Club has been shut down for like 15-20 years now.
AFL: What is your all-time favorite club or location?
SO36 BERLIN.
AFL: Do you remember the first hardcore / punk record you got?
Suicidal Tendencies.
AFL: In your opinion what is the perfect hardcore show?
This year's persistence line up!
AFL: What is your all-time favorite show you've played?
That is yet to come. But Rock Al Parque in Bogotá Columbia was pretty dope.
AFL: Is there a show you missed in the past that still makes you angry that you could not be there?
I'm too stoned to remember haha. There was a local band called "Snot" they were playing with System of a Down back in day. I flaked on the show because a girl I had just broke up with was going. Unfortunately, the singer had passed away before I got to see them play. Rest in peace Lynn Strait.
AFL: What band would you like to see again?
Downset.
AFL: Is there a person who has influenced you especially in hardcore / punk?
Billy Graziadei.
AFL: What are your top 3 hardcore-punk front men/women?
Lynn Strait (Snot)
Freddy Madball (Madball)
Thiago Monstrinho (ex-Worst, F*cking Violence)
AFL: What is in your opinion the most underrated hardcore-punk band?
Excel.
AFL: Are there some newer bands you could mention?
Easy Money, Fucking Violence, Street Solider, Smokebomb, Coldstare are some bad ass bands to look out for.
Cutthroat werden am 10. Januar 2020 ihre neue EP Reflekt über Demons Run Amok Entertainment veröffentlichen.
Persistence Tour 2020
15.01.20 Hamburg – Grosse Freiheit 36 (Germany)
16.01.20 Wiesbaden – Schlachthof (Germany)
17.01.20 Wroclaw – A2 (Poland)
18.01.20 Dresden – Eventwerk (Germany)
19.01.20 Brussels – Ancienne Belgique (Belgium) NEW
20.01.20 Zurich – X-Tra (Switzerland)
21.01.20 Munich – Backstage Werk (Germany)
22.01.20 Brno – SONO (Czech Republic)
23.01.20 Berlin – Astra (Germany)
24.01.20 Würzburg – Posthalle (Germany)
25.01.20 Oberhausen – Turbinenhalle (Germany)
26.01.20 London – O2 Forum Kentish Town (United Kingdom)
SUPPORT US

Wenn ihr cool findet, was wir machen und uns dabei etwas unterstützen möchtet, gönnt euch ein T-Shirt!