Terror hat mit Kill 'Em Off die erste Hörprobe von ihrer neuen EP The Walls Will Fall im Form eines Viedos veröffentlicht. The Walls Will Fall wird am 28. April auf Pure Noise und Triple B Records erscheinen und enthält neben vier neuen Songs auch ein Cover von Madball.
So wird Terror den Madball Klassiker Step To You zum Besten gegeben, der ursprünglich 1992 auf der EP Droppin' Many Suckers erschienen ist. Die komplette Tracklist und das Video findet ihr am Ende des Beitrags.
Terror Frontmann Scott Vogel zur neuen EP:
"It feels good to have some new music coming out. We thought this song would be right to release first, as the energy and vibe sums up this EP. Terror is always going to be Terror, and we're proud to be consistent and on point with our sound. But still we are always trying to push and make sure the urgency and reality is always in everything we do
The Walls Will Fall ist der Nachfolger von dem Studioalbum The 25th Hour, das im Sommer 2015 erschienen ist.
Noch vor dem Release wird uns die Band gemeinsam mit Higher Power und Born From Pain einen Besuch abstatteten. Hier die Dates:
11.04. – Nürnberg – Z-Bau
12.04. – Osnabrück – Bastard Club
13.04. – Karlsruhe – Die Stadtmitte
14.04. – Hasselt (BE) – Music-O-Drom
15.04. – Hannover – Faust
16.04. – Bochum – Bahnhof Langendreer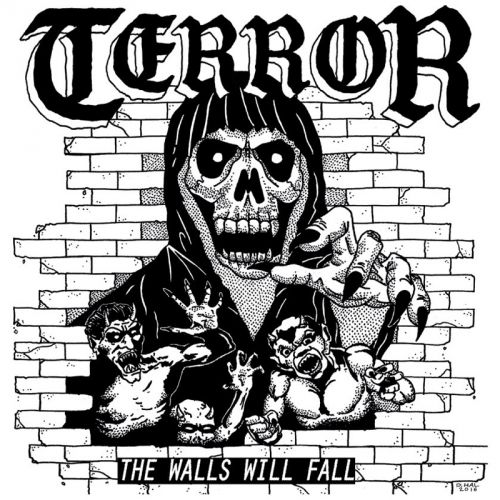 Terror – The Walls Will Fall
Band: Terror
Titel: The Walls Will Fall
Format: EP
Release: 28. April 2017
Label: Triple B / Pure Noise
Tracklist:
1. Balance The Odds
2. Kill'Em All
3. The Walls Will Fall
4. No Love Lost
5. Step To You (Madball Cover)