Am 23. August 2019 werden Knocked Loose ihr neues Album A Different Shade Of Blue (Review) über Pure Noise Records veröffentlichen und mit genau diesem im Gepäck geht es dann auch zum Ende des Jahres auf Tour.
Dieses tun sie aber nicht alleine, denn sie haben noch Renounced mit dabei, die am 27. September 2019 ihr neues Album Beauty Is A Destructive Angel über Holy Roar Records veröffentlichen werden und somit ist es quasi eine doppelte Release-Tour.
Damit aber nicht genug, denn ebenfalls dabei sind die Sheffielder Riffmonster Malevolence und die Australier von Justice For the Damned.
A Different Shade Of Blue wurde im vergangenen Winter von Will Putney (Every Time I Die, Thy Art Is Murder) in den Graphic Nature Audio Studios in Belleville in New Jersey aufgenommen und stellt das dritte Studioalbum der Hardcore-Band aus Kentucky dar.
Knocked Loose – A Different Shade Of Blue Release-Tour 2019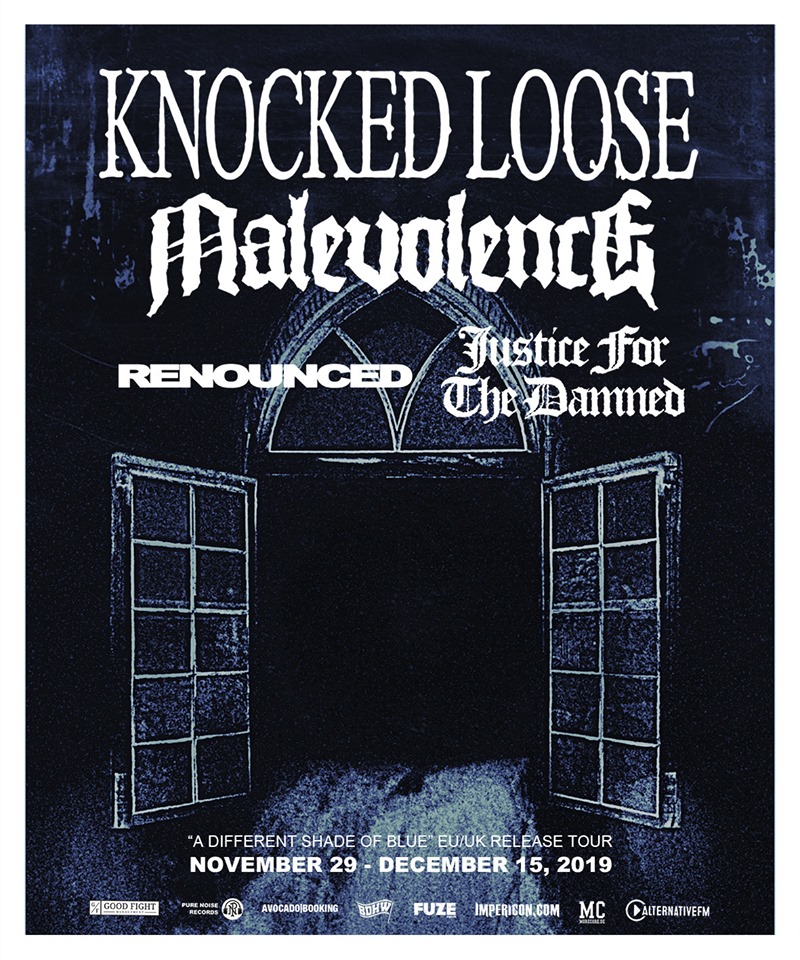 29.11.19  Germany – Bochum – Matrix
30.11.19 Belgium – Antwerp – Zappa (NO Malevolence)
01.12.19 UK – London – ULU
02.12.19 UK – Manchester – Rebellion
03.12.19 UK – Bristol – The Fleece
04.12.19 UK – Birmingham – The Mill
05.12.19 UK – Glasgow – Classic Grand
06.12.19 UK – Leeds – Stylus
07.12.19 Netherlands – Dordrecht – Bibelot
08.12.19 Germany – Hamburg – Logo
09.12.19 Sweden – Stockholm – Slaktkyrkan
10.12.19 Denmark – Copenhagen – Vega
11.12.19 Germany – Dresden – Chemiefabrik
12.12.19 Germany – Berlin – SO36
13.12.19 Austria – Vienna – Flex Café
14.12.19 Italy – Venezia – CS Rivolta
15.12.19 Germany – München – Hansa 39