Nachdem schon länger ein neues Album in Aussicht gestellt wurde, ist die Katze nun aus dem Sack. So werden Napalm Death am 18. September 2020 ein neues Album mit dem Titel Throes Of Joy In The Jaws Of Defeatism veröffentlichen. Der Nachfolger von Apex Predator – Easy Meat (2015) wird erneut über Century Media erscheinen.
Aufgenommen wurde das Album einmal mehr vom britischen Produzenten Russ Russell. Das Artwork, das ihr am Ende des Beitrags findet, stammt aus der Feder von Frode Sylthe. Neben den Cover-Artwork präsentiert uns die Grindcore-Legende auch die 12 Song starke Tracklist. Eine erste Single soll dann zum Start des Vorverkaufs am 24. Juli folgen.
Napalm Death-Sänger Mark "Barney" Greenway zu Throes Of Joy In The Jaws Of Defeatism:
"The phrase sticking in my mind when I started thinking about the lyrical direction for this album was 'the other.' You could recognise at the time that there was a rapidly growing fear and paranoia being generated about everybody, from migrating people to people with fluid sexuality and this was starting to manifest itself in very antagonistic reactions that you felt were almost verging on violence. Not everybody resorts to such reactions of course, but even the basic lack of understanding can become toxic over time. I'm not saying that this is an entirely new phenomenon, but it has been stoked in recent history by some particularly attack-minded people in more political circles and, as ever, I felt that it would be the natural antidote to endorse basic humanity and solidarity with all.

The artwork specifically uses a white dove as a centrepiece, which of course is a commonly recognised symbol of peace and cooperation. The dove has been mauled very violently by a sterilising hand and in death appears particularly broken and bloodied. However, through the violence you can see an equality symbol in blood on the chest of the dove, which perhaps demonstrates – visually at least – that equality cuts through in the end. A positive amidst many negatives then, much like the album title itself being a bit of an oxymoron – the celebration of humanity even in the mangling jaws of negativity."
Napalm Death veröffentlichten erst im Februar mit Logic Ravaged ihren ersten neuen Song seit vier Jahren. Der Track stammt von einer Single namens Logic Ravaged By Brute Force, die zusätzlich ein Cover des Sonic Youths Klassikers White Kross enthält.
Napalm Death – Throes Of Joy In The Jaws Of Defeatism (Century Media, 2020)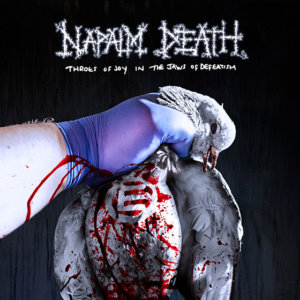 F**k the Factoid
Backlash Just Because
That Curse of Being in Thrall
Contagion
Joie De Ne Pas Vivre
Invigorating Clutch
Zero Gravitas Chamber
Fluxing of the Muscle
Amoral
Throes of Joy in the Jaws of Defeatism
Acting in Gouged Faith
A Bellyful of Salt and Spleen