Das legendäre Punk & Disorderly Indoor-Festival in Berlin wird 2018 vom 20. bis 22. April stattfinden. Einmal mehr gibt es für die Freunde Streetpunk, Ska und Oi! Liebhaber ein Line-Up, das sich sehen lassen kann.
Nachdem bereits vor einigen Wochen The Boys, The Exploited, Angelic Upstarts, Varukers, Mark Foggo's Skasters, Channel 3, Maid Of Ace, Chron Gen, Los Fastidios, Gumbels und Arrested Denial bestätigt wurden, gibt es nun Nachschlag.
So werden auf dem Punk & Disorderly 2018 außerdem Rawside, Bishops Green, Total Chaos, Urban Rejects und CRIM auftreten.
Update 06. Januar 2018: Neu mit dabei Peter And The Test Tube Babies und Grade 2.
Update 10. März 2018: Das Line-Up komplettieren werden This Means War, High Society, Bovver 96 und Piraenpabst.
Wochenendtickets gibt es bereits für 50 Euro auf Madtix.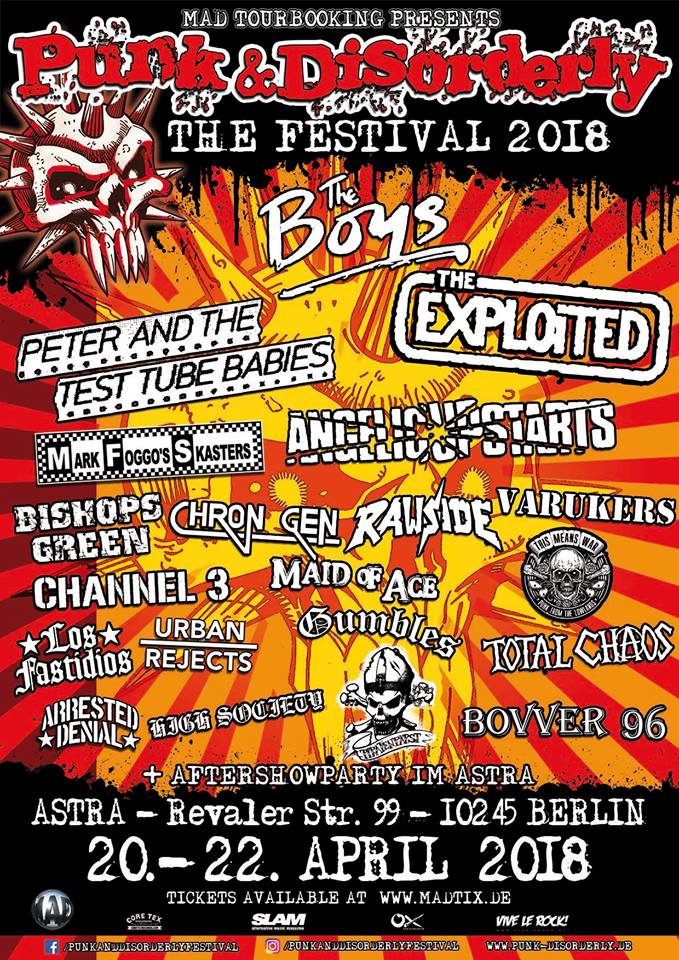 - Spotify-Playlist -
Auf der Suche nach neuen Hardcore-Bands? Dann check unsere Spotify-Playlist
New Hardcore Bands
: