Talco just releases a further new song of their upcoming new album Silent Town which will be released on 6th November. We had the chance to make an interview with the Italian Ska-Punk pioneers about the new album, the upcoming German tour, the punk scene in Italy and many more things.
Hey Guys! How are you doing? You'll release your new album Silent Town on 6th November. What can the listeners expect on it?
Dema (Singer of Talco): Hi!!! Well, a punkchanka Talco album! In my opinion this could be our best album. For me it's difficult to say, because writing all songs of Talco by myself, I'm critical with my work, but I'm really proud about these new songs. With "10 years" tour we closed our first period of career, growing up with a music style that mixes punk, hardcore, ska, Italian folk, klezmer, and Balkan style…it was just time to start again, trying to make our punkchanka more complete.
AFL: Is there any difference between Silent Town and your last releases?
Dema: For this time the idea was taking all the main characteristics of our past albums, and bringing them in Silent Town with a more mature attitude. So we tried to take again the energy of Combat Circus, the folk influences of Mazel Tov, Italian songwriting lyrics like on La Cretina Commedia, and melodies of Gran Gala. Every album is a step, a mix between thing to experiment and to recover. Silent town is exactly so.
AFL: Which themes you're threated on your new albm? Maybe you can introduce every song short?
Dema: It's a concept album, inspired by a book that I was writing just for fun. As on La Cretina Commedia and Gran Gala we talk about topics we don`t like so much but put them into a story. And so with this story and with metaphors we close a trilogy.
The first song, IL TEMPO, introduces us to the story, with a shipwrecked company and an old crazy lady coming in front of a strange forgiven city called Silent town.
NEVERDAD talks metaphorically about consequences and ignorance of new populist waves.
EL SOMBRA is a typical guy of new generation, that ruins culture with fashion, appearance, and uses citation just to appear "cultural" and pretend being cultivated.
NEL VARIETÀ is dedicated to trash television that uses moralism just to earn money.
ROTOLANDO is a typical Talco klezmer punk instrumental song. The song which gives the title of the album.
SILENT TOWN talks about a dream of the old lady, where (while she wants to stay to this strange city) someone brings her away: it's dedicated to Italian history, that cyclically looses his way, and ruins its culture.
And we talk about death on VIA DA QUI, death of a famous guy that fought for right things in his life, against the degeneration of our country. Death: the only thing that seems to awake consciences here in Italy, but just for a few times…
INTERMONDO in fact talks about the confusion of a country that doesn't understand why it came into this static situation, without culture, morality and historical roots.
DALLA PALLIDA MIRO' describes metaphorically one of the worst tragedies of last years: the death of Federico Aldrovandi, killed by police without any reason.
On the opposite, NELLA STRADA talks about the best side of Italy, in this case the song is dedicated to a street anti-globalist priest, very far from religious institutions, who founded a community for giving a second opportunity to drug addicts.
OVUNQUE is about a virtual conversation between the old lady (Italy) and a partisan.
And at the end MALANDÌA talks about us and our life far from our home, where music business ruined culture and killed the musical scene.
AFL: You plan to release a book soon. Can you tell us a little more about it?
Dema: Yeah, as I told you before, I'm writing it just for fun. Well it's like a puzzle, I don't really know if the album is inspired by the book, or the book inspired by the album. Maybe the first one, because a story is more comprehensible if you read a book, but I'm sure that everything will explain something more and important for understanding its topic.
Because I started from the same idea, the same story, then every project is part of the story, the album, the, book, the booklet. But I didn't write a book with an idea of creating a world, but just for fun, everything happened without any planning. I simply like to write and I had the opportunity of doing it, I'm not sure of being able to write a book, but now I'm happy of my decision, because i learned how to satisfy all my passion without thinking about if I'm able to do something or not. So here I am, I'm finishing to write a book called Silent town. ahahah.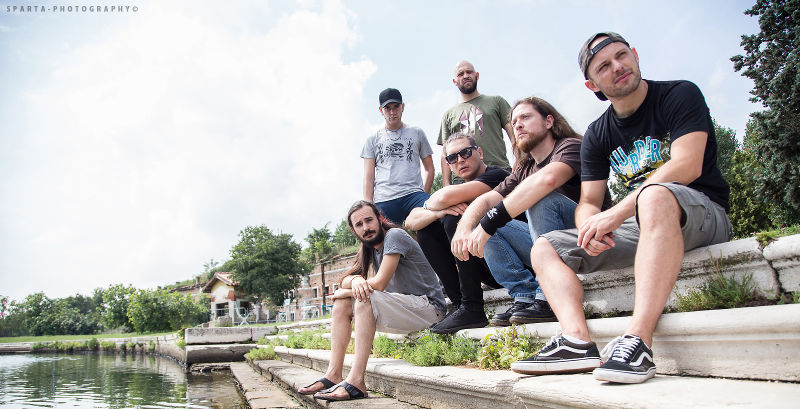 AFL: You announce a tour for 2016 for a few days. How came it that The Prosecution will support you for this time?
Dema: Our manager David of HFMN together with our booker MUTTI proposed us The Prosecution, and we were happy about it, they play very well, and their song are full of energy. We like their music and hope it will be a good collaboration, and not the last!!!!!!
AFL: How do you spend generally life on tour. The classic things like eating, drinking, sleeping and driving to the next club to play a show or some special things?
Dema: Playing so much gigs during all the years gives us only very few moments of relaxation, so we try to use all these free moments for watching a movie, reading, walking….the rest, we are on tour so eating, sleeping, driving, eating, driving, eating, playing, eating, and……eating!!!!!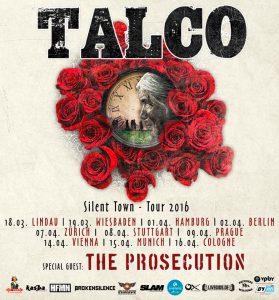 AFL: Talco was always a quite political band. Which current political things are important for you and what you're personal thinking about it?
Dema: Yeah, sure we like to talk about politics even if I prefer to consider Talco as a punkchanka band. We play music first of all. Then, talking about politics is normal for us, because politics are around us, even if we vote or decide not to vote, we're part of a society the same. But there is one thing of that we are afraid, that playing political songs could confound talking with teaching something. And we really don't hope that people think about us like populist or guys who wanna teach politics to people: we wanna play music and talk about what we think it's important for us.
About a current subject, oh, difficult: just to simplify I can say that we're leftist, and not tied with ideologies; I think that the best way for having a complete idea of politics is taking all the topics and thinking about them, discussing, and being tied not on an ideology, but on an ideal….and that ideal for us for sure is close to leftist and libertarian..
AFL: Can you tell us something about the punk and hardcore scene in Italy or about Venice?
Dema: There's a wonderful Hardcore-scene in Venice, I play guitar in a trash-core band called Danny Trejo, and I have much fun. Here there are very good Hardcore-collectives like Trivel and Venezia HC, who are working a lot since many years with the best result for the whole Italian Hardcorescene. The festival of Venezia HC became a must for people who like this kind of music.
But for punk we aren't living in the same situation: in the '90 too much attention from media and some stupid fucking promoters ruined the real spirit of punk music, with business, and always the same bands, and created a mafia system that killed the independent music in Italy. Yeah, we can share guilt between business, promoters, and some band….but punk scene in Italy now is very bad.
AFL: What are you doing beside of making music with Talco. do you have steady jobs? What are you making in your spare time?
Dema: Our first project is to play with Talco, for the rest of the time we have only such jobs, that allow us playing and working with Talco without any problem. It isn't easy, but when you believe on a project, everything gets easier.
AFL: What are your favorite bands at the moment? Do you have any all-time favorite record?
Dema: At the moment my favorite band is Iron Maiden, the same reply as 10 years ago ahaha. But there are many many bands I really love, maybe difference between each other, but all these bands recorded at least an album that I love, like Mano Negra, Fabrizio De Andrè, Nofx, Pantera, Metallica, Queen, Iron Maiden, Municipal Waste, Good Riddance, Lagwagon, and many others.
AFL: Thanks for taking time guys! I'm looking forward your new album and the upcoming tour next year. Have you any last words?
Dema: Thank you for the interview, I hope that people will like Silent Town, and promise that we'll work always so much for thanking them for their support!!!