Cutthroat haben Anfang des Jahres ihre neue EP namens Reflekt über Demons Run Amok Entertainment veröffentlicht und waren im Zuge des Releases auf große Europa-Tour unterwegs. Dort begleitete die Hardcore-Crossover-Band aus Los Angeles im Rahmen der Persistence Tour 2020 niemand geringeren als Gorilla Biscuits, Agnostic Front, H2O und viele mehr.
Wir nahmen das Release zum Anlass Cutthroat-Sänger und -Gründer Neil Roemer seine zehn Lieblingsplatten in unseren 10 Records Worth To Die For vorstellen zu lassen – und ab dafür!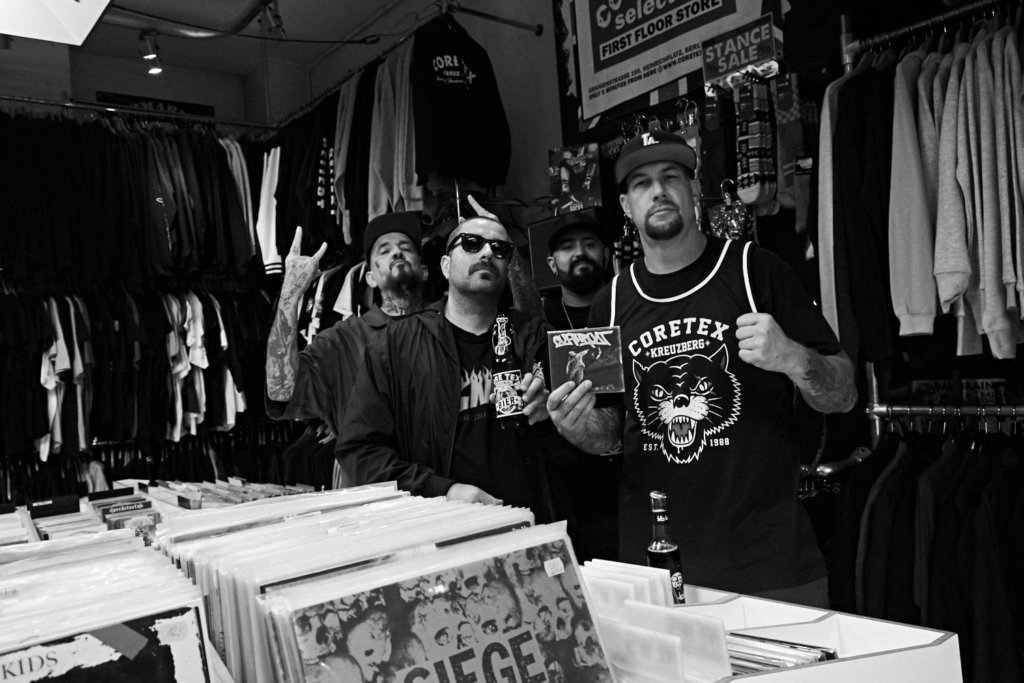 Weitere 10 Records Worth To Die For »
When Downset came out it changed my perspective of what I liked in music. After I saw a Downset show at the "Whisky" I stared my first band. "Ghetto Box". I was making rap tunes before that. Downset was that local underground band that blew up!
2
Biohazard "Urban Discipline"
Another band that I instantly got into. Because "Shades Of Grey" might be the best hardcore song ever. That rap hardcore was my thing because I was so heavily influenced by hip hop.
3
Agnostic Front "Warriors"
I'm a fan of all of AF. But for some reason I leaned on "Warriors" at a certain time in my life. So it has a personal connection for me.
4
Suicidal Tendencies "Suicidal Tendencies"
Straight out of the west coast. Venice Beach, California. Skateboarding and listening to Suicidal was my a big part of my youth. This was the tape I fought my homie over. I thought he stole it so I got in his face. He pushed me, I got him in a head lock… Turns out I had that shit the whole time in my jimmyZ shorts. Haha fuck!
5
Madball "Demonstrating My Style"
After Downset came out I heard about Madball from New York. I think it was like 1998 I got my hands on this record. That was about the time I was really discovering hardcore. Although, I still think "heavenhell" is still the hardest Madball song. I can't help but to go ape shit when they play it.
I met Fernando Schaeffer the drummer in Ieper Belgium when I was touring with Downset. Then he was in Los Angeles recording for POWERFLO we did the first cutthroat record together. We went on our first tour with "worst" in Brazil. Between the singer Thiago Monstrinho and Fernando, I was blown away and inspired by the band they built. Still great friends with all the members of that band.
7
Pantera "Vulgar Display of Power"
Oh Shit. When this record came out I learned that I like heavy fucking music. I was in 9th grade and fell in love with something more than hip hop!
This is an album that I will never get sick of. Probably one of the most underrated bands of all time. Coming out of Venice Beach California in the same suicidal tendencies era. The riffs and lyrics are just to dope.
9
NWA "Straight Outa Compton"
I know it's rap but these are some hardcore mother fuckers. I was like 11 or 12 years old yelling "fuck the police". I know every N.W.A. song ever released by heart.
The reason I started rapping when I was like 10 years old. Something about the story's Ice told spoke to me. He practically taught me how to talk like a Straight up fucking pimp. Haha!
Weitere 10 Records Worth To Die For »
Cutthroat haben am 10. Januar 2020 ihre neue EP Reflekt über Demons Run Amok Entertainment veröffentlicht.