So schnell geht es. Gerade gestartet, ist schon der erste kleine Meilenstein dieser Interviews erreicht. Und was das für Einer ist. Schließlich hat sich ein ganz Großer und Bekannter zu mir verirrt und sich fünf zufällige Kärtchen ausgesucht. Also dann, weiter geht es mit 5 Sho(r)ts, dem Interview, bei dem keiner weiß, was letzten Endes gefragt wird.
#10: Eric Melvin (NOFX)
Soll ich überhaupt noch ein Wort über NOFX verlieren? Ist das echt noch nötig, nach bald 40 Jahren Bandhistorie? Eric Melvin ist Gitarrist dieser Legenden und der Schreier neben dem Fat Mike (schaut das Video am Ende des Beitrags). Außerdem ist er leidenschaftlicher DJ und in dieser Funktion ist er mir auf dem SBÄM Fest 4 in Linz unter gekommen. Unfassbar nett, bodenständig und einfach sehr sympathisch hat er sich zu mir gesetzt, sich Karten gepickt und nun lest ihr, was dabei raus gekommen ist. Viel Spaß mit Eric Melvin.
1
Kategorie "FUN": The best female singer in the world is and what is her best song?
Eric: You know what? I'm not gonna put too much thought in it and say: Wendy O. Williams from The Plasmatics is the best female singer in the world. I think her style is cool, what she did for women in rock is pretty cool. My favorite song of them is Sex Junkie. They had a lot of great songs but that´s just classic, awesome, so cool. And you know, they were bridging genres and crossing over punk and metal and you know, they were a band of many genders and that´s a really cool thing.
2
Kategorie "SERIOUS": War is…
Eric: Fuck man, war is… War is just fucked or just sucks. War is hell. War is awful. I think war is a tool that politicians use to to take more advantage for themselves and at the espense of the people. And often people who have the power find ways to make people believe, that the people they´re fighting deserve to be killed. And sometimes they don´t even bother or make up some other reason, like USA did in Iraq. Again, I´m just thinking from the top of my head and I´m not going too deep with this, cause it´s a very deep question. It just sucks. I feel like the people of the planet are just being fucked over by governments. More on some countries, less so on other countries. Some are fucked over by corporations… fuck…it sucks. The serious one takes a lot of swearing.
3
Kategorie "MUSIC": Do you have a favorite venue to play at?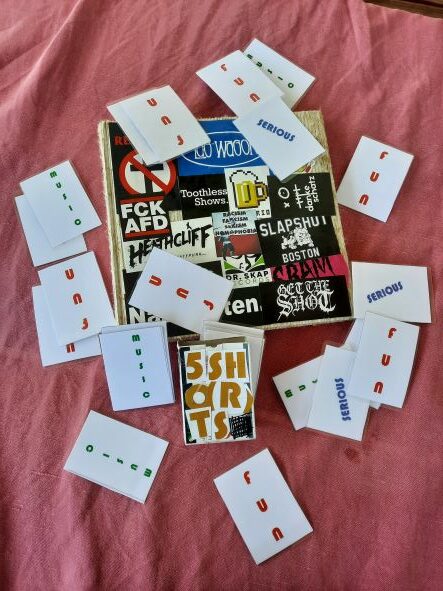 5 Shots Bild
Eric: wow. That´s a really hard one. I played so many places. I´m gonna have to say I don´t have a favorite venue to play. I´ve been to so many great places and played for so many great crowds, so many grteat venues. And the venues they have great staff, great people working and the environment. I like the outdoor venues. I prefer them a little bit. Just over the last few years I´ve really come to like something out with forrest and stuff. I did remember, what is floating my mind right now is Roskilde in Denmark about 30 years ago or something. You know, we played in a tent, a stage in a tent and it was awesome. And then afterwards we just went around for the rest of the night like walking from tent to tent. The sun never quite went down or did but it was never really dark. And there were people everywhere and doing just little campfire everywhere. It was such a cool experience. That was interesting. I guess I might call this my favorite venue and it was 30 years ago.
4
Kategorie "SERIOUS": In my opinion every band should have a clear political standing. Would you tell me yours?
Eric: I´ll try. My political standing I think is still being developed. It´s definitely from when I was younger. More accepting of others, understanding others. It´s a hard thing to do if it comes to real extremists like nazis or extremist fractions of all religions. Even Judaism. (Eric is Jewish: fyi) I´ve experienced the rudeness of orthodox men to non-jewish women and I don´t see how that is bringing them closer to god. I think understanding, if it´s a political standing, and trying to connect is mine. No matter what it is. We can connect. You don´t have to argue on anything, maybe just drink a beer or go to the library. Whatever it takes, there must be something one and another can connect.
5
Kategorie "FUN": I you were a movie, which one would it be and why?
Eric: I don´t know why but Fast times at Richmond High (Ich glaub ich steh im Wald) comes to mind. But I don´t know why exactly. My life seems to be like, I try to get things done, try to give myself goals. I find sometimes things come, when they come. The moral of the movie is like just be happy, don´t stress yourself out. You´re not always getting what you want. Hopefully the universe provides you with what you need and when you need it. And if not, you figure something out. I don´t know if there´s a movie about that but somehow Fast times at Richmond High comes to my mind.