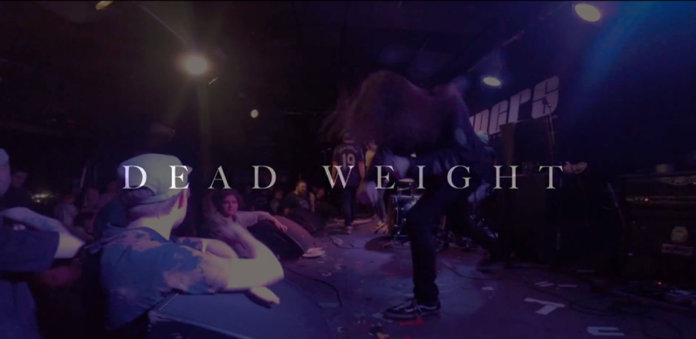 AFL: Hey Guys! How are you? Firstly thank you for taking time for an interview. Please introduce short yourself. Since when do you make music together? How many members you are and so on?
Hey! We're all good, thanks for having us! We're Dead Weight and we're a metallic hardcore band from St Albans, UK. We started practicing together at the end of 2010 and started playing shows in early 2011; there are currently 5 of us in the band.
AFL: Which bands and music do you count to your influences and how would you describe you music? Which three words fit best to DEAD WEIGHT?
We listen to loads of different stuff, sonically we're influenced mainly by bands like Bad Seed, Entombed and Machine Head but we try not to sound too much like anyone in particular. I'd describe our music as metal influenced heavy hardcore that very much crosses the boundaries between metal and hardcore. If I were to describe Dead Weight in three words I would say: RIFFS, RIFFS, RIFFS!
AFL: Where else does the band usually get its inspiration from? Which themes you're treaded in your songs?
Lyrically our songs have become more serious than they used to be, as we've grown as a band I think it was necessary for the lyrics to grow more serious, the lyrics on Victim of Deceit are about life and I think that makes them a lot more relatable.
AFL: You release a summer the EP VICTIM OF DECEIT. How was the feedback about the five songs so far? And do you plan a full length the following month?
We've had good feedback so far, we intended for the EP to flow and not feel like just a collection of songs and I feel like people who have listened have appreciated and noticed that. We'd love to do a full length in the future; we're recording 3 new tracks in July that we're really excited about, maybe they'll feature on a full length one day.
AFL: You playing a big European mainland tour in May and June. What are you looking forward most?
Hanging out all day in cities we haven't visited before and playing to people we've never played to before every night. It's a great opportunity for us to get out to an audience we haven't played to and to be able to do it while watching HARDSIDE every night is going to be a great experience.
AFL: The trip will be together with HARDSIDE and BORN LOW from the states. How came the contact to these bands and how grew the plan to play the tour together?
We were contacted by Stateless Society about playing the tour as they were looking for a band to take over from Born Low when they head back to the states; Redbeards Revolt Records put Stateless Society after doing the tape version of Victim of Deceit last year.
AFL: What personally means hardcore to you?
Hardcore is definitely something more than music, it's something to live by and be part of and it's a great thing to experience whilst growing up. I'm very glad I've had the chance to experience it and enjoy it when it passes a lot of people by very easily.
AFL: Here are some tags. What do you think about it?
FC Bayern München: Ridiculous team genuinely thought they'd win the champions league this year but there's no shame in being torn apart by Lionel Messi!
Straight Edge: A great thing to be a part of, even if I personally am not straight edge I appreciate the importance of it in many people's lives and in the hardcore scene as a whole, it's a positive thing in my eyes.
Religion: To each their own, if you dig it that's fine if you don't that's fine too, everyone has their own beliefs and as long as you aren't forcing them on anyone else then do as you will.
Punk-Rock: The genre that got me into alternative music, listening to punk rock is a thing every teenager should do, of you haven't already, get to your local record store and buy all the GOLDFINGER and SUM 41 they have.
Vegan: The goal, as far as I'm concerned all living things are equal and should be treated as such.
AFL: What are your hearing at the moment and what was in your opinion the best record of last year?
I've been listening to a lot of childish gambino lately, as for the best record of the year; so far it has to be TURNSTILE – NONSTOP FEELING.
AFL: What are you doing otherwise besides music? Work? Hobbies?
I'm a big football fan so watching football takes up more of my time than it should! Other than that i spend a lot of time with friends hanging out doing whatever.
AFL: What are your plans for the near future and where do you see yourself in 10 years?
If I'm still playing music in some shape or form in 10 years I'll be happy.
AFL: Final words and greetings?
Thanks for reading and I'll see you all out on tour!