Die erste Show, die erste Platte und seine größten Einflüsse! Wir sprachen anlässlich der bevorstehenden Tour und der neuen EP You Were The Gasoline, die über Isolation Rec. erschienen ist, mit Mortality Rate-Bassist Dereck über seine Hardcore-Punk-Roots und wie sie zur Musik und Szene gekommen sind.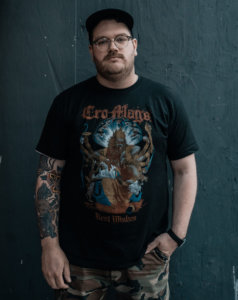 Do you remember the first hardcore / punk show you went to? Is the club still open today?
The first hardcore show I went to was in 2004 at a community hall. It was alllocal bands and it was packed and I was hooked right away. The hall is still there but hasn't been used for hc shows in a long time.
What is your all-time favorite club or location?
My favourite venue in recent memory is 333 in Vancouver. It's run by people involved in Vancouver hardcore and is a perfect venue for a hardcore show in my opinion. That venue and the people who run it have done amazing things for Vancouver over the last 5 years or so. It sounds good, the stage is great, and it's always packed when we play there.
Do you remember the first hardcore / punk record you got?
I got into punk really young through late 90s/early 2000s punk comps like the fat music and punk o Rama compilations. Once I started getting into hardcore in about 2004 the first records I ever got were start today by gorilla biscuits, give blood by bane, and one with the underdogs by terror all on the same day.
In your opinion what is the perfect hardcore show?
The perfect hardcore show could mean different things I guess. Needs to be all ages and not at a huge venue. As for bands, that's constantly changing, but whoever plays it should be active, current bands. I've seen enough reunions. New bands are what keeps hardcore important and fresh.
What is your all-time favorite show you've played?
I've been lucky enough to play both This is Hardcore in Philadelphia and Rainfest in Seattle. Both were amazing in different ways. TIHC always has the craziest lineups but Rainfest was very special to a lot of us in Western Canada and all my friends were there, so playing there was incredible. Wild rose hc fest in Calgary in 2018 and 2019 was also very important for personal reasons.
Is there a show you missed in the past that still makes you angry that you could not be there?
There were a ton of shows in Calgary when I was young that I couldn't go to because I couldn't get there on my own or they were 18+ but luckily I was able To see most of those bands later on, so nothing really sticks out to be honest.
What band would you like to see again?
Wow there's so many bands I'd like to see again. Foundation is a recent one. They had a big impact on me. The biggest one is probably Go it Alone. Their final show in 2007 was the first show I ever travelled for and I would kill to see them again. They were a very important band to me.
Is there a person who has influenced you especially in hardcore / punk?
This is a tough question because so many people have influenced me but most of them are just close friends etc. as far as someone more public, maybe Pat Flynn from Have Heart / Free / Fiddlehead etc. His lyrics and attitude meant a lot to me when I was younger and I've always admired the way he approaches hardcore and uses his platform for positive change and keeps playing in bands and making new music.
What are your top 3 hardcore-punk front men/women?
My top 3 front men in no particular order are
Scott Vogel (Terror)
Aaron Bedard (Bane)
Pat Flynn Have Heart, Free, Fiddlehead, Wolf Whistle etc.)
What is in your opinion the most underrated hardcore-punk band?
I don't really know who the most underrated band is. Most of the stuff I think is underrated is just because I'm old now and the younger kids don't care about the same stuff I do , but that's cool they should like what they want.
Are there some newer bands you could mention?
Not all super new, but check out Juice and Punitive Damage from Vancouver, Meantime from Winnipeg, FUZE from Calgary, and stepping stone from Regina.
Mortality Rate – Europa-Tour 2019
13.09. Sliedrecht – Poppodium Elektra (Netherlands)
15.09. Glasgow – Flying Duck (United Kingdom) + SERRATION
16.09. Manchester – Retro Bar (United Kingdom) + SERRATION
17.09. Cheltenham – Frog & Fiddle (United Kingdom) + SERRATION
18.09. Birmingham – The Flapper (United Kingdom) + SERRATION
19.09. Cardiff – Fuel Rock Club (United Kingdom) + SERRATION
20.09. London – Cross Inn (United Kingdom) + SERRATION
21.09. Bochum – Trompete (Germany) + SERRATION
22.09. Paris – Le Cirque Électrique (France) + SERRATION
23.09. Zürich – Ebrietas (Switzerland) + ANGST
25.09 Vienna – Venster99 (Austria) + ANGST
29.09. Arnhem – Willemeen (Netherland) + ANGST