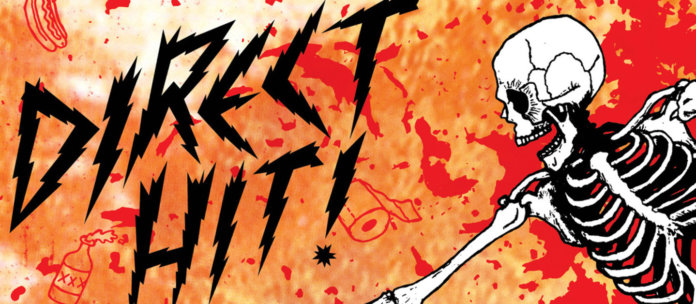 AFL: Hey Guys! How are you? Firstly thank you for taking time for an interview. Please introduce short yourself. Since when do you make music together? How many members you are and so on?
Hey man! My name's Nick. I play guitar and sing lead in Direct Hit – we're a rock band from Milwaukee, Wisconsin, USA that started in 2007. My friends Danny, Steve, and Devon play drums, bass, and guitar, respectively. Danny's been in the band since 2009, Devon since 2011, and Steve for the last two years. We've had more people fill in, and more ex-members than I can count though.
---
AFL: Which bands and music do you count to your influences and how would you describe you music? Which three words fit best to DIRECT HIT! in your opinion?
Andrew WK, the Ramones, and the Thermals were originally my three biggest influences when I started the band, but we all listen to different music – mostly hardcore punk and whatever's on the radio. I like to think we've found a middle ground between the catchiness of Top 40, and the energy and anger in classic punk records from the '80s.
Three words to describe us? "High energy rock."
---
AFL: Where else does the band usually get its inspiration from? Which themes you're treaded? Do you write the lyrics together or is there only one responsible?
Up until now, I've written all of Direct Hit's lyrics. I usually write music with an image or story in mind – almost like putting together a soundtrack, I guess. I've always liked going to the movies, and so usually those stories I imagine are rooted in whatever I'm watching at the time, and whatever's been on my mind. For the last 5-6 years that's been mostly sci-fi/horror stuff. And I tend to think a lot about death, religion, happiness, authority, and consciousness. I've become a pretty nihilistic person in general I think. I don't address any of that explicitly in my lyrics – they're just dumb stories. But my own outlook on life works its way in anyway.
---
AFL: Last year you release a split EP together with THE PRICEDUIFKES. Is this year planned a release? Maybe a new full-length?
We have more than 20 songs written for a new full-length album, but likely only 10 or 12 will end up on it. We have no idea when it will be released though. I don't want to put out a bad record, and so it'll probably take a bit to figure it out. We're going to record a lot of the songs that don't end up on it though for splits and comps and all kinds of other fun stuff.
---
AFL: At the moment you're on European-Tour. How the tour so far and what are you looking forward most in the next shows?
It's been great man! The greatest part of being in this band, for me at least, is seeing parts of the world and meeting new people I wouldn't be able to otherwise. It's not often that we get to come over to Europe, but this is our third trip here now, and so I think the coolest part is being able to see a lot of people we've come to know but don't get to hang with all that often. Obviously we're really excited to play Groezrock. And I'm really excited to see Frenzal Rhomb in London.
---
AFL: What was your personally highlight of DIRECT HIT! since started? Since your foundation you played heaps of shows with bands like RISE AGAINST, GOOD RIDDNCE or RED CITY RADIO. What was the best show for you?
That's a pretty impossible question to answer, haha. Direct Hit's played a lot of shows at this point, and it's been one of the most rewarding projects I've gotten to work on. It was a crazy experience playing in front of a couple thousand people at our hometown festival – Summerfest – last year, or Riot Fest the year before that. But at the same time, it means as much to me to play the birthday party we did last night in Salaveux, Switzerland with 40 people in an attic. They're different kinds of gratifying.
---
AFL: What are your favorite bands and records at the moment?
PEARS are my favorite band right now. We got to tour with them for a couple weeks back in December, and they blew us out of the water every night. One of those groups that has just an impressive amount of focus, and an incredible attitude about both music and life in general. Their album "Go To Prison" is great, and I can't wait to hear their next one.
---
AFL: Here are some tags. What do you think about it?
Vegan: Delicious food that makes me feel well when there isn't an attempt to recreate the animal-based products the lifestyle rejects. Not gonna eat meat or dairy? OWN THAT SHIT!
Comic: Lots of great source material for new songs! I own the first 100 issues of The Walking Dead, a lot of Spawn, and a bunch of other odds and ends. I'd probably own more if I wasn't broke from touring.
Religion: Done more harm than good, and it's done a LOT of good. It's sad to me that most people can't keep from challenging another's beliefs. It makes me angry when they try to enforce those beliefs as facts.
Punk-Rock: "Music that intentionally disregards consequence in its execution."
Wiener Schnitzel: DELICIOUS on bread with mayonnaise, mustard, and pickle.
---
AFL: What are you doing otherwise besides music? Work? Hobbies?
I write marketing materials for enterprise technology companies, and the one I work for now has been very supportive of me traveling and working from the road, so I'm very lucky. Steve manages a sandwich shop, Danny sells medical equipment, and Devon helps run a used media and electronics repair business. I'm married, and the others have long-term girlfriends. So between work, Direct Hit, and our families we don't have time for much else. I watch a lot of movies and television. Devon plays video games. Steve and Danny are huge baseball fans. Music has always been a big part of our lives, so it's great that in a lot of ways it's come to consume them.
---
AFL: What are your plans for the near future and where do you see yourself in 10 years?
Right now it's all about finishing this next record. In 10 years, who knows? Hopefully we're lucky enough to keep doing what we're doing without having to sacrifice life at home.
---
AFL: Final words and greetings?
Thanks for the chat man! See you at Groezrock!
---
Video