The Penske File and Up For Nothing will come together to Europe from 26th February 2016. We could talk to both bands in an interview.
---
AFL: Hey how are you? Can you short introduce yourself and your band?
Justin: Hello, I am Justin. I play guitar and sing in Up For Nothing.
Travis: Hey, I'm Travis Miles, I play guitar, harmonica and sing in Canadian Punk Rock band The Penske File.
Mit dem Laden des Inhalts akzeptierest du die Datenschutzerklärung von Bandcamp.
Mehr erfahren
AFL: In February you will come together for a tour to Europe. How came it that you're touring together through Europe? Do you know each other before?
Travis: It came together through the workings of Glenn from Mighty Vision Entertainment. He approached us a few years ago about bringing us out to Europe for a tour.
When we started planning in the summer of 2015 he suggested us doing some of the shows with Up For Nothing from New York. I had some friends who had toured with them a few years back and had heard good things. So me and the guys checked out their tunes and were all over it. Haven't met the UP FOR NOTHING guys yet, but we are most definitely looking forward to it!
Justin: Yes, tour Starts on Feb 26th. Glenn and I have been talking for quite a while now about getting us out to Europe at some point and it was always something we wanted to do so of course we kept in touch about it. Glenn approached us with the idea of doing some shows with The Penske File and we were stoked on it. That band rules and it's gonna be awesome getting to know and hang with them for two weeks.
AFL: How would you describe your touring partner?
Travis: I'd describe UP FOR NOTHING as fast, fun, melodic punk rock. Best enjoyed while dancing, smiling and waving around your middle finger.
Justin: The Penske File has so many elements of some of our favorite bands. Sing alongs, parties and songs to build memories on. Best kind of tunes!
AFL: In which country will you touring and how long you'll be on tour? Will that you're first time touring Europe?
Justin: We will be on the first 10 days of the tour which will land us in Germany, Netherlands, France and Belgium and yea this will be our first time in playing / touring in Europe. It will also be the first time I have ever been to Europe at all and I'm very stoked to get to experience it while playing music!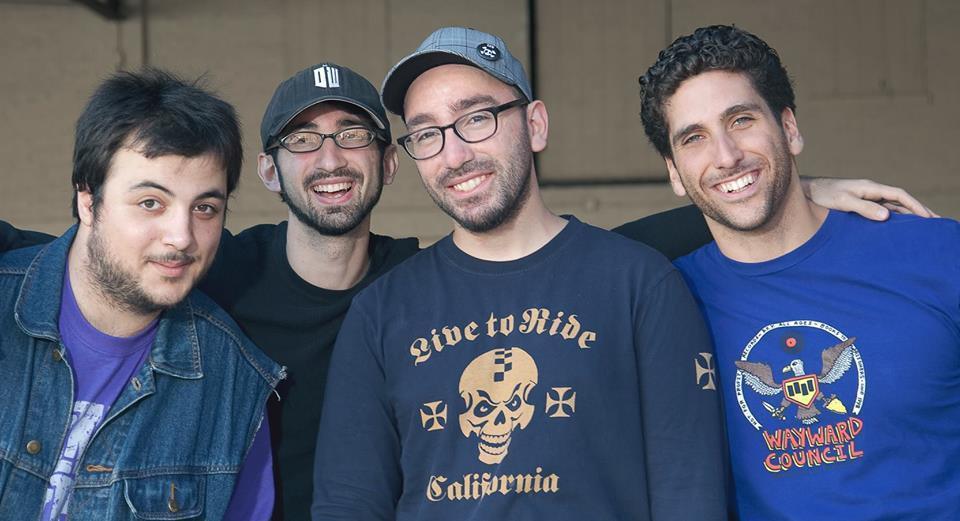 Travis: Yes! We'll be in Europe for just under a month, the first 10 days being with UP FOR NOTHING, then they head home and we continue on. So far we've got shows in a bunch of different countries. Lots of Germany and surrounding areas. This will be our first time touring Europe, and for some of us it'll be our first time in Europe period. We've heard nothing but great things about it and can not wait.
AFL: About which cities, venues and things you're looking forward specially by tour?
Travis: I'm really stoked we got the opportunity to play Crossbone Fest. I'm also really excited to check out and play at the Ramones museum in Berlin. I'm Also very amped to go to Prague, I've heard that's a super fun city.
But mostly, I'm excited to meet new people everywhere we go. We've met so many great people, a lot of them who we now call dear friends, across North America. In my opinion, this is the best thing about playing in a touring band and we all feel blessed to have this opportunity.
Justin: Definitely looking forward to playing in Middelberg. NL. Never thought I'd ever see The Netherlands in my lifetime and I'm beyond excited about it. Plus it's ironic and cool that the venue is called "Bar American". My favorite thing about tour is always seeing how lifestyles and cultures change form show to show and I feel like it's going to be so different this time around and in the most drastic and best way possible.
AFL: Are there also some things about you afraid?
Justin: I wouldn't say we are afraid of anything that can happen on this tour however it IS going to be very interesting to be traveling around and playing in places where english isn't the primary language. That's not something that we have ever experienced before. Looking forward to the challenge!
Travis: Not afraid of anything on this tour, or any tour for that matter. If something goes wrong it just adds to the story.
AFL: If you can choose a further band which will come with you on tour which band would you take?
Justin: We have made friends with tons of bands over the years. More so than music or anything else for that matter it's always great to travel and share the road with people you consider friends. Much looking forward to adding The Penske File to that list.
AFL: This question is just to you Justin. You have recorded new songs and will release a new album called "Swindled". Can you tell us a little more about the record? When you'll it release? Where? About which themes are the songs and so on.
Justin: Yes, we recorded 13 new songs with Pete from The Bouncing Souls out in New Jersey this past summer. This is our first recording with a second guitar player as well as our new drummer Tom. It was so much fun to write and record and working with Pete was seriously an amazing experience. The record is being put out by its Alive Records in the US on February 20th.
As far as a theme for the songs there's definitely a lot of talk of moving on and uncertainty. Sometimes as humans and even more so as people who take playing music seriously; it's very easy for life to confuse you. We often get so drawn into what we are doing as a band that we push away things outside of music and the tricky thing is that life and/or time doesn't wait for us to be ready for it. It moves on with or without us and sometimes it's hard not to feel betrayed or tricked by that reality. Thats where the name "Swindled" comes from. Very excited to release it!
AFL: One question to you Travis. Do you have also plans to release new music?
Travis: We released our second full length album less than a year ago on Stomp Records in Canada and A-F Records in America. So we don't have any plans to release anything in the immediate future. We have, however, already begun writing for our next album and have recorded a covers EP that we'll be releasing at some point in 2016
AFL: What are your favorite bands and records at the moment? Have you any inside tip from your home?
Travis: Personally, I'm really into The Monitor by Titus Andronicus right now. It's not really a new release but I've just recently clued into how great it is. Their song structure and lyrics are so insane. I Never thought I'd see myself totally enamoured by a punk rock album where the average song length is 7 minutes long.
And as far as tips from the home land go. I'd highly recommend checking out our buds Fire Next Time's recent album Cold Hands, as well as keeping an eye for new releases coming from our buds in Brutal Youth and The Dirty Nil.
Mit dem Laden des Inhalts akzeptierest du die Datenschutzerklärung von Bandcamp.
Mehr erfahren
Justin: I am in love with the new Night Birds record and the new Dan Andriano record is also really awesome. As far as bands we recommend from home definitely check out our good friends in The Scandals, Plow United (new record coming soon!), Remnants, Make War, Sketchy, Hat Rabbits, Enziguri, Radioactive Material
AFL: Thanks for the interview. Have you any last words?
Justin: Thanks for the support and we are very much looking forward to this!