Casselfornia über alles – so heißt die neue Split-Single die Rykers und The Eulogy am 05. Februar 2021 über UNITY Worldwide Records veröffentlichen werden.
Wir nahmen das bevorstehende Release zum Anlass für ein Interview-Spezial, bei dem Rykers und The Eulogy sich gegenseitig Fragen stellen. Nachdem im ersten Part zunächst The Eulogy Fragen von Rykers beantworten, stehen nun Rykers Rede und Antwort!
Interview mit Rykers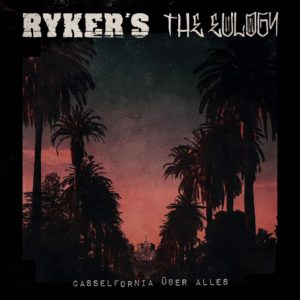 The Eulogy: What's your favorite sport and team?
Chris: Fussball/Soccer and the FC Schalke 04 forever! – although it's a tough ride these days. I must admit that since our LA friends took us to see a LAFC Game I have some sympathies for that team. Its fresh – not too much tactics going on just straight forward – and the atmosphere is great (besides the beer-prices).
The Eulogy: Do you prefer playing the large European festivals or smaller clubs?
Chris: I really enjoy playing the big festivals and hanging with friends from all over the world – but nothing can beat the energy of a REAL club show. A while ago, we've played a "club" show under a different name in our hometown which was basically a living room. No stage and totally packed – the energy was amazing.
The Eulogy: You guys have been called the "Flagship of European Hardcore" what does that mean to you?
Chris: Well, it obviously wasn't us coming up with that term – but yeah, it kinda makes you proud. I think we also path the way for more European bands to follow and get accepted. I'm also thinking of Battlestar Galactica…hahaha!
The Eulogy: How have you been dealing with all of the Covid-19 lockdowns this year?
Chris: Hanging in there. I was on short time work for almost half of the year which gave me time to renovate a couple of things in the house and take care of my garden. Yeah besides that – I miss playing shows and I miss travelling soooo much. Must say that I really like to have friends around and have a good time together – that didn't really happen in 2020. But still I'm grateful for what I have, there are a lot of people in much more difficult situations.
The Eulogy: I was watching the video for "The Outcasts Voice" and I was thinking about how much I miss playing shows. When do you think it will get back to a place where bands can tour again?
Chris: We miss it too and re-scheduled basically everything 1 to 1 for 2021. I hope by May we might be able to ride again… but who knows? Hope you guys will join us at one day!
The Eulogy: How did you get into hardcore?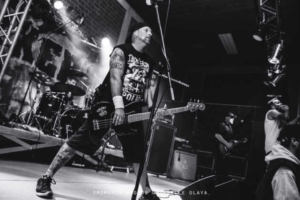 Chris: That was some sort of logical progression Kiss – NWOBHM – Slayer – Bad Religion, Cro-Mags, Suicidal Tendencies, Agnostic Front… saw some local Punk/HC shows around 86/87, but when I saw Bad Religion playing at a squat in Germany (doorprice 5DM / $2,50) – I was completely hooked.
The Eulogy: What are your favorite places to play inside Germany, outside of Germany?
Chris: Ahhh, that's hard to say Leipzig/Chemnitz, Berlin, Hamburg, the Ruhrpott area and some many more were always great for us. I loved the Musiktheater in my home town – saw Slayer there in 87 – I think I spent most of my youth in this club. Luckily, we were able to headline this place 2 times and played the very last tune there before it became… a storage hall.
The Eulogy: What bands should we be listening to right now?
Chris: I would recommend old 70s KISS all the time but there are so many great new bands around like our buddies in 1000Löwen unter Feinden, Eyes of Tomorrow, Slope, Nasty or Restraining Order. It's hard to name them all…
Dennis: Chain Whip, Life's Question, Lift, Just Ice, Peace Test, No Option, Big Laugh, Stepping Stone, En Love, Choice To Make, No Brainer, Speed, Meltdown, Change, Be Well…and a thousand more!
The Eulogy: You have a new split ep with The Eulogy, how did that happen?
Chris: Well, I know Matt for quite some time now and we kinda kept in touch all the time. So, at one point he was telling me about the new band he's in. And we came up with the idea of doing an "old fashioned" split 7″ as bands used to do to promote and help each other. (I hope you can confirm this Mr. Henderson) I've talked to Billy (Sven) from UNITY Worldwide Records…and now we are here – doing an interview together.
The Eulogy: If you had to pick one Ryker's song to show what you do, which one would it be?
Chris: Just one?! – I really don't know! Every song represents different times and stages of the band. So, Brother Against Brother and Beg To Differ where some signature songs way back then, Cold Lost Sick, Low Life… High Five, Let's ruin the Scene? It's hard…my favorite song now is Dead End Street. But I'm sure there are a lot of opinions.
The Eulogy: You have to pick one.
Vanilla or Chocolate? Chris: Actually, I don't like sweets – but well, if I have to – I go with Vanilla.
Punk or Metal? Chris: Love Punk but grew up on Metal so I'd rather take Slayer then The Sex Pistols to an empty island.
Slayer or Metallica? Chris: Fuckin' SLAYER!!!
Kreator or Obituary? Chris: Like them both but sick with "the Germans".
Beer or Whiskey? Chris: Beer.
Gorilla Biscuits or Minor Threat? Chris: Tough one – stick with Minor Threat
Old School or New School? Chris: After answering the one above – I say Old School😉
---
Die Split Casselfornia über alles von Rykers und The Eulogy wird am 05. Februar 2021 über UNITY Worldwide Records erscheinen. Unser Vorab-Review zur Platte findet ihr hier.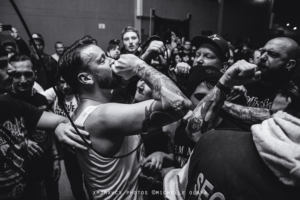 Rykers haben erst im vergangenen Jahr ihr neues Album The Beginning… über BDHW Records veröffentlicht, zu dem wir die Band auch bei uns im Interview hatten. Zudem gab das Hardcore-Urgestein aus Kassel erst vor kurzem die Nachholtermine für ihre geplante Tour bekannt, die ihr am Ende des Beitrags findet.
Seit ihrer Gründung im Jahr 2012 legte die Band mit der Besetzung Matt Henderson (Madball, Agnostic Front), Kevin Norton (Eye For An Eye, Straight Faced), Doug MacKinnon (Slapshot, Ignite) und Pete Reilly (Mouthpiece) vor fünf Jahren ihre Debüt-EP vor. 2017 folgte über Bridge Nine Records mit Last Days der bis dato letzte Output der Combo. Diese wird am 05. Februar 2021 jetzt mit der Split mit Rykers einen Nachfolger finden.
RYKERS, GROVE STREET FAMILIES & EYES OF TOMORROW – TOUR 2021