Die Hardcore-Punk Band Total Chaos aus USA haben mit "World Of Insanity" veröffentlicht. Es steht weiterhin eine Europa Tour für den Sommer 2016 in Planung.
Total Chaos teilte auf ihrer Facebook-Seite folgendes mit:
Hey Guys, Working on Europe tour for TOTAL CHAOS for the Summer of 2016, looking into Festivals, but if you can help with booking or Contacts please write ASAP, Thanx TC ALSO KEEP IN MIND!!!!!! the "NEW" TOTAL CHAOS "World of Insanity" Gate-fold Vinyl LP with MP3 download card/or CD for sale ONLINE NOW!!!!!
Das Video ist zu den Song "Police Rat", der auf dem neuen Album enthalten ist:
Hier die Tracklist: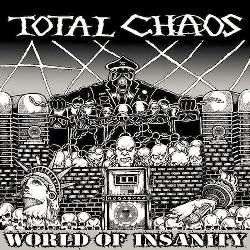 01. World Of Insanity
02. Police Rat
03. Crossed The Line
04. Sold Me Out
05. Verrater
06. Terror Controls You
07. Destination To Destruction
08. Live For Tomorrow
09. Hunt Or Be Hunted
10. Truth In Lies
11. Nation Of War
12. Slave To The System
13. This World's A Lie