Nachdem schon länger bekannt war, dass Year Of The Knife im Sommer ein neues Album veröffentlicht werden, hat die Metallic-Hardcore-Band Internal Incarceration nun für den 07. August 2020 verkündet. Das erste Album der Band aus Delware wird über Pure Noise Records erscheinen.
Mit Virtual Narcotic präsentieren uns Year Of The Knife aus diesem direkt mit Ankündigung eine zweite Single inkl. Musikvideo, das ihr hier im Beitrag findet. Dort findet ihr auch das Cover-Artwork zum Album. Bereits zuvor veröffentlichte die Band mit Sick Statistic einen ersten Song aus Internal Incarceration, das ab sofort auf CoreTex vorbestellt werden kann.
Bassistin Madison Watkins zur Band und Straight Edge / Hardcore:
Almost every straight edge person I know has been touched by loss. Those experiences can make you feel alone, but they're something a lot of people within hardcore have gone through and can relate to. People that gravitate towards this music often have this darkness in their lives, but hardcore can be a beacon where they can find community and relief. It can be a really incredible outlet for getting that negativity out and finding people who understand you.
Der Nachfolger von Ultimate Aggression (2019), das einen neuen Song und die beiden EPs First State Aggression (2018) und Ultimate Disease (2017) umfasst, wurde von Kurt Ballou (Converge, Code Orange, Nails) in seinem GodCity Studio in Massachusetts aufgenommen. Die Straight Edge-Band war letztmalig im Mai 2019 bei uns auf Tour.
Year Of The Knife – Internal Incarceration (2020, Pure Noise Records)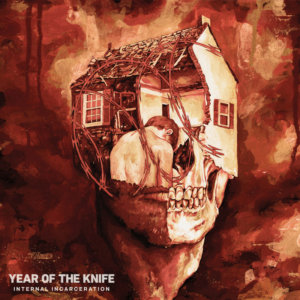 This Time
Virtual Narcotic
Stay Away
Manipulation Artist
Final Tears
Internal Incarceration
Premonitions of You
Though The Eyes
Sick Statistic
Eviction
Nothing To Nobody
Get It Out
DDM