Das britische Punk-Urgestein Peter And The Test Tube Babies zählt mit ihrer Bandgründung im Jahr 1978 zu den dienstältesten Punk-Bands überhaupt. Und auch nach über 40 Jahren Bandbestehen weisen die Jungs keine Spur von Müdigkeit auf und veröffentlichten im März 2020 mit Fuctifano ein weiteres Studioalbum, das über Arising Empire Records erscheinen wird. Anlass für uns Bassist Nick Abnett nach seinen 10 Lieblingsplatten zu fragen.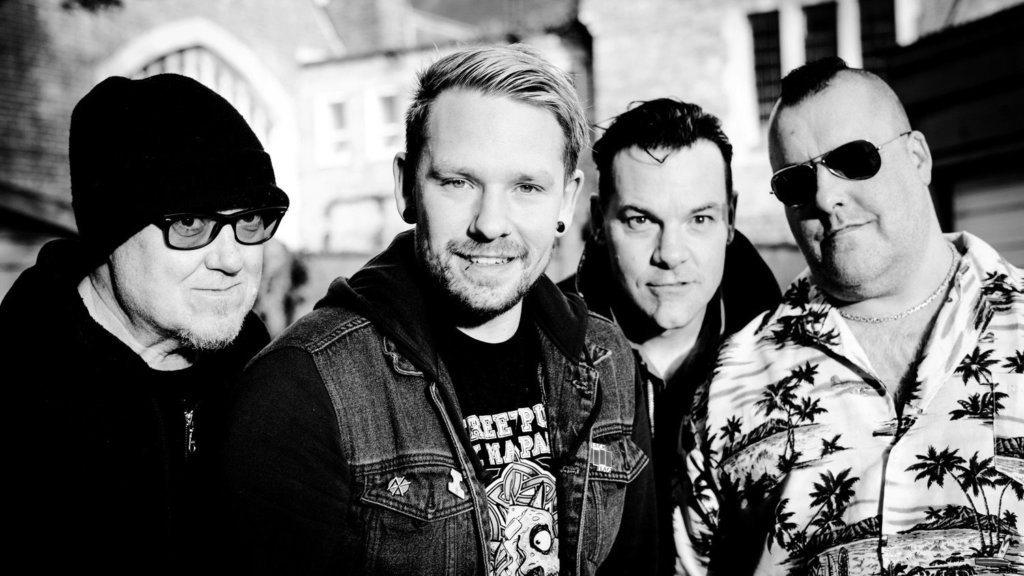 Weitere 10 Records Worth To Die For »
I first heard this as a young kid at the squat my sister lived in. Suddenly her life and her friends seemed so much scarier to me. The music was predatory, full of spunk and infused with danger. What I didn't understand back then is that it swings like a motherfucker. So many bands try to emulate The Stooges. Every single one fails miserably.. Give up.
It sounds exactly like it looks. Scratchy, spitty, angry, rebel music. It was the perfect soundtrack to a hot, sweaty, dirty, broken London in 1976. And it is just as relevant today.. I was 5 years old in 1976. I first heard this album about 3 years later. That evening I went out wearing my Incredible Hulk t-shirt inside out with shoelaces wrapped around my school trousers to turn them into drainpipes.
3
The Cramps – Songs The Lord Taught Us
Punk rock from beyond the grave. The Cramps taught us everything we need to know about punk rock's ancestors: 50's rock n roll and 60's garage. I saw them live when I was 15 and they changed my life forever.
4
The Damned – Strawberries
Not everyone's favourite Damned LP but one that delivers on so many levels. A progressive psychedelic pop punk masterpiece.. And arguably the source of one of Nirvana's most famous riffs..
5
Minor threat – Complete Discography
Minor Threat make me want to smash the house up and then jump through a (closed) window.. Instead I played the Live at the 9:30 Club VHS until it disintegrated. (Also the perfect band to listen to while watching hardcore porn on fast forward..)
6
The Descendents – Milo Goes to College
Brat punk at its best. Girls, food, caffeine, farts.. Descendents / ALL always have and always will RULE.
7
Hüsker Dü – New Day Rising
Hüsker Dü blew the fucking doors off when it came to pure explosive emotional intensity: The sound of demons being exorcised. Every album is essential from start to finish and the Eighties would have been so much shitter without them.
One of the best UK punk bands ever. Possibly the best Welsh band ever.
Killer tunes, funny (and clever) lyrics and a refreshingly different sound to your usual thrash merchants.
Cut from granite and shrouded in smog. The Sunderland soul of Frankie W Stubbs and some of the best punk rock guitar of all time from Dickie Hammond made this a UKHC classic that becomes more and more legendary every year.
10
Snuff – Demamussebebonk
The first Snuff LP (Snuff Said) revitalised British punk rock. Then they split up to open a fruit and veg shop. Then they came back and made this classic album. Proper knees-up punk rock. Mods AND Rockers welcome.
Fuctifano wird am 06. März 2020 über Arising Empire erscheinen.
Weitere 10 Records Worth To Die For »