The Eulogy ist eine Hardcore-Band aus Kalifornien, die sich aus Mitgliedern von Bands wie Madball, Slapshot, Mouthpiece und Eye For An Eye zusammensetzt.
Seit ihrer Gründung im Jahr 2012 legte die Band mit der Besetzung Matt Henderson (Madball, Agnostic Front), Kevin Norton (Eye For An Eye, Straight Faced), Doug MacKinnon (Slapshot, Ignite) und Pete Reilly (Mouthpiece) vor fünf Jahren ihre Debüt-EP vor. 2017 folgte über Bridge Nine Records mit Last Days der bis dato letzte Output der Combo. Diese wird dann am 05. Februar 2021 einen Nachfolger finden.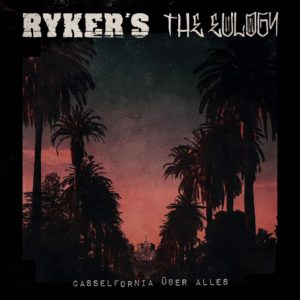 So haben The Eulogy erst kürzlich eine Split-Single mit Rykers angekündigt, die unter dem Titel Casselfornia über alles über UNITY Worldwide Records erscheinen wird.
Wir nahmen den bevorstehenden Output zum Anlass Bassist Kevin Norton, der auch bei Eye For An Eye und Straight Faced tätigt war, fünf Bands aus Südkalifornien vorstellen zu lassen:
Support your Locals #39 – "5 Bands to check out from Southern California" mit Kevin Norton von The Eulogy
What's up peeps, I'm Kevin Norton Bass player in a hardcore band called The Eulogy. I live in Long Beach (Los Angeles) California USA.

Bands in our part of California tend to have members spread out all over the Southern California Region. My band has two members in Long Beach, one in Orange County and two in San Diego. Like they say on Facebook… it's complicated.
The best hardcore band from LA in my opinion. They have one of the all-time great front men in Scott Vogel. The songwriting is top notch both lyrically and musically. They are also really good dudes that support LA hardcore. Whether it's Nick Jett producing my bands first EP or guitar player Martin Stewart putting on the Sound and Fury hardcore festival, these guys are the best. Return to Strength from Keepers of the Faith is such a great example of them. The total package.
Heavy, angry and manic. Downpresser is fronted by Dan Weintraub who has a very unique style of vocals that make the band sound, for lack of a better word, pissed off. The music is on point from the distinct drumming of Cayle Sain and guitar playing of Sean Lamb. Good Stuff! I think a lot of people are sleeping on this band so that's why I included them.
Coming out on Victory Records in the 90's around the same time as Earth Crisis and Snapcase they hit the hardcore scene firing on all cylinders. The first record One Truth is a classic straight edge record with a distinctly harder edge to it than was common at the time. The follow up was In This Defiance which brought excellent musicianship and more mature song structures. The feel reminded me of the Cro Mag's Best Wishes album.  My favorite Strife tracks are Blistered and Will to Die which have excellent tight riffing and solid drumming backing up Rick Rodney's great vocals. The band has continued to release top notch music including the 2012 release Witness a Rebirth.
Dead Heat also hails from the Oxnard area with a few members living in Los Angeles proper. I had the privilege of seeing the band play some new songs that are going to be released early next year on a new album and was honestly knocked on my ass. The band has a classic Suicidal Tendencies sound with heavier guitar playing and excellent drumming. Divebomb guitars and rat squeals all over the place. The prior releases do not do the band justice. They have become hurricane strength during the epidemic playing together writing and recording waiting to conquer when this shit blows over. Check out To The Core from the Certain Death record.
When Vamchara plays you can expect breakdowns, windmills and more spinning kicks than a Muy Thai boxing class. Heavy beatdown hardcore shredding guitars, tough assed vocals and heavy beats signify the Vamchara sound. No ballads or love songs here. Just hard riffing, dissonant ambient guitar noise all designed for maximum pit participating. Check out Watch you Burn from 2018's Despondent for maximum damage.
---
Die Split Casselfornia über alles von Rykers und The Eulogy wird am 05. Februar 2021 über UNITY Worldwide Records erscheinen.