Am 26. Oktober 2019 spielten Cock Sparrer gemeinsam mit The Take und Clox in der Turbinenhalle in Oberhausen! Cock Sparrer einmal live zu sehen, konnte ich mir nicht entgehen lassen. Auf The Take war ich ebenfalls sehr gespannt.
Nach vielen Hardcore-Konzerten gab es nun mal wieder gepflegten Oi-Punk auf die Ohren.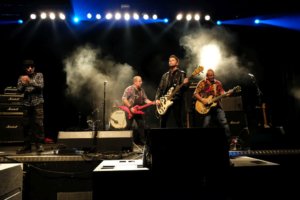 Als Clox den Auftakt machte, war die Halle noch recht leer. Sie lieferten jedoch die passende Musik für die ersten Biere und stimmten so auf den Abend ein.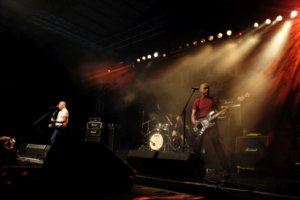 Die Bandmitglieder von The Take sind den meisten nicht unbekannt. Sänger und Gitarrist Scott Roberts und Drummer Will Shepler spielten u.a mal bei Biohazard, Cro-Mags, Agnostic Front und Madball. Zu den Gründungsmitgliedern gehörte noch Craig Setari (Sick of it all). Dieser wurde aus Gründen von Zeitmangel durch Carlos Congote ersetzt.
Bei The Take füllte sich die Halle deutlich. Das Trio spielte die Songs ihres erst im Juni 2019 veröffentlichten Albums und begeisterten das Publikum schnell für sich.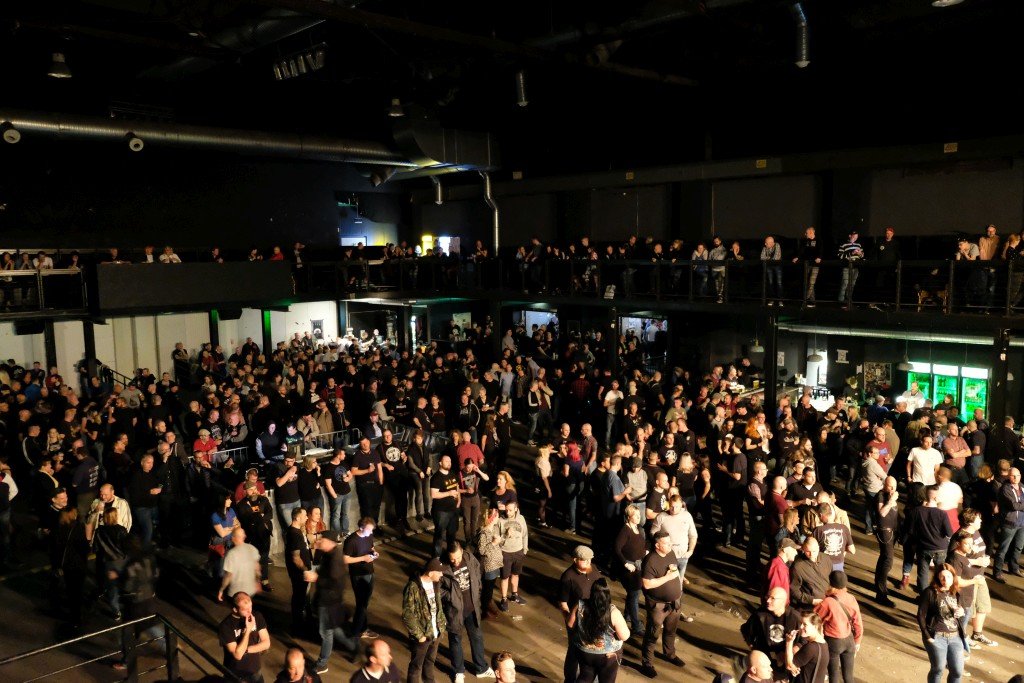 Neben meinen Lieblingssongs Elitist und Place The Blame lieferten sie mit Crucified noch einen Song von Agnostic Front. The Take hat mich überzeugt und ich freue mich, sie gemeinsam mit Agnostic Front auf dem Stäbruch Festival sehen zu können!
"It was a great honor to share the stage with Cock Sparrer in Oberhausen. We are all huge fans. We got really good responses from the crowd. A great way to start off our European Fall Tour! On November 8th and 9th we´ll back in Germany, to play in Herford and at Stäbruch Festival with Agnsotic Front, followed by a 2 week tour through the UK, Ireland, The Netherlands, Belgium and France. We hope to see you all there!" Scott Roberts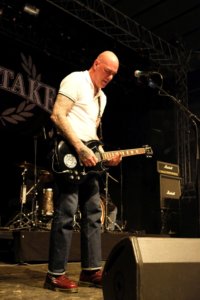 Als Cock Sparrer die Bühne betraten gab es kein Halten mehr. Das Publikum sang von Beginn an jeden Song lautstark mit. Cock Sparrer hatten sichtlich Spaß und lieferten durchgängig eine unbeschreibliche Show ab! Dafür wurden sie gefeiert!
Hier die Set-List des Abends:
Cock Sparrer – Setlist in Oberhausen 2019
Riot Squad
Watch Your Back
Working
Teenage Heart
One By One
What´s It Like?
Price Too High
Nothing Like You
Gonna Be Alright
Suicide Girls
Tough Guys
A.U.
Runnin Riot
I Got Your Number
Because Your Young
Take `Em All
Where Are Them Now?
Argy Bargy
England Belongs To Me
We´re Coming Back
Zu meiner großen Freude gab es nach der Show mal wieder Erinnerungsfotos für mich, diesmal mit Steve Burgess, Scott Roberts und Han, dem Sänger von Evil Conduct. Letzterer hatte sich unter das Publikum gemischt.
We´re coming Back – ich werde da sein, sollten Cock Sparrer wieder ein Konzert in meiner Nähe spielen.
Weitere Bilder vom Abend
- Spotify-Playlist -
Auf der Suche nach neuen Hardcore-Bands? Dann check unsere Spotify-Playlist
New Hardcore Bands
: