Nach einem bärenstarken Debüt namens Wretched Illusions legen die Death-Thrashmetaller von Creeping Death nach: The Egde Of Existence ist wieder ein richtiges Brett geworden und auch covertechnisch ein erneuter Augenschmaus. Grund genug, Gitarrist Ross zum Werdegang, ihren musikalischen Einflüssen und der Szene in Texas auszuquetschen.
AWAY FROM LIFE: Hey guys. First thing: Where is the name Creeping Death comes from? Are you huge Metallica-Fans or what?
Ross: We're all involved in our local hardcore/punk scene in Dallas, Texas and it's fairly common within hardcore and punk to name your band after a song or album from a band you like or respect. We didn't have a name about two weeks away from our first show so we decided on Creeping Death because a few of us had used the name in a previous project that never came to fruition. We really just wanted to make it very obvious we were a more metal leaning band when you saw the name on the flyer amongst other hardcore and punk bands. If we knew anyone outside of Texas was gonna hear us we probably would've put more thought into the name, but oh well it looks good on a t-shirt. And yes we all love Metallica, but no one is like a "I can name 100 random facts" type person or anything.
AFL: You released a new EP after "Wretched Illusions", your first album. In the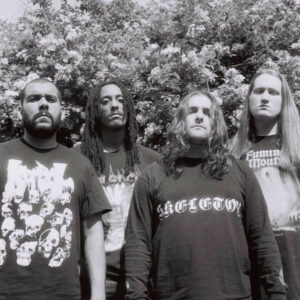 past you released some Singles/EPs. Give us a small description of your band history to feed the new european fans with some inside informations.
Ross: We started in 2015 when a few of us were going to college in a town about 45 minutes northwest of Dallas. As previously mentioned a few of us were playing in various different hardcore bands prior to that. We all really loved metal so we kinda decided to branch out and try to play something different than what we were previously used to. There was always a few more metallic bands in our local hardcore scene and at that time there really wasn't as many going. So we kind of just occupied that space pretty nicely. We released our Demo in 2015, then the EP Sacrament of Death right after in 2016. We released the EP Specter of War in January of 2018, and after a few small tours the record label eOne unexpectedly hit us up and since then we haven't really stopped. Wretched Illusions in 2019, The Edge of Existence in 2021, and eventually a new LP we'll be recording in early 2022.
AFL: Metallica i mentioned in the first question isn't the best reference to describe the musical output of Creeping death. How would you describe it in your own words and what are your main musical influences?
Ross: When we first started our main influences were Blood Red Throne, Grave, Gorguts, Sepultura, Bolt Thrower and Suffocation. Since then we've added more influences from bands like Death, Obituary, and a bunch from our home state like Power Trip, Mammoth Grinder, and Iron Age. Our goal is just to blend a lot of different styles without making it seem disjointed or awkward.
AFL: There are so many albums or EP's coming out everyday: Why should someone by The Edge Of Existence? Give us some facts to make him/her horny to buy this EP.
Ross: Hehe, I'm not sure if it'll make anyone horny but I think the new EP sounds familiar but fresh and energetic at the same time. Plus isn't checking out new music super fun?
AFL: The song i liked most on the EP is Skinned alive, because its so fuckin fast. What are your favorite tracks on the new one and why?
Ross: Yeah, this one is actually one of the 3 songs from the Sacrament of Death EP we re-recorded for The Edge of Existence, along with Sacrament of Death and Doused in Flames. Picking a favorite new track is hard because we all love playing the new ones for different reasons. They're all extremely fun to play live as well which is also very important to us.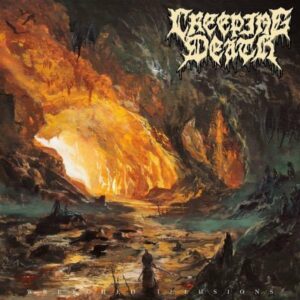 AFL: The first thing on the last album and the EP that makes me getting wild was the killer artwork. Tell us a little bit about it. Who did it and why have you chosen it?
Ross: Adam Burke (@nightjarillustrations) did the art for Wretched Illusions and our good friend Tanner Carruthers (@tannercarruthers.art) did the art for The Edge of Existence. We choose Adam for WI because we were familiar with his art from other bands. Reese, our singer, gave them the themes and sort of overall idea but still let him create freely and it came out amazing. With Tanner, he has been a friend of ours for a while so any opportunity we can work with a friend to help us both out we will. We gave him some notes and themes and just let him go to work. We like it more when the artist can put their own spin and interpretation into your ideas too.
AFL: Let's talk about live activities. I did a review of Wretched Illusions and also of the new EP . At the end of one review i told the readers: Creeping death are probably a good live act, that i would love to see. Are there any chances to see you here overseas? What about your livegigs in the US?
Ross: We would love nothing more then to your overseas and have been trying for quite some time. The covid-19 pandemic has stopped us coming a few times but hopefully we can make the trip soon. As far shows in the states our tour with Exhumed, Bewitcher, and Enforced has been going amazing! All the shows have have had a great energy and buzz. I think people are just really stoked to be seeing live music again.
AFL: Ross, thank you for your kind words and as always: Last words for you…..
Ross: No last words here, thanks for hitting us up! Hope to see you in the pit.