Die Persistence Tour liegt nun schon wieder einige Wochen zurück. Mit Countime, Cutthroat, Wisdom in Chains, BillyBio, H2O, Street Dogs, Agnostic Front und Gorilla Biscuits stand ein mega Line-up auf dem Programm!
Mein persönliches Fazit über die Show in Oberhausen (Persistence Tour 2020! So war es in Oberhausen, Bericht, Bilder, Special): Einen besseren Einstieg ins Jahr 2020 hätte es nicht geben können. Die Stimmung war unglaublich, die Bands haben eine großartige Show abgeliefert und nebenbei ordentlich selbst gefeiert. Dieser Abend wird für mich unvergesslich bleiben.
Viel spannender ist es jedoch zu erfahren, wie die Bands selbst die Tour erlebt haben (hier das Interview mit Wisdom In Chains). Seid auf ihren persönlichen Rückblick gespannt…diesmal mit Jr von Countime!
Jr im Interview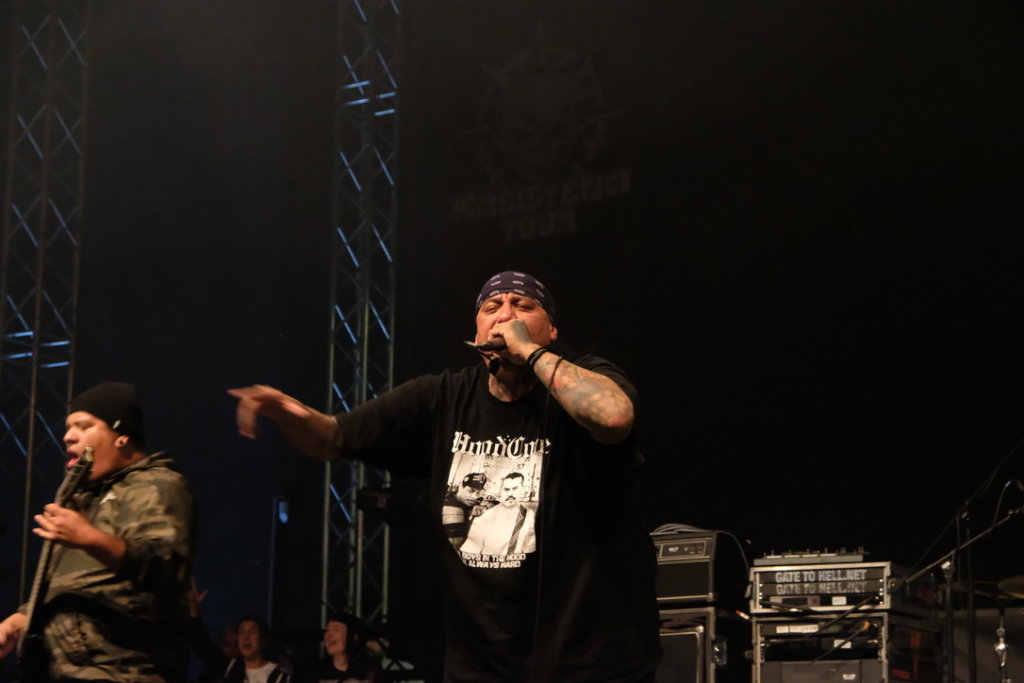 AFL: Hey Jr, by now the Persistence Tour is history for a couple of weeks already, so thank you for your time to answer my questions and give us a little personal retrospective on the tour.
I was at the Oberhausen show and my impression from the stage side was that all the bands really got along super well and you all had your own party on stage every night. How would you describe the tour?
Jr: Wow, where do I begin.  The vibe backstage was nothing but love and brotherhood definitely the best store we have ever been. Everyone was great and got along as far as the party goes I would say we were singing a lot of oldies and doo-wop versus drinking lol. We were Celebrating being all together and enjoying each others company.
AFL: Was there one show that really stood out to you from this run? Any special highlight or a funny anecdote you can tell us about?
Jr: I think for me was Oberhausen growing up as a kid looking up to Minor Threat was life changing. Although I am not straight edge I definitely respect the concept and way life if they are being true for Gorilla Biscuits to cover that. And letting me jump up on stage and sing with them while they did it that was a big highlight for me.
AFL: Can you give us a little inside on how a typical day on the Persistence Tour looked like for you?
Jr: Umm waking up on the bus. Going downstairs, meeting Pete from Street Dogs to have some coffee, pull up to the venue have some breakfast. Take a shower, go sightseeing, come back to the sound check and get into game mode…And let the night take its toll.
AFL: Twelve days together on tour in very limited and confined space on the bus…where there any moments where you didn't like being on tour or was there any fighting?
Jr: Not to be honest everybody on the bus was amazing great, no problems. I was surprised because that's a lot of personalities every night ,but nope it was all good…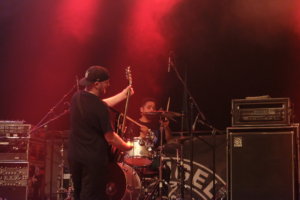 AFL: How would you describe Countime in just three words?
Jr: GHETTO LOS ANGELES
AFL: To be honest, I didn't know you at all before the Persistence Tour but I was really impressed with your performance – please tell me and our readers who might not know you neither a little bit about Countime and what we should know about you.
Jr: Well. We are from Los Angeles. We've been around for 17 years. We got together in 2003 and we have put out Ep`s, one LP numerous comps. Have toured the states, played Mexico. Played with the best hard-core band together and not together anymore and we are just an honest bunch of dudes who love making Core from the ghetto.
Working with Billy…
AFL: I heard that you were in the recording studio with Billy (from Billybio, Powerflo, etc.) for your new album when the call came that This Means War couldn't play the Persistence Tour and then when you agreed to play the tour, you had like four days to prepare yourselves. Tell us. little bit about that! 
Jr:…yes, we are working with Billy, he is our producer. We have been working together and he mention this This Means War would no longer be in the tour and if we would be interested if he spoke to MAD Booking. We all said yes of course… We didn't think that we were going to get the tour and then after New Years Day, we got a text and we were like lol Funk! It was pretty hectic. We had like eight or nine days to prepare. Only one of us had a passport, none of us did we had to get them expedited then we got denied our passports after we got the airplane tickets. So we had to get that fixed the day our flight when we to had leave we got approved and we had like three hours to get to the airport in traffic out flight left at 10:15. We ended up going through the gate at 9:45 PM then flew to Poland Missed our connecting flight and hd to have a 12 hour layover in Poland. The next day we caught the flight made it to Hamburg and took a Uber to the venue and felt like fucking zombies then jumped on stage and open up the Persistence Tour…and loved every second of it!!!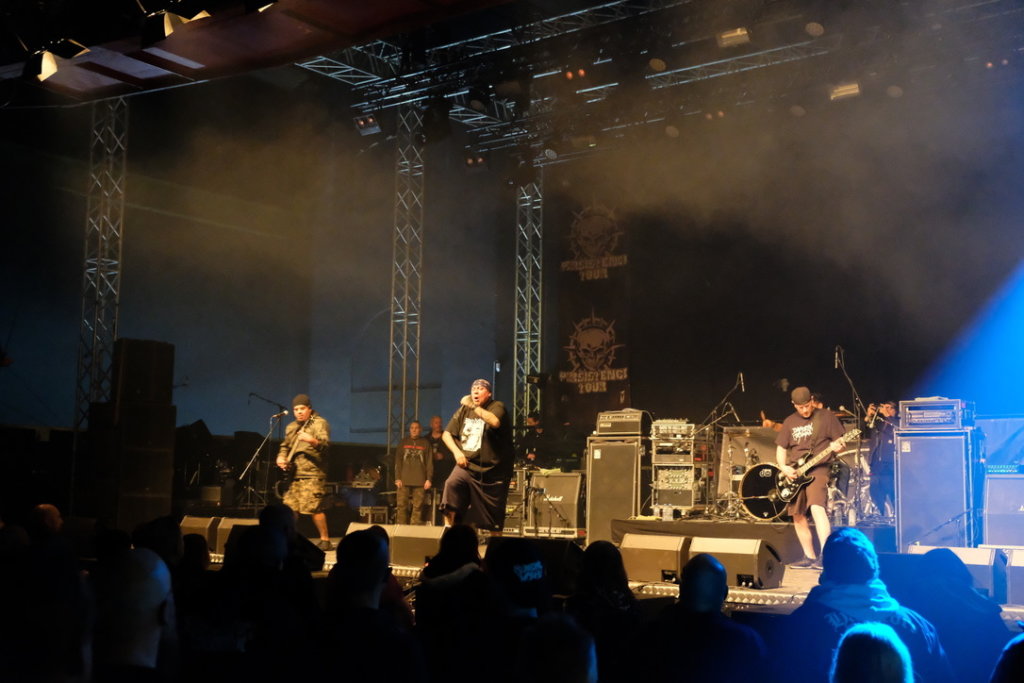 …we felt like fucking zombies then jumped on stage and open the Persistence Tour…and loved every second of it!!!
AFL: What can you tell us about the new record? When do you plan to release it? What can we expect from it? 
Jr: What can I say about this new record is that it's true in your face LAHC at it's best. I am very proud of this record the production, the music, the lyrics , the whole attitude behind it and everybody who has participated in it. As far as the release goes it will definitely be out when we finish it because we had to put a pause on it because we went to Europe.
AFL: Sadly, not many bands in our genre can live from their music alone. What about you? What do you do when you´re not on tour? If you have a "day job", how do you balance your jobs duties and PTO and being on tour?
Jr: I do graphic design, some labor. Not so much no more because I hate doing that and occasionally I bounce at clubs.
Time for brain storm
AFL: Alright, brain storm time! What are the first thought to come to your mind when you hear to following:
Jr:
Favorite band(s) – Agnostic Front
Germany – BEER!
Hardcore / Punk – Suicidal Tendencies
Vinnie Stigma – The Godfather of NYHC (Best human ever)
AFL: Are you coming back to Germany for some shows this year?
Jr: No unfortunately we will not be back this year, we would have loved to but we would like to get back with a new record.
AFL: Is there something else you want our readers to know or to get off your chest? Then, now would be the perfect time for it!
Jr: I would just like to say on behalf of the rest of Countime (Mikey, Chino, Rudy and myself Jr) we would like to say from the bottom oy my heart thank you so much Europe for letting us play and be heard in your country. We will see you guys again and we look forward to keep coming back shout out to our families and the entire Los Angeles New York hard-core scene.
LAHC/NYHC, pick up some Hoodcore Gear
Thank you Claudia
Jr5150 – vocals

Mikey – guitar

Liam – guitar

Rudy – bass

Chino – drums

@countime_lahc

@hoodcore_la
Again, thank you very much for doing this. I really appreciate your time and effort. Thanks a lot. Good luck to you and I hope to see you again soon!