Cutthroat wird in wenigen Tagen nicht nur ihre neue EP namens Reflekt über Demons Run Amok Entertainment veröffentlichen, sondern kommt auch auf große Europa-Tour. Dort begleitet die Hardcore-Crossover-Band aus Los Angeles im Rahmen der Persistence Tour 2020 niemand geringeren als Gorilla Biscuits, Agnostic Front, H2O und viele mehr.
Wir nahmen das bevorstehende Release und die Tour zum Anlass Cutthroat-Sänger und -Gründer Neil Roemer seine fünf Favoriten aus seiner Heimat Kalifornien vorstellen zu lassen.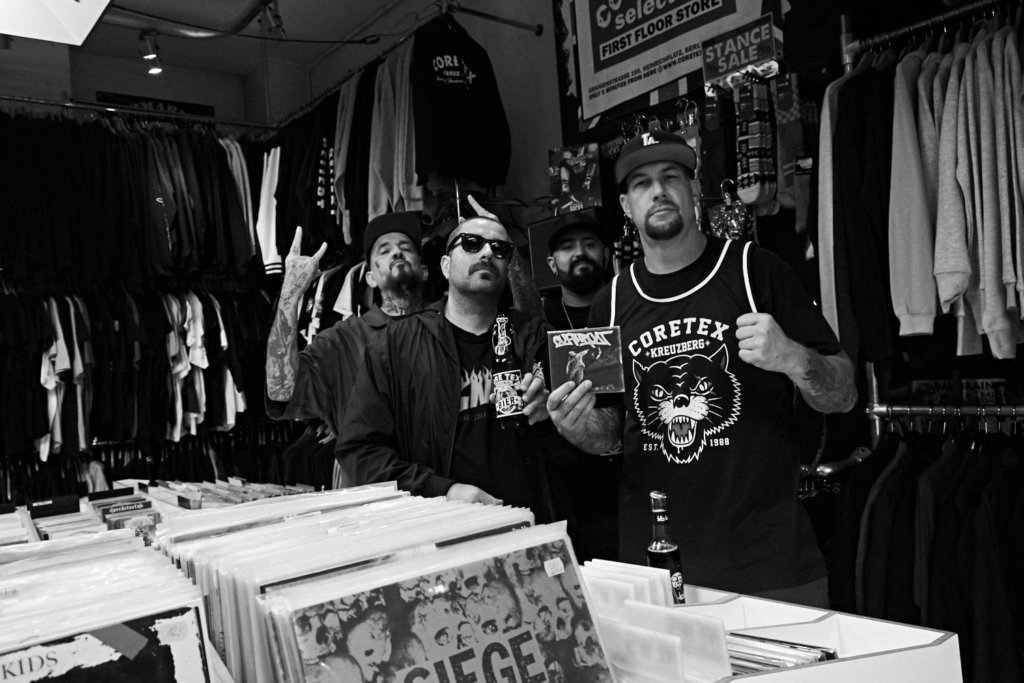 5 Bands to check out from California
Inside Out from Orange County California the EP "No Spiritual Surrender" was bad ass. The way it was recorded in the early 90s, garage style. No matter where or how you record, you can't program passion. This was an ep that was the start of something great for Zack de la Rocha. I really listen to passion and meaning over flow. Zack murders the vocals with his intensity.
Terror from Los Angeles. I don't really need to explain why they're so dope. They came out of LA and are killing the world. Consistently making great hardcore music. My 2 favorite Terror records are "KOTF" and "Total Retaliation".
Personally I listen to Terror when I'm working out or need to get aggressive haha. Perfect soundtrack to release some anger. I had the privilege of doing a track with Nick Jett. He's a bad ass musician and producer.
Another great LA hardcore band. Helped pave the way for bands like mine. OGs in the Los Angeles Hardcore game for sure. "In this defiance" and "Witness a rebirth" are my 2 favorites. I like how STRIFE has always stayed true to their sound. No matter how long a break they take, they always come back in top shape where they left off. Their shows are real HC shows. Only few bands in LA get the respect they do. Andrew Kline is a beast on the ax and a friend of mine. Their drummer Pepe Magana is also a brother!
Countime is a hardcore band from Los Angeles CA. They've been holding down the underground scene for like 20 years. These dudes are real LA street cats who put together dope local show and keep the scene moving in LA. JR the vocalist is also a local show promoter! Also good friends with Cutthroat. Check out "Ostracized" it's a dope record. I also heard Billy Graziadei is working with them on a new record. Shit will be Hard.
Downset from Sylmar California. They are the West Coast pioneers of rap and hardcore. Starting with some of the members first band "social Jjustice" Rey Oropeza had a dope sound and passion with his delivery. They inspired so many bands after them including my own. Their releases "Downset." And "Check Your People" are classics. This is one band that had such an influence on me. If they didn't exist, cutthroat probably wouldn't either.
Cutthroat werden am 10. Januar 2020 ihre neue EP Reflekt über Demons Run Amok Entertainment veröffentlichen.
15.01.20 Hamburg – Grosse Freiheit 36 (Germany)
16.01.20 Wiesbaden – Schlachthof (Germany)
17.01.20 Wroclaw – A2 (Poland)
18.01.20 Dresden – Eventwerk (Germany)
19.01.20 Brussels – Ancienne Belgique (Belgium) NEW
20.01.20 Zurich – X-Tra (Switzerland)
21.01.20 Munich – Backstage Werk (Germany)
22.01.20 Brno – SONO (Czech Republic)
23.01.20 Berlin – Astra (Germany)
24.01.20 Würzburg – Posthalle (Germany)
25.01.20 Oberhausen – Turbinenhalle (Germany)
26.01.20 London – O2 Forum Kentish Town (United Kingdom)