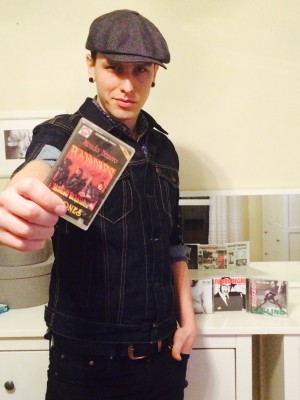 Polen bringen wahrscheinlich recht wenige Leute mit Rock n Roll oder Punk in Verbindung. Poison Heart aus der Hauptstadt Warschau sind wohl einer der angesagtesten Namen im Underground! Live schlagen die Jungs ein wie eine Bombe und auch menschlich total gutherzig! Süss werden sie dann wenn sie genug Wodka intus haben! 2014 waren die fünf Jungs zum ersten mal in Deutschland auf Tour und die Jungs von Oi!Port haben die Jungs für eine Proberaumshow eingeladen. Ich glaube jeder im Raum war begeistert. Im Mai kommen sie wieder auf Tour. Diese ist zwar noch in Planung, wird aber mit Sicherheit wieder ganz grossartig!!
1. Ramones – Mondo Bizarro
I think it's quite appreciated. The last album of great Ramones. This material has had a significant influence on my band, and our name is not accidental. I often go back to this material, which I've got only on tape. When I was young CD's had been just introduced. My tape recorder still works so I often go back to it.
2. The Clash – London Calling
Blow! Anyone who has licked punk music must be familiar with this album. Hit after hit! With such albums rock and roll will never die. There is no need to dwell.
3. Gluecifer  – Basement Apes
I got to know Gluecifer relatively late, I've never seen them live, which I regret. Till today the material still inspires me, and Basement Apes is my favorite album.
4. Turbonegro – Never is Forever
After this album, it was clear that those Mofos will do the mess. I reached for this album relatively later. My adventure with Turbonego started from Scandinavian Leather, but Never is Forever allowed me to understand what is my Destination…
5. Hydromatics – Party Unknown
Scott Morgan, Nicke Andersson, when such guys start making music it has to be blast. Pearl of  Rock'n'roll. If someone hasn't  yet heard that material, it's a must.
6. The Hellacopters – Supershitty to the max
Supershitty to the max !!!
7. Bomb the World – Friends of Your Enemy

My favorite Polish band. There are obviously more of them in Poland but I wanted make you pay some attention, because this album is a firecracker. Perhaps the most underrated Polish band of great musicians and kickass guys. If you come to Poland and you would like to listen to good music or see a good show ask about BtW, Dizel, The Stubs, Lazy Class, The Cuffs or Bombat Belus…
8. Kvelertak – Kvelertak
Great album, one of the best in recent times, the team of massive power of 4 guitars and each of guitar is doing its job.
9. Wounds – Die Young
about these guys we will hear soon. Coogan brothers released a damn good material.
Songs: No future or Dead dead dead are fuckin sweep.
Poison Heart, played a concert with them in Poland due their very short Europe tour. Actually after the great show in Warsaw, Wounds cut of the whole tour.
Now they are staying in the US and doing well.
10. Electric Frankenstein – Conquer the world
living legend. I can't stop listening to them. It's the essence of punk and roll. The Song "All's moving faster" was covered by Hellacopters or Sweet.