Home
Bands
The Good The Bad and the Zugly
Band: The Good The Bad and the Zugly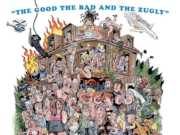 Es ist zwar schon Ende März, aber der Jahresanfang zieht sich doch sehr. Gefühlt ist es immer noch Winter. Wobei Winter und Herbst irgendwie mittlerweile das selbe sind. Alles grau, alles kalt und es passiert auch nicht wirklich viel. Das nehme ich diese Woche zum Anlass uns musikalische Unterstützung von Bands zu holen, die sich mit langen Wintern auskennen. Es geht mal wieder um norwegische Bands, genauer gesagt um The Good The Bad and The Zugly und Kvelertak.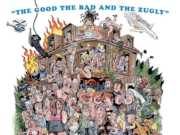 The Good The Bad And The Zugly - Misanthropical House (LP - 2018) The Good The Bad And The Zugly gehören zu einer meiner norwegischen Lieblingsbands. Die B...
Die norwegischen Punkrocker von The Good, The Bad and the Zugly wollen am 26. Januar 2018 ihr neues Album Misanthropical House über Fysis Format veröffentli...