Guilt Trip werden in wenigen Tagen, nach langer Wartezeit, ihr neues Album River Of Lies über Beatdown Hardwear veröffentlichen. Im November spielt die Band aus Manchester dann auch auf unserem Stäbruch Fest neben Agnostic Front, Desolated und vielen mehr. Grund genug also Gitarrist Jak Maden ein paar Fragen zu stellen.
AFL: Hi guys, thank you for taking time! In a few days you will release your new full-length River Of Lies. How satisfied are you with the full-length? Can you tell us a little more about the writing process / development process of the record?
Hi, thanks for the interview! We are really excited to finally show everyone what we've been working on for so long, it feels like forever since we released a record. Overall we are really proud of how the record came out, of course there are things we would change and I think that is something we will always feel as we are still relatively new. Writing for this record began at the end of 2017, but I'd say we really started on the record mid-way through 2018. It was a hard process; we wanted 10 killer tracks that felt like 'Guilt Trip'. We actually recorded the album in November 2018, it's been a grueling process of mixing/mastering then we even went back to the studio in January and deleted 2 tracks for 2 new ones haha.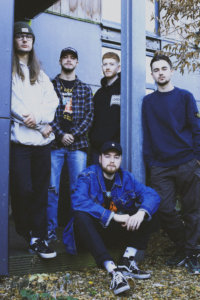 AFL: In the beginning of 2018 you've released a song called Hollowed Out – why didn't you add the song to your full-length? I've read that you've discarded your whole planned full-length and wrote new songs instead which are released as River Of Lies now. Weren't you satisfied with the first songs or what are the reasons?
Yeah, Hollowed Out simply wasn't good enough in our eyes, we had the full album recorded by the time we released that single. Then we decided to completely start from square one. It wasn't fair on people who had waited so long to just put something out that even We wasn't satisfied with. There is no point releasing something you don't believe is good enough. We began to re-write the album mid 2018 when our new drummer, Tom, joined the band. The old album wasn't half as good as Unrelenting Force, for some reason, maybe it was rushed or the band wasn't feeling the same way which made writing really difficult at the time, but once we made the lineup changes and additions we really started to roll.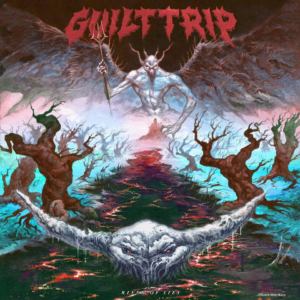 AFL: You've already released a full length called Weight Of Abjection in the year 2016. Why did you remove it on all platforms and your discography? For a debut this record was pretty sick! So would you say River Of Lies is your first full-length?
Again the band simply didn't see the point in keeping that record available. We released Unrelenting Force around six months after that record and it was 100 times better, we didn't want people discovering our band and listening to Weight of Abjection before anything else. We stopped playing those songs live too, so we kinda wanted a clean slate. I'd definitely say River of Lies is our debut LP, simply because it's the first 'real' one through a label.
AFL: How came the contact between you and Toni of BDHW Records?
We were actually playing in Erfurt, Germany and Toni came along to see Easy Money. We were on tour at the time and Easy Money was already on BDHW, we received a message from Toni shortly after saying he wanted to speak to us about writing a full length for his label. It was a no-brainer as we have all been fans of the label for years, so we did it. Toni actually stopped us from breaking up in 2018 but I won't get into that haha.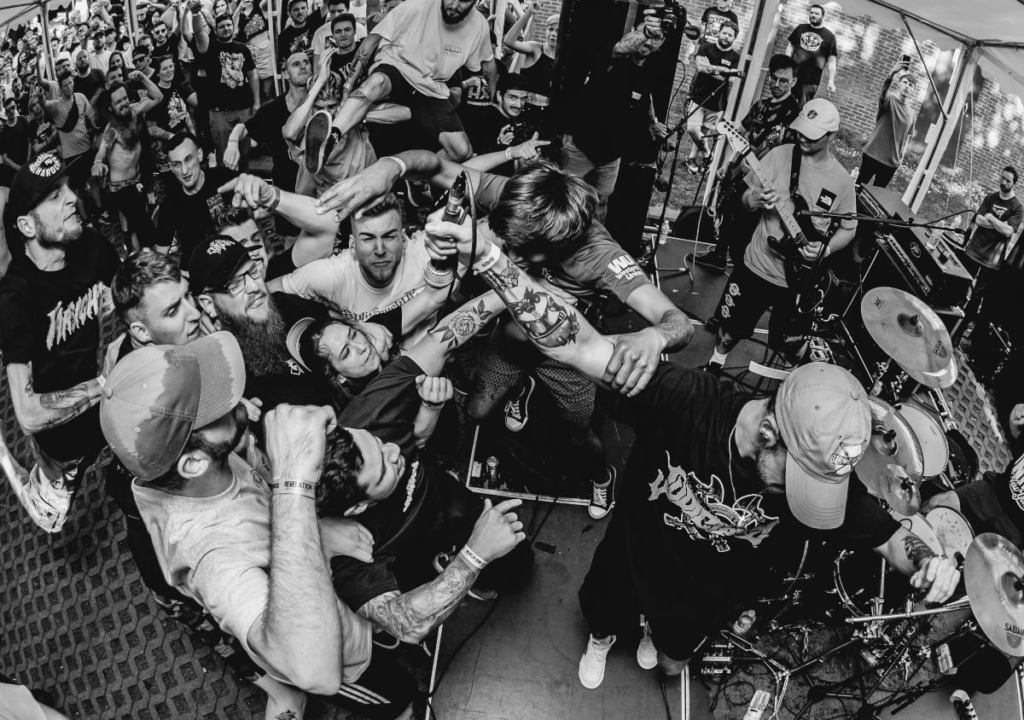 AFL: Haha! Could you name 3 to 5 bands which influence you on River Of Lies respectively Guilt Trip in general most?
We took very different influences on this record. Some to mention would be Knocked Loose, Lamb of God, Broken teeth and Your Demise. We all have our own taste in music, and I think that's why we have our own sound.
AFL: You will play our Stäbruch Festival in November – we're really looking forward that you're on the bill! Which bands you're looking forward most on Stäbruch?
Easy Money for sure, because we can play 'separate' from Unrelenting Force and have the guest spot done by them again, that's always fun! Also the return of Desolated is exciting, they are always fun live!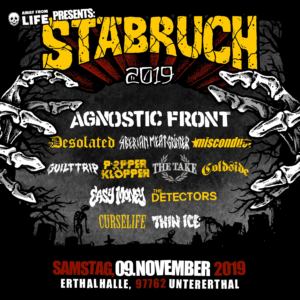 AFL: If you could choose a band you can play a tour together. Which band would you choose and where would you play the tour?
This is a hard one; we had the most fun on tour with Judiciary last year on our UK/EU run. Also Knocked Loose was probably our biggest one. So a combination of the two would be insane. Knocked Loose and Judiciary across USA would be a dream come true.
AFL: Here are some tags. What come you in mind first?
Skatepunk: Blink 182?
Boris Johnson: Idiot
Straight Edge: Have Heart
German Food: Very different, random combinations haha
Vinyl: Collectable
Crowdkilling: Love it when playing, hate it when watching
AWAY FROM LIFE: Your logo!
AFL: Thank you for taking time! Have you any last words or something to add?
Thank you for taking an interest in the band! Our record will be out on August 30th 2019. Thank you to everyone who has pre-ordered it and the ongoing support from Toni of BDHW, the fans and Mog LBU.
Guilt Trips River Of Lies wird am 30. August 2019 über BDHW Records erscheinen.
Das Stäbruch Fest 2019 mit Guilt Trip findet am 09. November statt. Dort werden neben Guilt Trip Agnostic Front, Desolated und neun weitere Bands auftreten. Alle Informationen dazu findet ihr im Facebook-Event.