Malevolence präsentieren uns mit Higher Place ein weiteres Musikvideo aus ihrem neuen Album Malicious Intent, das ihr euch hier ansehen könnt:
Frontmann Alex Taylor zum Song:
"Higher Place focuses on a subject which everyone will deal with at some point in loss; death/bereavement. This is one most heartfelt songs we have written as a band, however once we began writing this song, it came together very naturally. This song is a huge step outside our comfort zone, we hope you enjoy it! The visuals for this song was our first venture into a narrative driven video, filmed in our hometown of Sheffield. We worked closely with Enon Films to bring the concept to life."
Der dritte Longplayer der britischen Hardcore-Metal-Combo ist im Mai 2022 über ihrem neuen Label Nuclear Blast Records veröffentlicht worden. Der Nachfolger von Self Supremacy (2017), das noch über BDHW Records erschienen ist, ist gleichzeitig das erste Studioalbum seit fünf Jahren.
Malevolence legte im Frühling 2019 mit der EP The Other Side ihren zuvor letzten Output vor, das über ihrem eigenen Label MLVLTD herausgebracht wurde.
Unser Interview Sänger Alex Taylor findet ihr hier. Wir konnten Alex auch für unsere Rubrik 10 Records Worth To Die For gewinnen.
Malevolence – Malicious Intent (2022)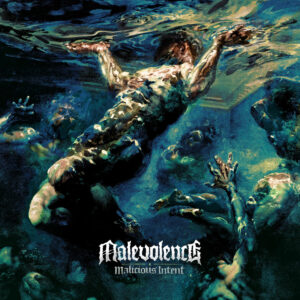 Malicious Intent
Life Sentence
On Broken Glass
Still Waters Run Deep
Higher Place
Karma
Above All Else (feat. Matt Honeycutt)
Do Or Die
Salvation (feat. Matthew K. Heafy)
Armageddon
MALEVOLENCE Besetzung
Alex Taylor | Vocals
Konan Hall | Gitarre / Vocals
Josh Baines | Gitarre
Wilkie Robinson | Bass
Charlie Thorpe | Drums