Malevolence haben erst im April ihre neue EP The Other Side über ihr eigenes Label MLVLTD Music veröffentlicht. Wir nahmen das Release zum Anlass, Sänger Alex Taylor seine 10 Lieblingsplatten vorstellen zu lassen – und ab dafür!
Weitere 10 Records Worth To Die For »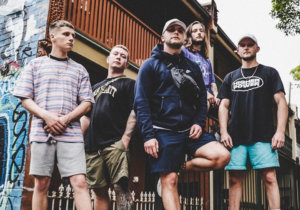 1
Hatebreed – Satisfaction Is The Death Of Desire
One of my favorite records. Hard breakdowns, inspirational lyrics and raw production! One of the first albums to get me into hardcore!
2
Terror – One With The Underdogs
Terror are one of the greatest hardcore bands of all time. I first heard Keep Your Mouth Shut on a DVD that a friend lent me and I was hooked from then! We recently got the chance to tour Australia and they are one of my favorite bands!
Nasty are one my favorite bands. I heard this album in 2010 and shortly after went to see them play on a Hell On Earth Tour in Manchester. Not long after that, we played some shows together and ended up hanging out. Ever since then, we have been great friends, playing loads of shows together and hanging out outside of music. This record is straight ignorant!
4
Inclination – When Fear Turns To Confidence
One of my favorite new hardcore bands around right now. Insane riffs, sick vocals all delivered amazingly well. Definitely a band to watch!
5
Trapped Under Ice – Big Kiss Goodnight
Its rare these days I find an album that I can listen to the full way through and enjoy every song, but this album is one of those. An album full of great songs!
6
Bitter End – Guilty As Charged
Great aggressive hardcore record by a very underrated band.
7
Knuckledust – Promises Comfort Fools
A classic UK hardcore album from one of the best UKHC bands. If you don't know about this record then you really should!
8
Cold Hard Truth – Trust In Few
Another UK classic from one of the hardest bands in the scene. Beatdown hardcore from Boston, UK. You'll struggle to find harder music than this!
9
Incendiary – Thousand Mile Stare
This record caught me by surprise as I'd heard of Incendiary before but never really given them the time of day that they deserve, until I heard this record. I love the vocals on this album!
10
Cold As Life – Born To Land Hard
One of the hardest bands of all time. To the old school hardcore heads, this band is infamous however for newer hardcore fans just discovering this scene, this is a must have record.
Weitere 10 Records Worth To Die For »
Malevolences neue EP The Other Side ist am 24. April 2020 über MLVLTD Music erschienen. Unser Interview mit Alex findet ihr hier.