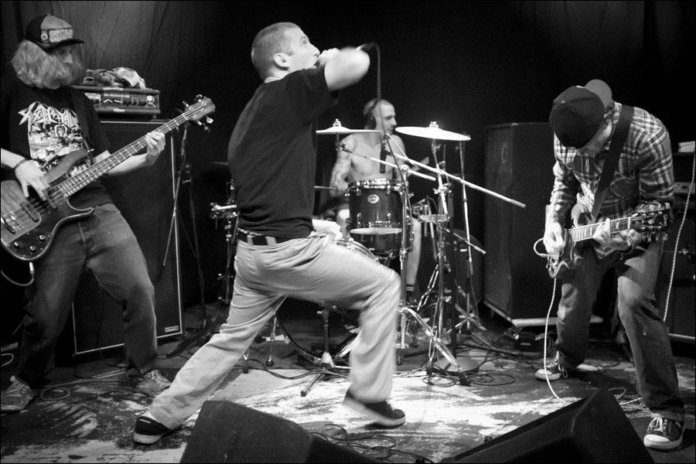 Scheisse Minelli spielten am Freitag den 13. Februar zusammen mit Acid Piss im Immerin Würzburg. Hier ein kleiner Live-Mitschnitt:
Scheisse Minnelli is a HC Punk band based in Germany. The band was started in late 2003 by two native Californians and two Germans. The current line up takes it back to that original 50/50 brew with Germans Marlon and Dash holding the rythm tight being joined by California's two most wanted Samuel el Action on vocals and introducing delinquent Mikey P.on guitar.

They have played over 500 gigs, tour hard internationally, have shared the stage with the likes of Poison Idea, Dr. Know,The Kids, Zero Boys, Napalm Death, Municipal Waste, Seein' Red, DI, Christ on Parade, Antiseen, UK Subs, No Use for A Name, Subhumans, TSOL, NOFX, Jello Biafra, Fang,The Adolescents, Pennywise, Lagwagon, Dayglo Abortions, DRI, Scream, Negative Approach,Beowulf and Raw Power. Scheisse Minnelli has toured all over Germany, Belgium, Holland, Denmark,England, Switzerland, Romania, Spain, Austria, Italy,Luxembourg, France, Czech Rep, Poland, Hungary, Serbia, Croatia, Slovenia, Finland, Mexico and have toured the United States three times, playing over 60 gigs there. In late 2014 the band flew to SE Asia to tour all over Indonesia with their buddies 7 Crowns from the UK for an tour experience they will never forget.

They have released 4 full length LPs along with an assortment of splits, comps and 7 inches. SORRY STATE OF AFFAIRS is their latest full length album and it´s out in Europe on Destiny Records and Rock Star Records and in the US on Beanies Records. It is the first full length with Mikey on guitar and an album the band is totally stoked on. On the latest release they took their time to get the right sound and arrange and write the songs to a T! Get ready cause its gonna blow yer mind!