Die Spatzen pfiffen es bereits seit mehreren Wochen von den Dächern. The Casualties werden am 26. Oktober 2018 ihr heißerwartetes neues Album veröffentlichen. Dieses wird den Titel Written in Blood tragen und über Cleopatra Records erscheinen.
Mit 1312 gibt es aus diesem bereits die erste Hörprobe im Form eines Musikvideos, bei dem die Streetpunk-Band aus New York deutlich macht was sie von der Exekutive hält.
Der neue The Casualties Frontmann David Rodriguez zum Song:
"This is a statement very true to our culture, our way of life, 1312 ACAB! We didn't grow up watching cops walk old ladies across the street, we grew up watching Rodney King get BEAT, not detained and manhandled, Fucking BEAT. If normal citizens must pay the price of the "long arm of the law" they can be held accountable for their actions. Anyone of color can be pulled over for being suspicious? Well we can be suspicious of them! 1312 ACAB. With great power comes great responsibility!"
Written in Blood – das erste The Casualties Album mit Jorge Nachfolger Dave
Written in Blood ist das bereits elfte Studioalbum der Band und gleichzeitig das erste Release mit neuem Sänger David Rodriguez (Krum Bums). The Casualties Urgestein und Gründungsmitglied Jorge Herrera verließ The Casualties nach 27 Jahren im vergangenen Sommer.
Die 15 neuen Songs wurden im Frühjahr 2018 im The Blasting Room Studios in Fort Collins (Colorado) gemeinsam mit Bill Stevenson (Descendents, Black Flag u.a.) und Jason Livermore aufgenommen. In diesem Studio wurden bereits die Casualties Alben On The Front Line, Under Attack und We Are All We Have produziert.
Mit Veröffentlichung von Written in Blood können Fans aus Mitteleuropa weiterhin auf eine Tour hoffen. Diese wird zu Beginn des kommenden Jahres erwartet. Unser Interview mit The Casualties aus dem Jahr 2016 findet ihr hier.
Das Artwork und die Tracklist vom Nachfolger von Chaos Sound (2016, Season of Mist) findet ihr nach dem Video.
The Casualties – Written In Blood (2018)
1312
Fucking Hate You
Ashes
Demolition
Guard Dogs
Written In Blood
Feed Off Fear
Final Expense
So Much Hate
Ya Basta
All Out War
Smash
Lost
What I Want
Borders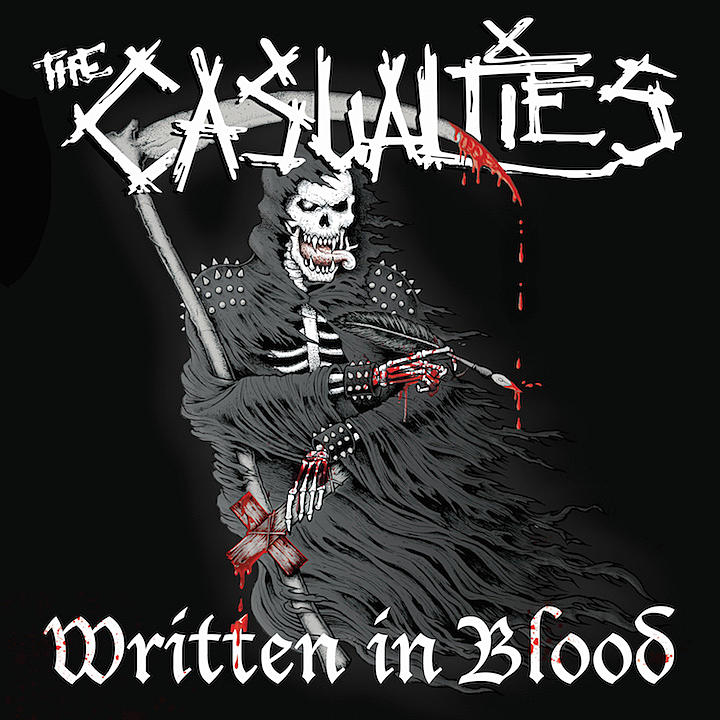 - Spotify-Playlist -
Auf der Suche nach neuen Hardcore-Bands? Dann check unsere Spotify-Playlist
New Hardcore Bands
: