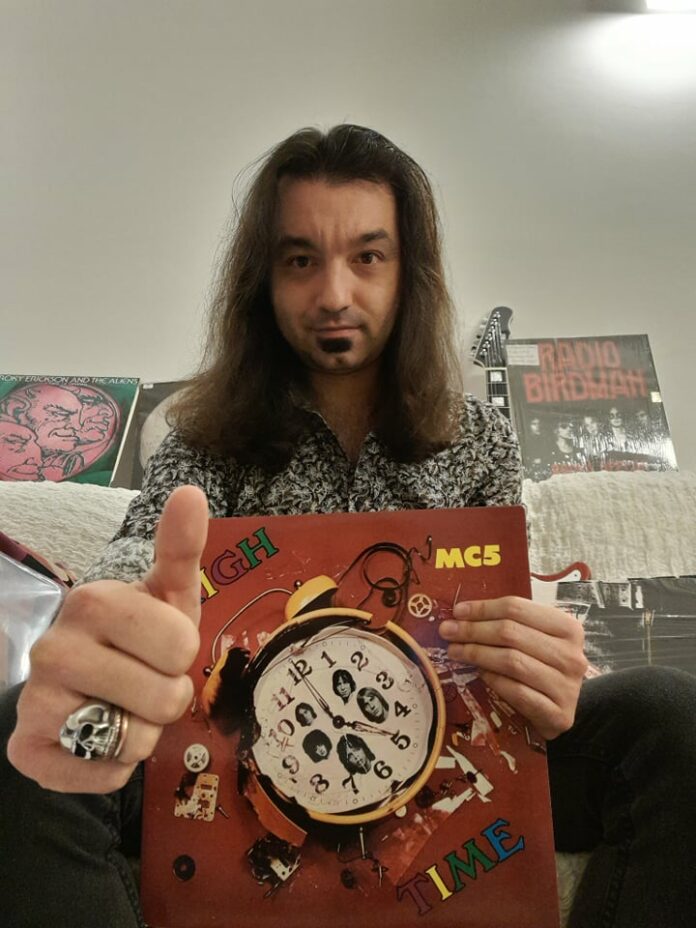 Ein Geheimtipp in Sachen Quality-Rock'n'Roll aus Italien sind die Mad Dogs. Sänger Marco hat sich die Zeit genommen uns seine Lieblingsalben vorzustellen.
1
The Hellacopters – High visibilty
The best action rock band in the world. A record that encompasses rock'n'roll, garage, punk, soul in a crazy balance! Masterpiece.
2
Roky Erickson– I think of demons
A great artist, a precursor of psychedelia. He deserved more fame than he ever had. In this record we perceive how his music influenced the generations to come.
3
Rolling Stones – Sticky fingers
I could have inserted Let it bleed, Exile on main st., Beggars banquet but the synthesis is the same: the Rolling Stones are the basis for every rocker. Eternal.
Few bands in history have managed to have such a devastating cultural, social and musical impact.
If "Kick out the James" was a generational anthem for me High time was the record that made me approach, and fall in love with, the Detroit protopunk scene.
5
Nuggets: Original Artyfacts from the First Psychedelic Era, 1965–1968
This compilation written by Lenny Kaye, guitarist of Patti Smith, collects the whole garage punk / psychedelic scene of the 60s. A cultural reference, for the attitude of the bands involved and for the principle of research and rediscovery from the underground music scene, which has become fundamental today more than ever.
6
Grand Funk Railroad – E pluribus funk
Firepower! Hard rock and melodic at the same time, three sounded like ten. Fantastic!
7
Turbonegro – Apocalypse dudes
In a 90s scene dominated by grunge and alternative rock, Turbonegro's impact was sensational! In this album the rhythm section is very tight, Euroboy on lead guitar in a brilliant form and Hank frontman without hairs on the tongue or maybe yes? (rip.). The only band capable of making you feel "dirty" just by listening to them.
8
Radio Birdman – Radios appear
Everyone remembers Australia for the Ac/Dc, i for Radio Birdman. The couple Deniz Tek and Rob Younger is one of the most rock'n'roll of all time, a mashup of rock'n'roll, protopunk and surf references. You listen to them and you are immediately in bondi beach.
Whether you want to party or need intimacy, Soul music works well in both cases. This record is proof of that.
Led Zeppelin are my father's favorite band. I grew up listening to these records and picked up the guitar with them. Undoubtedly Jimmy Page's research from the Yardbirds to the Zeppelin was brilliant.