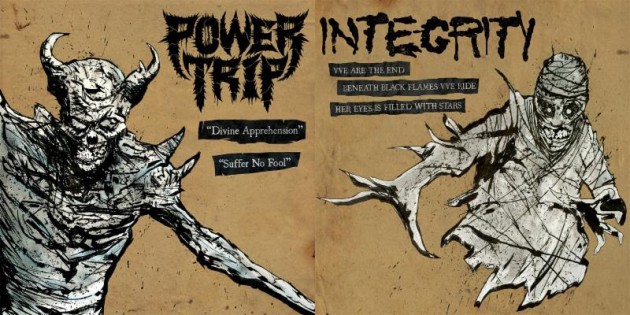 Die beiden US-Hardcore Bands Integrity (Cleveland) und Power Trip (Dallas) werden eine gemeinsame Split-LP veröffentlichen.
Diese wird am 17. Juni über Magic Bullet Records erscheinen. Dabei wird Integrity drei und Power Trip zwei Songs beisteuern.
Hier die Tracklist:
1. VVe Are the End (Integrity)
2. Beneath Black Flames VVe Ride (Integrity)
3. Her Eyes is Filled with Stars (Integrity)
4. Divine Apprehension (Power Trip)
5. Suffer No Fool (Power Trip)
Power Trip werden Ende Mai auf Europatour kommen. Die Dates hierfür findet ihr hier.
Pressetext:
As an exemplar of intergenerational confluence out on the metallic hardcore fringes of heavy music's spectrum, Magic Bullet Records presents a split release between legendary stalwart Integrity and contemporary phenom Power Trip.

The release is semi-dual-reissue in nature, as Integrity's contribution is a retooled, remixed rendering of their 2010 Magic Bullet Records 7″ VVe Are the End. The Power Trip material culls the two original tracks from their self-titled 7″ on Lockin' Out Records, originally released in 2011. Previously unheard or released prior, Integrity also contributes "Her Eyes is Filled with Stars," their unique cover of the bizarre song that Howdy (Crispin Glover) serenades Stephanie (Jenny Wright) with in the 1989 film Twister. The cover song is exclusive to this split across all formats.

Brand new artwork and layouts by Integrity's Dwid Hellion draws further cohesion between the bands on this one, as both physical formats feature a "co-headliner" visual presentation and a foldout poster containing all lyrics, credits, and additional original artwork. For vinyl fans, the first pressing is being issued on three color ways: black, clear, and red. Both sides are spun at 45rpm for maximum fidelity. The record will also see CD and full digital release.
- Spotify-Playlist -
Auf der Suche nach neuen Hardcore-Bands? Dann check unsere Spotify-Playlist
New Hardcore Bands
: