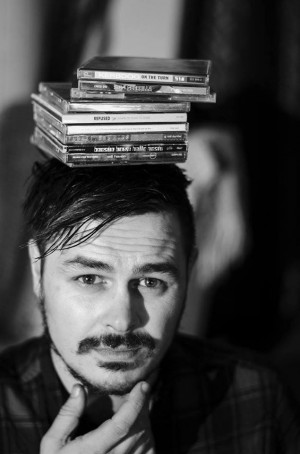 Riggots sind eine unheimlich innovative Band aus zwei Personen bestehend. Sehr schnellen Hardcore spielen die Jungs aus der Arbeiterstadt Wigan bei Manchester. Im April kommen die Jungs auf grosse Europatour mit ihrem neuen Album "In Joke". Hört euch die Jungs an, sie sind mächtig talentiert!
1. SEPULTURA – ROOTS(1996)
The first properly heavy album i fell in love with.
I got this on cassette from my local library when i was 12 and copied it onto a blank tape –  I also tried to draw the artwork and make my own sleeve, but i'm infamously terrible at drawing and the chap on the front looked more like Rod Stewart(any male i draw ends up looking like Rod fucking Stewart!!)
Heavy riffs aplenty and the tribal style drums on some of the songs set this apart from a lot of Metal that was out around that time. Max Cavelera is a very very angry man who sounds like Mumrah from the cartoon Thundercats which is a bonus!
FAVOURITE TRACK – Spit
2. THE BEASTIE BOYS – HELLO NASTY(1998)
Perfect album to perfect my already awful dance moves. I am a massive Beastie Boys fan and although i now think "Check Your Head" and "Ill Communication" are  better albums now, this was the album which got me in to them.
The way they use their voices almost as a rhythmic instrument has always been a massive influence on me.
TRIVIA – My stepdads generic walking pace is exactly in time with the song – Intergalactic.
FAVOURITE TRACK – The Negotiation Limerick File
3. SLINT – SPIDERLAND (1991)
I am a massive fan of most things on Touch and Go records and this could of easily been any Jesus Lizard album or anything by Big Black but they wern't on the shelf i picked. This mini album is the only thing worth listening to by Slint as everything else they have done has been rubbish.
This is the perfect quiet/loud/quiet album. A simple trick but one which i've always loved. The quiet bits just make the loud bits heavier and grittier sounding if that makes sense. An obvious massive influence on Mogwai who are another of my favorite bands. I also love the raw as fuck production.
FAVOURITE TRACK: Good Morning, Captain
4. KERBDOG – ON THE TURN (1997)
A tragedy that this band and this album didn't blow up massive. Massive riffs,massive hooks and huge singalong chorus'. Probably victims of their own originality due to not fitting into any sort of niche. Too heavy for the radio rock fans, too melodic and poppy for the meathead metallers. Proper takes me back to my teens but i think both the songs and the production hold up today.
FAVOURITE TRACK: On The Turn
5. WILL HAVEN – CARPE DIEM (2001)
Simple, raw, furious. This album is like being hit over the head with a shovel for 40 minutes. This band have been massively influential on both my guitar playing and shouting and i think this is them in their prime. I first saw these live as a 14 year old boy not knowing what to expect. I think i managed to pick my jaw up some time around my 18th birthday.
FAVOURITE TRACK: Dolph Lundgren
6. TORI AMOS – FROM THE CHOIRGIRL HOTEL (1998)
I honestly cannot recall how i first heard this album . The most tame album in this list. I haven't really got into any of her other albums but this is an absolute masterpiece. Intense in a whole differant way.
FAVOURITE TRACK: Lieee
7. REFUSED – THE SHAPE OF PUNK TO COME (1997)
Oe of the 4 or 5 bands myself and Rob(drums) actually agree is a joint influence. I was lucky enough to see Refused play in my hometown of Wigan before they split up. An absolute modern classic that mixes so many differant genres yet still is an absolute beast of a punk rock record. It shows how good this album was and how forward thinking when they only got big after they crashed and burned! From playing dingy basement clubs to headlining festivals over a decade after its release!
FAVOURITE TRACK: Refused are Fucking Dead
8. McLUSKY – THE DIFFERENCE BETWEEN ME AND YOU IS THAT I'M NOT ON FIRE (2004)
I could of picked any McLusky or Future of The Left album but opted for this as it is the album that got me into them. They manage to mix dark gallows humour with aggressive music like nobody else. Steve Albini recorded this too (I'm a massive Steve Albini fan) so you know that it is going to be raw, warts and all and brutally honest. Another massive personal influence on how i approach songwriting.
9. SUPER FURRY ANIMALS – GUERRILLA (1999)
I bought this album whilst in a supermarket JUT before getting a ferry to France to go on a  family holiday. I had my CD player but had left all my CDs at home so i spent my holiday listening to just this album on repeat (i didn't have much choice). It is absolutely bonkers, a perfect summer album. A crazy band.
FAVOURITE TRACK: Do or Die
 10 .FUGAZI – END HITS
I got this album from a second hand shop as a teenager, not really knowing much about Fugazi/Minor Threat etc. Having got into Fugazi from this i genuinely think this is their best album. Later finding out the bands story and how they operate and the D.I.Y way they conducted themselves it made me love it even more. Another huge influence on Riggots . They manage to be intense and insanely catchy at the same time whilst not buckling to any trends and remaining themselves. Strides ahead of other punk bands.
FAVOURITE TRACK: Five Corporations