Kürzlich haben Comeback Kid ihr neues Album Heavy Steps veröffentlicht. Sänger und ehemaliger Gitarrist Andrew Neufeld hat sich die Zeit genommen uns ein paar Fragen zu beantworten!
AFL: Hey Andrew, Heavy Steps is out since a few days. What's the best thing for you regarding the new album?
Andrew: Yeah it's been out a little while and we've been able to start playing some new songs live you know and kinda feeling them out. We are opening with Heavy Steps maybe shoving it down our audience throat in that way a little bit haha but that song is getting a good reception, and also Crossed seems to be crushing it live!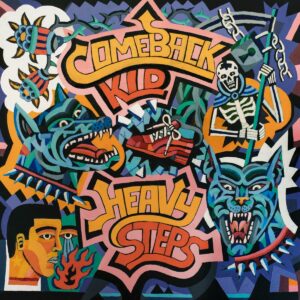 AFL: The record sounds closer to your sound live than the previous records did. You caught a lot of anger and energy in the studio in a way you didn't before. Has this been planned in advance and if yes, how did you do this?
Andrew: I was really involved in all the editing of the vocals and how I wanted them laid out. We actually changed vocal engineers like the first week of recording so that we could get more done and run 2 studios at the same time ( vocals the same time as instruments ). I had the pro tools screen in my vocal booth and would sing a little bit, and then comp ( edit ) the best takes part by part and was reeeeally able to pay attention to every little word or syllable. I tried to convey a lot of emotion / desperation in my vocal performance delivery and the lyrics. So I'm happy that you can hear the dramatics.
AFL: Comeback Kid was one of the first oversea bands that went on tour in the UK after brexit and the beginning of the pandemic. What have these incidents changed for a touring band like you?
Andrew: It just means there is a lot more pre planning to do. And that's really annoying. There is an extra element of risk that comes with travelling in general now and you just gotta be prepared to pivot and make changes along the way, even when the plan has been in place for a long time. I'm trying to get better at all of it still.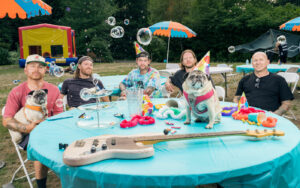 AFL: Comeback Kid usually is on tour all the year. What have you done in the time touring was not possible?
Andrew: We wrote and recorded this new record Heavy Steps. I lost 40 lbs. I produced an EP for a Quebec band called Boundaries QC and I started working in film ( most the time for hallmark Christmas movies ) driving cast, crew, and camera trucks.
AFL: Did the time you have not been able to tour change your private life?
Andrew: The weight thing was huge for me so I am able to maintain now. I always felt a bit heavier than I would have liked to be, so keeping that up is a daily mission. Staying healthy in general. I won't say I follow the path of resistance enough but I'm aware of the choices I'm making every day and how they can affect me and others. I kept pretty busy. Haven't escaped all my demons quite yet tho.
AFL: Actually you should be on tour in europe right now to celebrate the release of your new album. On the album you got guest appeareances of JJ from DEEZ NUTS and Joe Duplantier from the french band GOJIRA. Tell me, how did you find together?
Andrew: I had JJ re introduce a chorus with me because we had transposed a chorus of our song Everything Relates to the intro of a DN song Binge. It was one of the only riffs that their late bass player SK had every written for the band and it was beautiful. SK had passed away while we were finishing writing / recording the song and it felt like he was speaking to us. It was only fitting that JJ sang the final chorus w. me. Joe Duplantier was more of a lucky break. Stu our guitar player new Joe's day to day guy Taylor. And he put us in touch, and Joe said yes. I wanted a dark overlord type ominous vibe for that character in the song Crossed that Joe features on and he fit the roll perfectly!
AFL: Andrew, you are well known for watching as many bands as possible on tour. On tour you don't have much time to rest, where do you find the energy to watch bands all the time?
Andrew: I keep it fresh and I like to see what's going on around me. I got my ear to the ground ya feel?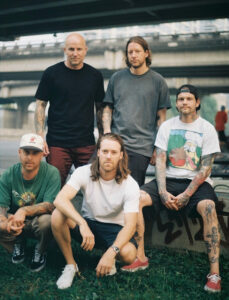 AFL: After all these years, which underdogs you saw on tour can you recommend to check out most?
Andrew: XL Life, Speed , Pain Of Truth, Zulu, Scowl, Section H8, Devil In Me.
AFL: Your other band is named Sights & Sounds. How does the future for this band look like?
Andrew: Good question. I'm not sure. It was hard to do the band BEFORE the pandemic, so I can imagine it would be harder ( and more expensive ) to do now. Maybe, we will see,..
AFL: 2022 marks the 20th birthday of Comeback Kid. Did you make any plans to celebrate this especially? Was the video to the song Heavy Steps a wink to this?
Andrew: Actually I think there is a bio with some wrong dates on it. We actually started in 2000 so we are 22 now. Now we can wait for the 25 year anniversary (rubbing hands slowly together)
AFL: Thank you for the exciting answers!