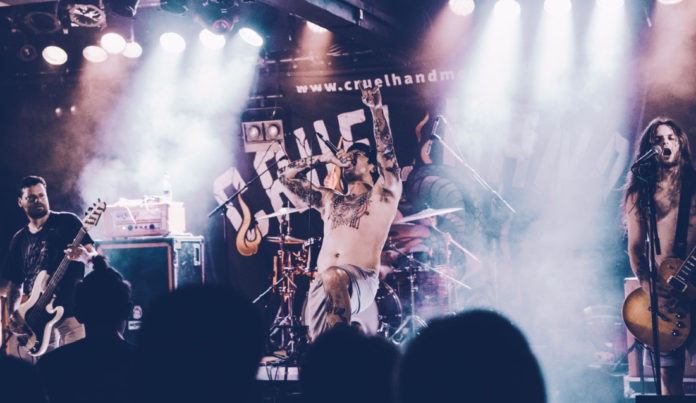 Die erste Show, die erste Platte und seine größten Einflüsse! Nachdem Chris Linkovich im April 2017 bei Terror als Bassist einstieg, wurde es um Cruel Hand doch merklich ruhiger. Umso erfreulicher waren dann die News als Cruel Hand mit Dark Side On The Age ihren ersten Output seit fünf Jahren ankündigten.
Der Nachfolger von Your World Won't Listen (2016) enthält vier Songs, die im Dexters Lab Recording in Milford, Connecticut mit Produzent Christopher "Zeuss" Harris aufgenommen wurden. Während die US-Auflage über Static Era Records erscheinen wird, bringt Dead Serious Recordings die Vinyl in Europa heraus.
Wir sprachen anlässlich der bevorstehenden EP mit Frontmann Chris über seine Hardcore-Punk-Roots und wie er zur Musik und Szene gekommen ist.
AFL: Do you remember the first hardcore / punk show you went to? Is the club still open today?
First show I went to was April 19th 1996 at a venue called Zootz in Portland, Maine. I don't remember it all too well, I was 11 years old, but I do have an image of the flyer. On the bill was Polyglot (from Maine, their guitarist Ian later went to play bass for Blood For Blood), Reason Enough (pre Reach The Sky, Ian Larrabee on Vox), Blood For Blood (you know the deal) and Facedown (another Maine band I believe). Zootz opened in 1987 and was the spot for all ages punk and hardcore as well as all ages dance nights. The building is still there but Zootz has been gone for probably almost 20 years. There will never be another venue in Portland quite like it. Time and place as they say.
AFL: What is your all-time favorite club or location?
Zootz! Haha
AFL: Do you remember the first hardcore / punk record you got?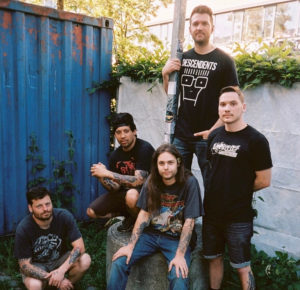 I want to say the 25 Ta Life 93 demo but it could have been Earth Crisis All Out War or the Integrity / Spywarfare 7″. All three maybe?
AFL: In your opinion what is the perfect hardcore show?
It's all about the vibe! You could cram us in a practice space with 10 kids going off the walls and you could have the best show of the whole tour. The perfect hardcore show doesn't need to be sold out or with a stage, we just need your energy. A sick dive doesn't hurt either haha.
AFL: What is your all-time favorite show you've played?
My all-time favorite show was the video shoot for Cheap Life in Portland Maine at the short-lived Studio 250. Bane headlined so you already know it was extra packed. The kids already knew they were going to be filmed so they went extra crazy. Nonstop dives, head walks and insanity. Pure magic!
AFL: Is there a show you missed in the past that still makes you angry that you could not be there?
Polyglot Industrial Strength Child Killer CD release party at Zootz 1996. Thanks for bringing up the painful past. Forever shaking my fists at the sky for that one.
AFL: What band would you like to see again?
The Hope Conspiracy from Boston. The way Kevin Baker can command the audience is like no other front man I've ever seen. INTENSITY IN TEN CITIES
AFL: Is there a person who has influenced you especially in hardcore / punk?
Not a person but a band. Bane took my first band Outbreak on the road and pretty much showed us the ropes. Some of the most fun I've ever had on tour and friends to this day. Everyone needs a Bane in their life!
 AFL: What are your top 3 hardcore-punk front men/women?
Freddy Madball
Davin Bernard (Humanicide, Eaten Alive)
Scott Vogel (Terror, Buried Alive, …)
AFL: What is in your opinion the most underrated hardcore-punk band?
Wake Up Call from Maine. They haven't been a band for years but if you get the chance listen to their record One Eye Open. Stripped down, traditional hardcore, MAINE STYLE.
AFL: Are there some newer bands you could mention?
Hangman, Restraining Order, Tear Drop, Receivers.
---