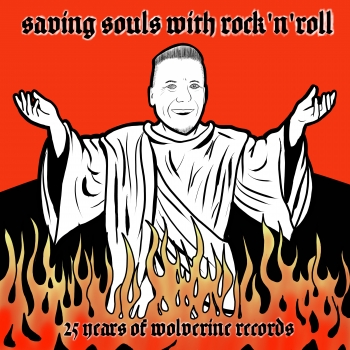 Saving Souls With Rock'n'Roll – die Devise von Wolverine Records. Und das schon seit geschlagene 25 Jahren! Im Namen vom AWAY FROM LIFE Team herzlichen Glückwunsch zum Jubiläum und tiefsten Respekt zu 25 Jahren Label- und Szenearbeit!
Anlässlich des Geburtstages von Wolverine Records hat das Label nun einen Sampler mit ganzen 22 Songs von 22 verschiedenen aktuellen Wolverine Bands veröffentlicht. Mit dabei sind folgende Bands:
THE MAHONES, RENO DIVORCE, THE BLOODSTRINGS, THE HELLFREAKS, THE BOYS, BARB WIRE DOLLS, H-BOMB HOLIDAY CAMP, THE SILVER SHINE, PUSSYCAT KILL, BASTARDS ON PARADE, JAMIE CLARKES PERFECT, BOY, LUCIFER STAR MACHINE, THE REDNECK ZOMBIES, THE DEVIL'N'US, KOPFECHO, LOTA RED, MALASANERS, THE WOLFGANGS, NIGHT NURSE, CHRIS VON DER DÜSSEL.
Allein die Bandauflistung lässt also erahnen, was einen auf den Sampler erwartet: Einen sehr abwechslungsreichen Mix aus Punk-Rock, Psychobilly und Rock'n'Roll, bei dem wirklich für jeden etwas dabei bist.
Als Anspieltipp sind H-Bomb Holiday Camp, Bastards On Parade, Reno Divorce und The Mahones zu nennen. Holt euch den Sampler für schmale 5 Euro – man kann dabei wirklich rein gar nichts falsch machen!