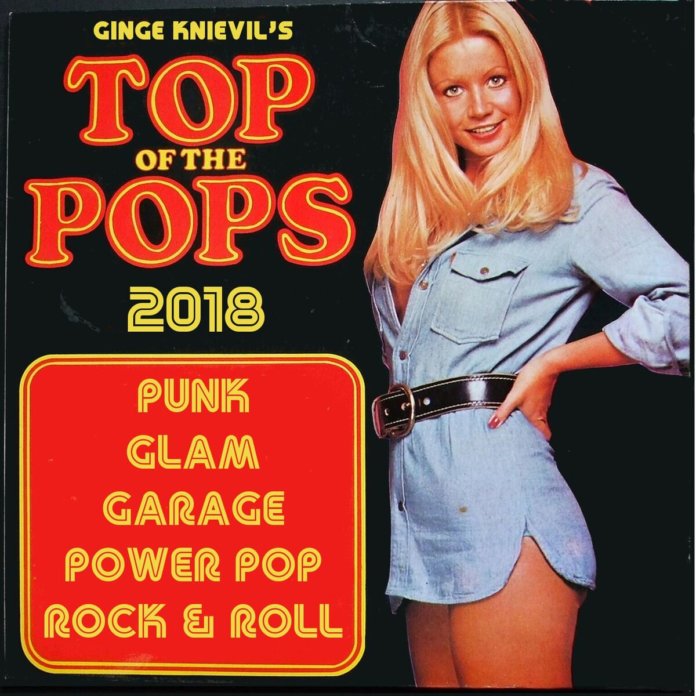 Am 01. November 2018 startet der Vorverkauf zu dem 01. Detzemer 2018 erscheinenden CD-Sampler Ginge Knievil's Top of the Pops 2018. 
Ginge Knievil ist Schreiberling für das britische Mass Movement Magazine. Auf diesem Sampler trägt er von seinen beliebtesten rezensierten Alben jeweils einen Song zusammen.
Den Erlös spendet er an Mental Health Matters Wales. Die Einrichtung hat ihn in der Vergangenheit selbst sehr geholfen, weshalb es ihn wichtig ist, dass auch anderen in Zukunft ebenso geholfen werden kann.
Das Lineup auf der CD kann sich auch sehen lassen! Hier die Tracklist:
Disc 1
The Chuck Norris Experiment – Eaten Alive (Single Version)
The DeadVikings – Racing With The Devil
The Good The Bad and The Zugly – Vik Bak Meg Satan
The Hip Priests – Dead By Sunday
Deathtraps – Track Marks and Lullabies
Flash House – Domestic Hiss
Scumbag Millionaire – White Flash
Christmas – Good Times, High Fives
The Turbo A.C.'s – You Will Lose
Nosebleed – I'm Shaking
Randy Savages – Doghoused
The DeRellas – Got Something To Say
Razorbats – Social Rejects
The Black Bullets – Dolls
Duck & Cover – Live It Up
"DEMONS" – Baphomet Briefs
The Media Whores – Skinny
The X-Rays – Tim Motherfucker
Motherfuckin' Motherfuckers – Lower the Bar
The DC Spectres – Vibrations
Ten Benson – Tits (Live at The Garage, London, 2003)
Disc 2
The Main Grains – The Rain Is Over Now
White Trash – Reverse Engineering
Faz Waltz – Julie
Role Models – Manette Street
Duncan Reid and the Big Heads – Bombs Away
The Speedways – One Kiss Can Lead to Another
Last Great Dreamers – New Situation
The Cheap Cassettes – Kiss the Arse of My Heart
The Dirty Truckers – Like Him
The Right Here – More Delusions
Zooparty ft. Glen Matlock & Brian James – Everything I Failed to Be
Tenplusone – Tattoos & Tiaras
Ill Fate – Pragmatic Patty
The Setbacks – Your Time
Justine and the Unclean – Be Your Own Reason
Superseed – No One's Getting Out of Here Alive
Jaws of Deaf – Cupid Stunts
Stay Voiceless – Those Kids Have No Idea Whatsoever of What Went On at Stalingrad
Leathers – Working So Hard
The Troubled Bones – Ma Cherie
Watts – All Done With Rock 'N' Roll