Für das Groezrock Festival 2016 in Meerhout (Belgien) wurden sieben weitere Bands bestätigt. So gesellen sich SNFU, Terror, Face To Face, Walls Of Jericho, Broken Teeth, Despised Icon und Northlane zum bisherigen Line-Up dazu. Walls Of Jericho und Face To Face werden bei ihren Auftritten ein neues Album mit im Gepäck haben.
Bereits zuvor wurden für das Groezrock folgende Bands bestätigt:
Sick Of It All, Biohazard, Youth of Today, Dag Nasty, Hatebreed, No Fun At All Official, Venerea, Letlive, Modern Baseball, Night Birds, Rozwell Kid, Pears, Bad Cop/Bad Cop, Success, Emmure, Siberian Meat Grinder, The Aggrolites, Less Than Jake, Blessthefall, Saosin, Sum 41, Four Year Strong, The Movielife, Dillinger Four, Flatcat, Me First And The Gimme Gimmes und Frank Turner.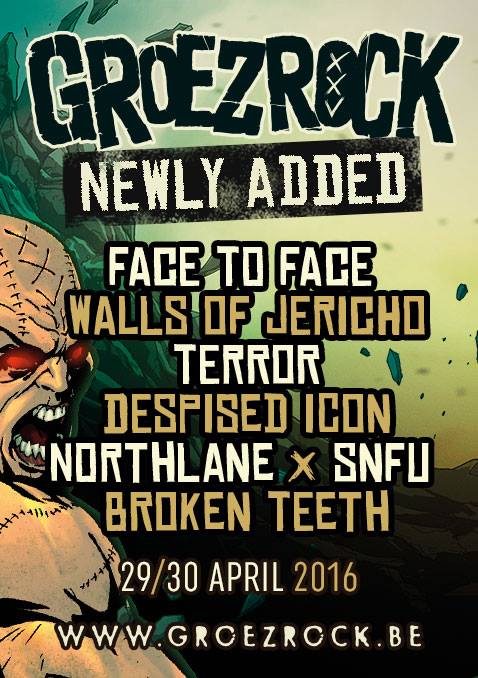 Hier das offizielle Statement vom Groezrock Team:
How are you? Everything good? Cool! Now that we got the social pleasantries out of the way, here are new names for GROEZROCK 2016! The almighty Face to Face recently announced their new album "Protection", the band's first since 2013's "Three Chords And A Half Truth".  "Protection" will be out March 4th via Fat Wreck Chords and if you ask them nicely, they will play some of their new songs at GROEZROCK. As far as we know Canada's punk legends SNFU are not working on a new album, but Mr. Chi Pig & co will grace us with their attendance anyway. Get ready to tear it up with them! Still feel like you will not have had enough of a workout after those shows? Then get ready for some violent hardcore slamdancing to the tunes of Terror. And to those of Walls Of Jericho – OFFICIAL PAGE, who will show up at GROEZROCK with a new album tucked firmly under their arms. Hardcore bruisers Broken Teeth are out to cause as much blunt force trauma as possible. And so is Northlane. They are just a bit more sneaky about it. All sweet and melodic one moment, and pummel your ass the next. DEATHCORE heroes Despised Icon have recently come back from the dead and are aching to play a couple of select dates. And yes, you guessed it. GROEZROCK is one of those dates where they will be slinging breakdown your way.