More Stagedives! So lautet die Devise von Scott Vogel! Bereits seit über 15 Jahren ist Scott nun mit seiner Hauptband Terror unterwegs und ist bekannt für seine energiegeladenen Shows. Bereits zuvor war er in diversen Bands wie Buried Alive, Despair oder Slugfest aktiv – Scott ist aus der Hardcore Szene also seit Jahren nicht mehr wegzudenken!
Seit 2016 hat der Sänger mit World Be Free ein Nebenprojekt am Start, in dem weitere Szene-bekannte Gesichter von Bands wie Gorilla Biscuits, Strife und Youth Of Today im Line-Up vertreten sind. Nachdem es nach ihrem Debütalbum The Anti Circle doch etwas ruhig um die Band wurde, kommen World Be Free im September nun erstmalig nach Europa und begleiten dort Judge auf ihrer Tournee. Wir nahmen diese zum Anlass Scott seine Hardcore-Punk-Roots vorstellen zu lassen.
Do you remember the first hardcore / punk show you went to? Is the club still open today?
I saw DRI with Gang Green And Goo Goo Dolls at the Turtle in Niagara Falls NY. This was the first Hardcore show I saw. I think this was the only show I can recall at this venue. The next week I saw Zero Tolerance and 7 Seconds in Buffalo at The River Rock Cafe. I saw hundreds of great shows there. Sadly it's been gone for years.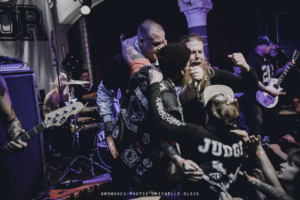 What is your all-time favorite club or location?
Maybe The River Rock. It pretty much shaped my life. But since then I have traveled the world and played so many places it's hard to narrow it down to one. Little DIY shit holes can be the best places for Hardcore shows. I love walking into a place that most bands would hate and saying "this show is going to be perfect here".
Do you remember the first hardcore / punk record you got?
It's was a dubbed cassette. Victim In Pain (Agnostic Front) was side A. Don't Forget The Struggle (Warzone) side B. I was fully addicted to Hardcore from that moment till now.
In your opinion what is the perfect hardcore show?
Booked by a Hardcore kid. Packed room. Positive vibes. Kids going off. No one trying to hurt anyone. Egos nowhere in sight. Bands that speak their minds. Zines for sale. Strong sing a longs and dives.
What is your all-time favorite show you've played?
Terror played in San Diego Ca a week ago and it wasn't my fav ever but it was pretty perfect, close to what I described above so I'm going with that show and being very appreciative that I'm still here doing this shit.
Is there a show you missed in the past that still makes you angry that you could not be there?
Warzone played like 10 min from my parents' house in 88. I was going to shows but I just didn't hear about this one. Back then sometimes you missed things cause you didn't have the ultimate info machine in your hand all day long. I fucking hate that I missed it. The video looks so cool from the show.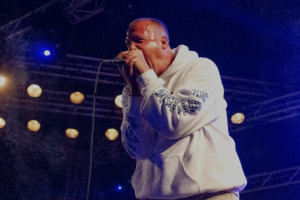 What band would you like to see again?
Tomorrow? I would like to see Coldplay again. I don't wanna hear any screaming for a while.
Is there a person who has influenced you especially in hardcore / punk?
Freddy Madball. I loved his style as a front man and his energy is unreal. Cool person off stage as well.
What are your top 3 hardcore-punk front men/women?
Freddy
Raybeez
Chuck Ragan
What is in your opinion the most underrated hardcore-punk band?
Against The Wall. Canon. Conviction. All three get slept on big time.
Are there some newer bands you could mention?
XDareX. Combust. Never Ending Game. World Demise. Rule Them All. Pure Heel. All newer bands I love.
---
World Be Free mit Judge auf Europa-Tour
20.09.2019 Essen | Turock
21.09.2019 Dresden | Bringin' It Down Fest
22.09.2019 Nürnberg | Z-Bau + Thin Ice
23.09.2019 IT – Mezzago / Milano | Bloom
24.09.2019 CH – Zürich |Werk 21
25.09.2019 Karlsruhe | Stadtmitte
27.09.2019 UK – London | Underworld
28.09.2019GR – Athens | AN Club