Bent Out Of Shape ist eine frisch gegründet Streetpunk-Combo aus den Niederlanden, die im Frühjahr mit ihrem Demo erstmals auf sich aufmerksam machen konnte. Am 27. November 2020 legt das Quartett nun ihre erste EP namens Who Laughs Last vor, die über Demons Run Amok Entertainment erschienen wird.
Wir freuen uns, euch hier auf AWAY FROM LIFE mit Paying Tribute eine erste Single aus der Platte zu präsentieren.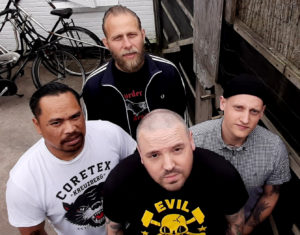 Wie der Titel bereits ankündigt, zollen Bent Out Of Shape in dem Song ihren Vorbildern Tribute, indem sie Zitate von ganzen 20 Bands zu einem eigenen Song "formiert" haben. Mit dabei sind hier Bands wie Blitz, Evil Conduct, The Last Resort oder Stars & Stripes. Seht zu Beginn das passende Musikvideo, das im Proberaum der Combo abgedreht hat. Wir haben mit Bent Out Of Shape außerdem ein Interview gemacht, indem ihr mehr über die frische Band erfahrt, die eigentlich alles andere als frisch ist…
---
Bent Out Of Shape im Interview
AFL: Hi, first of all, thank you for your time! For all people who don't know you so far, could you please introduce yourself? 
Bart: Bent Out Of Shape is from Fryslân and was formed in october 2019, but as friends/bandmates we go way back. The idea was to get together, have some beers, shoot the shit and see if we could come up with some nice streetpunk/Oi! Tunes. As it turned out, we wrote songs pretty fast and recorded a seven song demo that came out in may 2020, and this month our 7" EP will be released by our friends from Demons Run Amok Entertainment.
AFL: Is there any special meaning behind the band name? 
Bart: First we wanted a bandname that wasn't too serious so I had 'Band Out Of Shape' as a word joke like: 'the old fat fucks are back again with yet another band'. When I wrote it down with capitals, I noticed the abbreviation was B.OO.S. 'Boos' is a Dutch word for 'angry' and since that's what 'bent out of shape' also means, that settled it and we just went with Bent Out Of Shape. This also gave other people the opportunity to make the word joke.
AFL: You've played in a couple of bands before. Who of you played in which band? And are there any of these bands still active?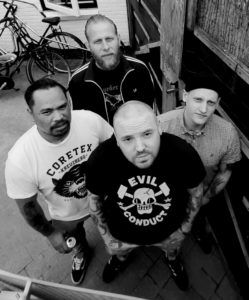 Bart: Henk, Norbert and I were in two bands together (since 1997) before B.O.O.S.; Spirit 84 and Dead Horse Running. The two of them were also in Dead Scenestars together and are currently active in Icepick, who are working on a new album and have played some great shows fairly recently with bands like Gorilla Biscuits and Judge, before everything got shut down.
Norbert was also in Justafight and No Denial, Henk was also in Victimized and Coldblooded. Jeroen was in HC bands High Rollers and Broadcasting. I was also in Lowlife, Trumpets of the Apocalypse and actively play in de Hûnekop, a country/rock band, that sings in Frisian.
AFL: Wow, that are a lot of bands! On your new video "Paying Tribute" you show sequences of bands like Slapshot (or Stars & Stripes), The Last Resort and Blitz, just to name a few. Why did you choose these bands and could you name your favorite release of each band?
Bart: The idea for the song Paying Tribute was to write a lyric, stringing together quotes and titles from bands that inspired us. Kind of like Evil Conduct did with their song All Around.
Besides the bands you mentioned; there's actually 20 bands referenced in total. In the video the images of the bands match the quotes. We decided on this song for a video because of this. We're obviously not able to shoot live footage right now, and since 2,5 minutes of rehearsal room/studio footage of just us might be boring, this seemed a perfect alternative. We're pretty happy with how it turned out!
As far as why we chose the bands; the lyric came together pretty naturally and it's a good mix of mostly UK and US bands and ofcourse we had to represent our home country too, with Evil Conduct and Razorblade.
I'll give you favorite releases of the bands you mentioned:
Stars And Stripes – Shaved For Battle
The Last Resort – A Way Of Life – Skinhead Anthems
Blitz – Voice Of A Generation
AFL: The song will be on your new, four song strong, EP Who Laughs Last, that will be released via Demons Run Amok Entertainment on 27th November. How came the contact between the label and you? And what can the listeners expect on the follow-up of your demo, that you've release earlier this year?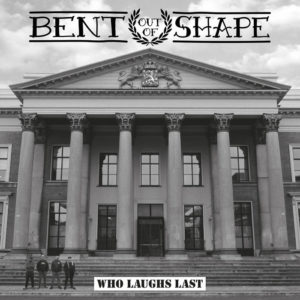 Bart: When the demo was out, we sent a couple of them to labels that we like. Demons Run Amok was one of the first to get back to us and their response was very positive right away. We e-mailed back and forth a bit; the contact felt good and a deal was struck for them to release our 7".
The guys at the label are clearly very dedicated and in it for the love of the music and the scene, so we're very happy to work with them. They've been around for years and have a great roster, so for them to put their trust in us on the basis of a demo is really cool.
What you can expect of the EP is more of the same, with maybe a more complete sound and thought out songs. We recorded at studio Mono in Amsterdam with Steven, who plays guitar in Savage Beat, and are very happy with the sound.
AFL: The year 2020 draws to an end. What was your five favorite releases of this year?
Bart: In no particular order from the top of my head:
Mob Mentality – Dedication
LOAD – Tattoos & Scars
AFL: If you could choose a band you can play a tour together. Which band would you choose and where would you play the tour?
Bart: Cock Sparrer? The Last Resort? No; I'll keep it realistic. Our fellow countrymen The Reapers. We were actually supposed to play our first show ever opening for them april 4th, but that never happened because of fucking corona. They're great guys and we've talked about doing shows together as soon as possible, so can't wait!
AFL: Here are some tags. What is your first thought about it?
Straight Edge: Love it. Some of my favorite bands (youth of today, jugdge, bicuits etc.) were straight edge bands. Our old band Spirit 84 was a youth crew hardcore band; but of the three of us that were in the band, only Henk was straight edge for some years.
Football: Another thing ruined by corona. Going to the stadium isn't possible and live footage on TV isn't the same without the constant roar of a crowd. Henk can't watch his son play from the sidelines anymore either, so that sucks.
German food: Bratwurst!!
Festival: Miss them. More a fan of clubshows myself, but I was supposed to go to punk festivals in Berlin, Tegelen and Blackpool this year and a bunch of metal festivals too. Hopefully next year! And who knows, maybe we'll get to play some ourselves.
AFL: What are your future plans?
Bart: It's kind of hard to plan these days because of corona. The plan is to play shows as soon as possible, but no one knows when that'll be…
So the plan for now is to keep writing new songs. We'd like to maybe release a split with another band, if only so we'd have a reason to go back to the studio in the not too distant future and spend a weekend hanging out and doing what we love. Furthermore a next logical step would be a full length or 12" record.
AFL: Thank you for the interview! Have you any last words or something to add?
Bart: Thank YOU for the interview! Shout out to Rene and Marcel from Demons Run Amok and everybody that's supported us. We hope to see you all in person when things are back to normal. Cheers!