Frank Turner hat mit Falling In Love einen weiteren Song aus dem kommenden Split-Album mit NOFX veröffentlicht. Der Coversong stammt aus dem NOFX-Album So Long And Thanks For All The Shoes, das 1997 erschienen ist.
NOFX und Frank Turner werden im Sommer das Split-Album West Coast vs. Wessex veröffentlichen. Dieses enthält jeweils fünf Cover-Songs vom jeweiligen Split-Partner, also Frank Turner covert Klassiker von NOFX und umgekehrt. West Coast vs. Wessex wird dann am 31. Juli 2020 digital, auf CD und Vinyl über Fat Wreck Chords erscheinen. Hier das Cover zu  Falling In Love:
Bereits vor einigen Tagen präsentierte uns der ehemalige Million Dead-Frontmann Frank Turner ein sehenswertes Video zum NOFX-Klassiker Bob. Und auch NOFX legten mit dem Frank Turner-Song Thatcher Fucked The Kids ihre erste Single vor. Die Videos findet ihr gemeinsam mit dem Cover-Artwork und der Tracklist am Ende des Beitrags.
NOFX-Frontmann Fat Mike zur Idee einer Split:
"I listened to all his records, and I picked the ones that I thought I could make more interesting. What I did is change a lot of chords. Frank, he beats me in the singing department. So I can't sing better than he can, but I can maybe throw in a melody here or there or chord that he hadn't thought of."
Frank Turner zur Zusammenarbeit mit NOFX:
"It did strike me that it would be cool to demonstrate to the casual NOFX fan, who doesn't know who I am, that I am actually a fan. I didn't just go to Spotify and pick the five most-listened-to songs."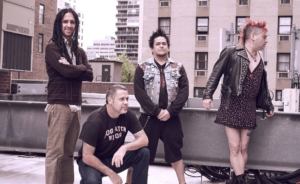 NOFX haben erst vor kurzem eine überragende Live-Version ihrer 1999 erschienenen Single The Decline veröffentlicht. Der Song wurde im Red Rocks Amphitheater in Colorado vor knapp 10.000 Zuschauern eingespielt. Begleitet wurde die Band dabei von knapp 50 Blas- und Streichinstrumenten. Neben dem NOFX-Klassiker The Decline, hat die Band im März und April auch ganze fünf neue Songs veröffentlicht. Die Punk-Rock-Institution weist auch nach knapp 40 Jahren Bandgeschichte keine Spur von Müdigkeit auf und ist kreativ wie eh und je.
Die Termine für das Punk In Drublic Fest 2021
13.05. FR Chemillé – Théâtre Foirail
15.05. BE Boom – De Schorre Provinciaal Recreatiedomein
16.05. DE Berlin – Zitadelle Spandau
21.05. AT Wiesen – Festivalgelände Wiesen
23.05. IT Milan – Carroponte
29.05. UK Leeds – Slam Dunk Festival 2021: NORTH
30.05. UK Hatfield – Slam Dunk Festival 2021: SOUTH
04.06. DE Oberhausen – Turbinenhalle Oberhausen
05.06. DE Hanover – Kulturzentrum Faust
10.06. FI Turku – Vanha Suurtori
12.06. NO Oslo – Oslo Spektrum Arena
13.06. SE Malmö – Malmö Folkets Park
NOFX – Thatcher Fucked The Kids (Frank Turner-Cover)
Frank Turner – Bob (NOFX-Cover)
Tracklist: NOFX / Frank Turner – West Coast vs. Wessex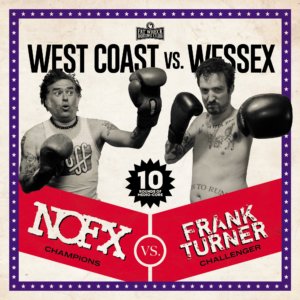 Substitute
Worse Things Happen at Sea
Thatcher Fucked the Kids
Ballad of Me and My Friends
Glory Hallelujah
Scavenger Type
Bob
Eat the Meek
Perfect Government
Falling in Love
- Spotify-Playlist -
Auf der Suche nach neuen Hardcore-Bands? Dann check unsere Spotify-Playlist
New Hardcore Bands
: