The Casualties haben ihr Best-Of-Album Until Death – Studio Sessions veröffentlicht. Den Stream dazu findet ihr am Ende des Beitrags.
Das Album beinhaltet vom neuen Frontmann David Rodriguez, der im Sommer 2017 Jorge Herrera an den Vocals eingelöst hatte, eingesungene Versionen von The Casualties-Klassikern wie Unknown Soldier, We Are All We Have, Punk Rock Love und vielen mehr.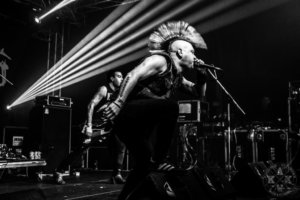 Until Death wurde in den Buzz Bomb Studios unter der Regie von Paul Miner (Chaos Sound) aufgenommen. Gemixt und gemastert wurden die Songs von keinem geringeren als Joel Grind, seines Zeichens Mastermind bei Toxic Holocaust. Viele der Songs entstammen der Setlist, die auf der letzten Written In Blood Euro-Tour (wir berichteten) gespielt wurden.
Die Scheibe wird es auf CD, im ansehnlichen Klappcover, oder in dreifacher Colored-Vinyl-Ausgabe (Grün, Blau und Rot) erhältlich seini und erscheint, wie auch das letzte Album Written In Blood, auf Cleopatra Records. Die Band selbst zu Until Death:
Today is the day! "Until Death: Studio Sessions," is out now! It's on all the streaming services, available for mail order from Cleopatra Records and other stores and mail orders! Plus, we'll have them with us on the road starting this weekend! See you on the road!
THE CASUALTIES – UNTIL DEATHTRACKLIST
Chaos Sound
Riot
Rejected And Unwanted
Under Attack
Unknown Soldier
Criminal Class
Resistance
Feed Off Fear
Punk Rock Love
Tomorrow Belongs To Us
Made In NYC
Do You Wanna Dance
My Blood, My Life, Always Forward
Unemployed
On The Front Line
Ugly Bastards
War Is Business
Running Through The Night
We Are All We Have