Mit dem Track Anarchist Wedding präsentieren uns The Suicide Machines nun nach Awkward Always bereits die zweite Single ihres kommenden, langerwarteten Albums.
Das Album mit dem Titel Revolution Spring wird dann am 27. März 2020 via Fat Wreck  erscheinen und somit die erste Veröffentlichung seit ihrem 2005er Output War Profiteering Is Killing Us All darstellen.
Revolutoin Spring wurde in 12 Tagen im Rancho Recordo Studio in Michigan von Less Than Jake-Bassisten Roger Lima aufgenommen und wird insgesamt 16 Titel beinhalten.
Bisher wurde leider erst eine Europa-Show bestätigt, aber da sie auch 15 Jahre nicht mehr bei uns unterwegs waren, geben wir uns auch "erstmal" damit zufrieden und freuen uns auf die kommende Ausgaben vom SBÄM Fest, wo sie am 09. Mai auftreten werden.
The Suicide Machines ist eine Skacore-Band aus Detroit, die sich 1991 gründete und ursprünglich 2006 auflöste. Seit 2009 spielt die Band wieder vereinzelt Shows.
THE SUICIDE MACHINES – REVOLUTION SPRING (2020)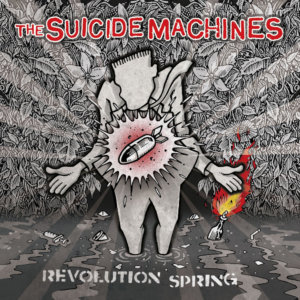 Bully in Blue
Awkward Always
Babylon of Ours
Flint Hostage Crisis
To Play Caesar (Is to Be Stabbed to Death)
Trapped in a Bomb
Detroit Is the New Miami
Eternal Contrarian
Well Whiskey Wishes
Black Tar Halo
Empty Time
Impossible Possibilities
Potter's Song
Simple
Anarchist Wedding
Cheers to Ya