Die schwedische Trio von The Sensitives feiert in diesem Jahr ihr 10-jähriges Bandbestehen und kommt anlässlich ihres Jubiläums ab März auf Deutschland-Tour. Wir nahmen dies zum Anlass der Band ein paar Fragen zu stellen.
AFL: What do you expect from the first tour after the pandemic?    
We expect to get up on that stage, happy like kids on Christmas to finally play live again, get over-excited and forget all the words, hear someone in the audience scream the words and get back on track again! We expect a lot of dancing, sweating, screaming/singing and to live in the moment again! And to finally reunite with all of our friends in Germany we haven't seen in such a long time now!
AFL: You released your latest album, 'Punch' in the middle of the pandemic, what was that like?
We received so much love for 'Punch', both from fans and press and our online release party (which you can find on our YouTube channel) made it clear that so many people was hungry for something new and positive, like a new album, to gather around in a time that was otherwise filled with cancelled releases and events.
We are very proud of how 'Punch' turned out and it feels great to finally play those songs live on the coming tour!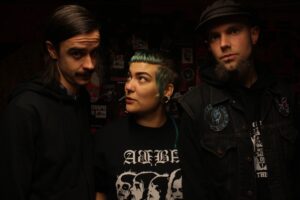 AFL: With all the cancelled tours you also got a lot of extra time, what did you do with that?
The first thing we did was to write, record and release 'Punch' and then we just kept on writing songs. We're fortunate to live in a big collective house with our own rehearsal space in the basement so we bought a bunch of recording gear and started to record these new songs. The songs turned out so good so we didn't just wanna keep them to ourselves but it also didn't make any sense to make a new album already.
So we decided to start a Patreon page where we share one new song and video every month along with lots of older songs and videos that aren't available anywhere else. It's been a fun project to work on and we're excited to keep releasing new songs and videos there every month! It costs 3€ to support us there and get access to everything and it might not sound like much but it's actually a much needed help for us in these times!
AFL: This is the 10th Year Anniversary Tour, what are you most proud of looking back at these 10 years?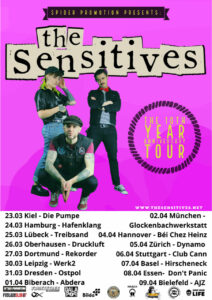 We had a dream to start a band, buy a VW van, go on tour after tour to create memories and friends and let our music be the fuel. After hundreds of shows in 12 countries, privileged with so many great friends, I think  we're actually living that dream!
We're very proud of the community we have around the band and that during all these years we've managed to keep working with friends and supporting the people who support us.
For example Johanna who's with us on tour selling merch is also playing organ with us on stage, designs our merch, makes music videos and so on.
We have our merch printed by a friend in Bavaria who's also organizing shows and festivals down there and we're happy that we can keep the money within the scene, making sure we can all support each other like that.
Several times we've filled up our van with supplies and donated to a shelter for homeless dogs and cats in Vilnius (LT) when we've passed by on tours and those kinds of projects where we've been able to combine touring with helping people and animals in need have given us some great memories and life lessons as well.
Those kinds of things are what makes us really happy and we're so proud of everyone who's working with us like that!
The Sensivites – Tour 2022
23.03.22 – Kiel Die Pumpe
24.03.22 – Hamburg Hafenklang
25.03.22 – Lübeck Treibsand
26.03.22 – Oberhausen Druckluft
27.03.22 – Dortmund Rekorder
30.03.22 – Leipzig Werk 2
31.03.22 – Dresden Ostpol
01.04.22 – Biberach Abdera
02.04.22 – München Glockenbachwerkstatt
04.04.22 – Hannover Béi Chez Heinz
05.04.22 – Zürich (CH) Dynamo
06.04.22 – Stuttgart Club Cann
07.04.22 – Basel (CH) Hirscheneck
08.04.22 – Essen Don´t Panic
09.04.22 – Bielefeld AJZ Bielefeld