SpiritWorld sind momentan in aller Munde. Erst vor kurzem legte die Band aus Las Vegas ihr neues Album Deathwestern über Century Media Records vor und beendete ihre Europa-Tournee mit Agnostic Front.
Frontmann Stu Folsom verrät uns hier seine 10 Lieblingsplatten, die den einzigartigen Sound der Band erklären.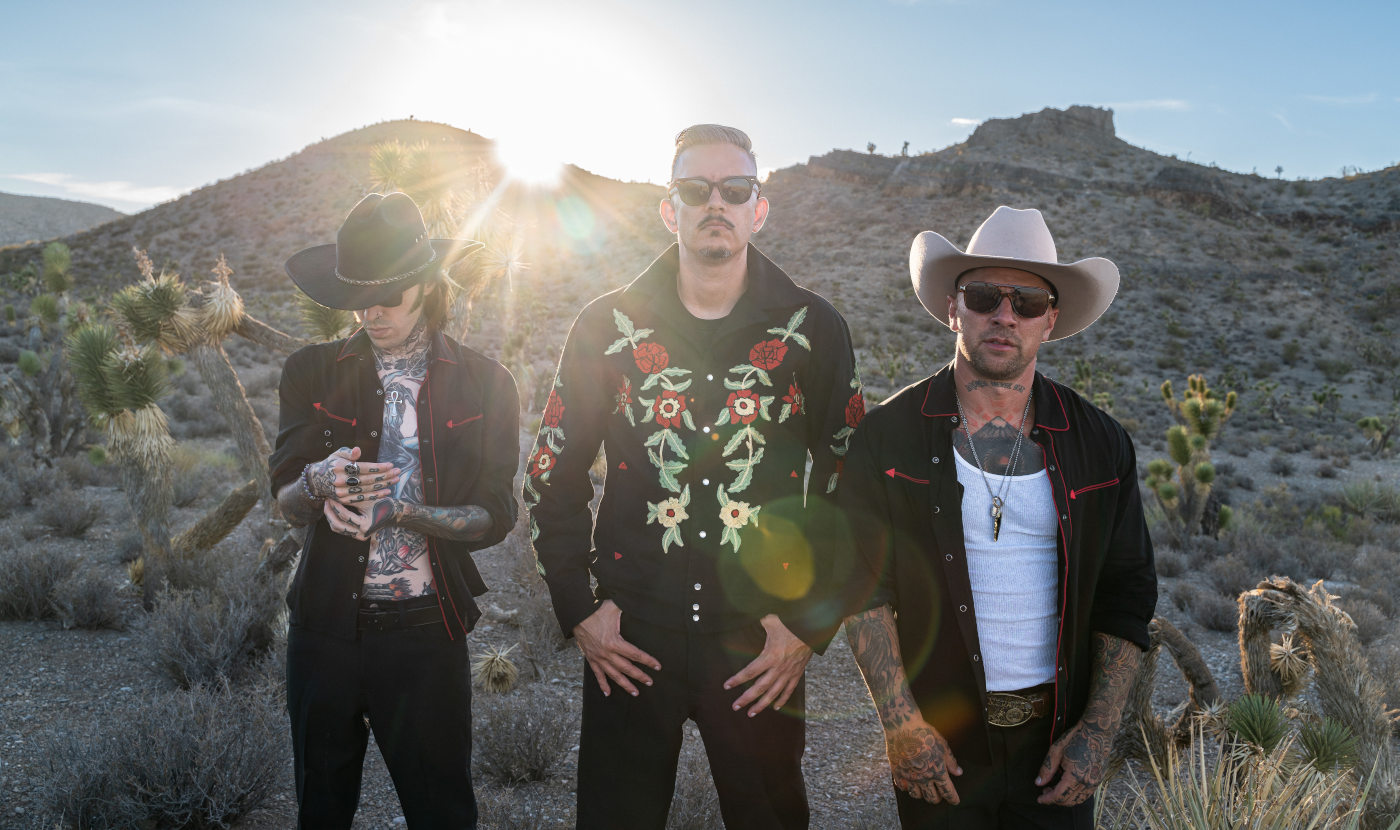 1
Old 97's "Too Far to Care"
Probably my favorite band of all time. I have seen them every chance I can since the first time in 1997, when they opened up for Social Distortion at the old Joint in Las Vegas. Rhett still had his long Bloodshot era hair and I remember a bunch of big scary greaser dudes calling him names the whole set as he banged and windmiller'd the fuck out of his acoustic. So many great songs on this record. This is a band at their peak, a complete master class in marrying the energy of a great punk band with the cleverness and chops of a seasoned singer/songwriter. At the time, I was too young to realize that a record like this coming out on Elektra, back in the last waning days of the old school music industry, was even more of a statement. You can argue "Timebomb" was a minor hit, sure. It was placed in the opening scene of "Clay Pigeons" and is still the show closer but considering they were expected to make the jump into a top 40 style hit machine, with a new batch of songs that captured Rhett's A+ ability to write clever, biting, relatable songs – that earned their cult following the hard way, "Too Far To Care" stands as a monument in my collection. The baddest live band out tearing up the honky tonk and dives, taking everything I love about country and punk rock and delivering an absolute classic.
This was the tape. The Misfits were the band. On the drive to school, looking out the window watching the desert of the Las Vegas I grew up in rush by, something about these songs hit me like a shotgun blast. Unreal. I'm not sure when, maybe it was 3rd grade? I remember being sick with the stomach flu and throwing up everywhere so I got to stay home one day. Sitting in my room miserable, the original Night of the Living Dead came on tv, and it hit me that these songs were somehow tied to this. I just listened to this not too long ago front to back. We were driving all night to the next show on our tour with 200 Stab Wounds and Creeping Death. I feel like I have lived a thousand lifetimes since the first time I heard these songs, and there I was, screaming along, beating the steering wheel in awe of how god damn good this record is.
Hands down my favorite metal album of all time. Slayer ruined me on most heavy metal. I had no ramp up period. It's possible that I heard Motley Crue and Guns and Roses before Slayer but I didn't even consider them in the genre, I was so ignorant to music back then. This was the hardest, fastest, most evil shit I had ever heard. I knew I would get my ass beat for listening to this band. It was an act of complete defiance, like I was choosing the dark side of the force by secretly listening to Slayer in my walkman, singing along to songs about "sickening ways to achieve the Holocaust."  I had "stolen" a tape from one of my brothers and would play it, eject it, flip it over and run it back again. Over and over and over. I had my Slayer phase early and by comparison everything else was soooo cheesy to me. I'm still trying to recover and appreciate stuff like Iron Maiden and Mercyful Fate. I don't give a damn what anyone says, Slayer is the best to ever do it and while I love so many of their records, nothing will ever make me feel the way that "Reign in Blood" did.
My older brothers saw Bad Religion at the Huntridge with Green Day in 1993. They thought Green Day blew Bad Religion off the stage, so Curtis made sure to give me a copy of "Dookie" when it came out. But as good as Green Day and "Dookie" were, it was Bad Religion that made the biggest impact on my life. My folks were having some issues and I ended up living with my mom in Idaho. Pocatello Idaho is about as opposite of Las Vegas as you get. I had never been to church outside of a funeral or even heard the word Mormon before suddenly being in a new city whose culture was completely powered by the morals and expectations of LDS families. The first week of 7th grade I was sent to the principal's office and forced to turn my Danzig shirt inside out because it had all their pictures in an upside down cross and said "ye are of ye father the devil…" on the back. We were poor, I had long black hair and rocked size xl band shirts and was relentlessly mocked and fucked with for the first six months. Back home, we had tons of friends that hung out and skateboarded and looking back, we were already kind of trashy, wild, hooligans. Here, total pariahs. But I had tapes. Salvation in a box that no one missed. One day I put in somebody's copy of "Suffer". It had the original jewel case with lyrics, a rarity, since most of my music was hand me downs or dubbed copies. I'm sure I had read lyric sheets before "Suffer" but this was the first time I remember the ritual of memorizing an entire full length. Every song, every word, every thank you. Every piece of it was important to me. I bet I still know these songs by heart. "What Can You Do?" is still one of my favorite songs of all time.
5
Chris Ledoux "Rodeo And Living Free"
Rodeo was a big deal in my family. Growing up, my cousins hit the pro circuit hard. Tommy won Rookie of the Year in bull riding in the PRCA and my mom grew up on a ranch and barrel raced. So, Rodeo was as normal for me as watching boxing or NBA. Chris Ledoux was played alot in my household before he got big when Garth Brooks mentioned him on a verse in "Much Too Young to Feel This Damn Old." My mom went down to the NFR and had him sign a copy of his book "Gold Buckle Dreams" when it came out, I never read it but remember thinking how badass the cover was. After we moved to Idaho, we ended up riding in a lot of rodeos. My older brother Chris had the rodeo bug bad and rode bulls everywhere he could find one. I think I listened to this album a million times. We used to go down to this little tack store that kept issues of the PRCA news in the newstand to see who was winning the rough stock, and Chris would buy the big box cd cases of Chris Ledoux's albums on "American Cowboy Songs." Chris Ledoux played a county fair somewhere when I was in 8th grade and we drove up and watched his set. Front row singing every song, wishing he still played the old stuff. That was the only time I saw him play live. I love his cover of Marty Robbin's "Cowboy in the Continental Suit" on this album and his version of the old standard "Tie a Knot in the Devil's Tail." Chris could write a banger too, his songs "Fourth of July Rodeos" and "The Bucking Machine" are great.
6
Rancid "…And Out Come the Wolves" / "Let's Go!"
Holy shit man. We finally got cable tv. MTV would play some cool stuff that I liked. Headbangers Ball and 120 minutes would have White Zombie and Danzig videos and for the first time I started seeing records and songs I loved presented in a visual format. Seeing a live band was a rarity in my life until I was in high school, so this was the first exposure I had to what bands looked like. No one made a bigger impression on me than Rancid. The first time I saw "Ruby Soho" I was mesmerized. Something about Rancid has always hit me on a different level than other bands. A friend of mine gave me a copy of "Let's Go" around the same time and I think there was an entire summer of just binging those two records almost every waking minute. The first time I saw Rancid was years later at a Warped Tour show in like 97 or 98 in SLC. My whole family still goes to Rancid shows every chance we get. Grandparents, little kids, the whole squad. What a band.
I liked Avail a lot. Rocked the fuck out of "4 A.M. Friday" and that live record from Bottom of the Hill. Then I SAW Avail for the first time. HOLY FUCKING SHIT. I think I went to the show primarily to see Snapcase and was blown away by Avail, it was crazy. "Over the James" dropped the next year and I can't think of many albums since that I have listened to as much. The perfect blend of catchy rock and roll, punk rock and some killer groove. Tim Barry's voice is perfect. Don't believe me? Check the first verse of "Lombardy St." when he comes in over the guitar. C'mon dog. Fucking unreal. When they got back together finally, Jen and I flew out to Richmond to go see them. Shows like that are as close as I get to going to church. It's truly magic.
8
Turnpike Troubadours "Diamonds & Gasoline"
I could put any of their full lengths here but this one holds such a special place in my heart that it would be criminal not to give this record it's just due. My buddy Joaquin Romero, RIP – saw them before this album came out at the Grizzly Rose in Denver and thankfully started spreading the gospel. At the time they were just a tiny, Red Dirt band gigging between Oklahoma and Texas, mostly. Everyone I know loves this record. That doesn't happen often anymore but when a band drops a debut with like 8 classics on it, fuck an a, it's like a revelation. There isn't another band I have traveled to see more in the last ten years or so. As they took over the world, it got more and more awkward to show up and sing my lungs out surrounded by good ol' boys, giving me shitty looks for being the weirdo in Buddy Holly glasses and death metal long sleeves, but even d-bag Texas A&M frat guy becomes your show bro when you know every word to the whole set. From Red Rocks to Cain's Ballroom to Texas to California and every show in Nevada, it is a pilgrimage every tour. Find Turnpike, load up my honey and go. Felker is the best songwriter of this generation and somehow found the perfect live band to accompany his gift. Crossing my fingers for a new LP in early 2023. They are playing an NFR after party next month in Las Vegas, can't wait.
9
Lucinda Williams "Car Wheels On A Gravel Road"
Welp. I'll admit it. Sometimes I am so thick, and dumb, I cannot wrap my head around greatness. It happened to me with Obituary and it happened to me more than once with this record. It is embarrassing to admit how hard my brother Curtis tried to get me into CWOAGR and I just couldn't hear it. Maybe I was caught up in heavy records at the time, or maybe I missed the more stripped down folkiness of "Happy Woman Blues" but when I finally did hear this album for what it is, it was like my head was split in two and LW reached in and plucked out things inside of me that I could never put down on paper myself. There is a fearlessness and honesty in these songs that is rarely captured on tape. A truly incredible piece of work. A return to form and the coronation of Lucinda into the canon of greatest songwriters alive.
10
Ringworm "Birth is Pain"
From the opening drums of "The Sickness", few bands have ever captured a combination of metal and hardcore as perfectly. Fast, hard and catchy as fuck. From the late 90's to about 2003 there was a wave of heavy bands blending punk, hardcore and all different types of metal that I just devoured. Out of all those bands and shows and records, this is one of my most treasured artifacts. This shit rips so hard. The production is fantastic. The Human Furnace sounds like a demon, roaring over some of the best riffs ever. Simple. Devastating. Unfuckwithable. So many great memories of their shows from this time period form all over the west coast. So many van rides with my friends blasting this album while everybody is playing air guitar and air drumming along. It's grimy, it's relentless and it not only still holds up, it shits on almost every other band that has tried since.
Weitere 10 Records Worth To Die For »