Die schwedischen Streetpunk-Heroes von Perkele haben am 18. Januar diesen Jahres ihr langerwartetes, neues Album Leaders Of Tomorrow veröffentlicht. Wir baten Sänger und Gitarrist Ron "Ronnie" Halinoja anlässlich des neuen Albums seine 10 Records Worth To Die For vorzustellen. Nach einem kurzem Blick auf die Liste wird klar, wie es zur musikalische Entwicklung von Perkele auf ihrem neuen Album gekommen ist, das einige Metal-Einflüsse vorweist.
I have tried to mention albums, not only important for me, but for the bands development and us as musicians in Perkele.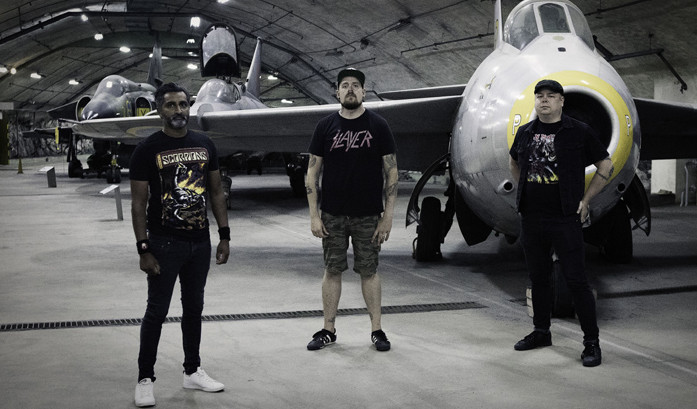 Weitere 10 Records Worth To Die For »
1
Helloween-Keeper of the seven keys II
I got it when I was ten years old. I had Keeper of the seven keys 1 before, that I loved!
How could it be possible that a band made one album even better? Me and my friend listened to the album over and over again and memorized all lyrics, and listened carefully when solos went from Weikath to Hansen. Two great guitar players that made great impact in my development.
One of the greatest singers on earth together with drummer Vinnie Appice and guitar player Vivian Campbell. Incredible! It got such power, it's heavy and the cover art is amazing! It's true heavy metal.
3
Strebers – I fäderens namn
Powerful fast Swedish punk rock with folk song influences. I loved it from the first time I heard it. When I saw them play live first time, I said: One day I will do that to, play punk rock for three hundred people.
4
Scorpions – Virgin killer
We all in Perkele have a relationship to Scorpions albums. Mine starts with Virgin killer. The song Sails of sharon makes me loose my mind, that rythm, melody, Uli Jon Roths magic guitar playing and Klaus Meines lovely voice. That's passion!
You can hear a mix of punk rock and NWOBHM. The beginning of thrash metal takes start from Kill em all. A nasty sound and riffs that make's you full of energy.
I have always been a great fan of Deep Purple. Why In rock? Yeah, it is hard to pick one for sure. But I must say in my opinion Child in time have o be one of the best songs ever made. The drums and the energy in in Speed king and the heavy feeling in the bluesy Into the fire is so amazing.
7
Iron maiden – Powerslave
I guess it's not a surprise that Perkele likes Iron Maiden. I bought this album to my brother 1985 as a Christmas gift. I didn't understand back then how much Powerslave was going to influence me. The sound of this album is something of the best I ever heard. I never get tired of this album. I always have it in my car, ready to blow my head of.
My sister got work and earned some money for the first time in 1989. She knew how much I loved music and had no money to buy Lp.s. She brought med to the record store and let me pick three of the best Thrash albums ever and Slayers South of heaven was one of these. I love the Slayer heavy mid tempo stuff. It's raw and evil. You might wonder what the other two albums were? Testament – The new order and Kreator – Coma of souls, both worth die for as well, but I could only pick ten.
This album can have some of the best songs of all songs ever made. I love Ozzys voice and Jake e lees guitar playing. This album is perfection from start to end. This album has been very influential to me since I got it in -85.
10
De lyckliga kompisarna – Le som en fotomodel
Swedish punk rock again. An album that made a huge impact on us. Together with Strebers, De lyckliga kompisarna was some of the first bands to influences the Perkele sound. This album has smart lyrics, beautiful melodies and the musicians are incredible.
Weitere 10 Records Worth To Die For »
Perkeles Leaders Of Tomorrow ist am 18. Januar 2019 über Spirit Of The Streets Records erschienen.