Casselfornia über alles – so heißt die neue Split-Single die Rykers und The Eulogy am 05. Februar 2021 über UNITY Worldwide Records veröffentlichen werden.
Wir nahmen das bevorstehende Release zum Anlass für ein Interview-Spezial, bei dem Rykers und The Eulogy sich gegenseitig Fragen stellen. Start des Specials machen The Eulogy, die Fragen von Rykers beantworten – und ab dafür!
Interview mit The Eulogy
Rykers: When and how did you get into Hardcore?
Kevin Norton: I had some early hardcore records like Black Flag Damaged and Suicidal Tendencies, but was primarily a metalhead into thrash metal and NWBHM. When the hardcore metal crossover happened with Agnostic Front, DRI and Corrosion of Conformity, I started to see hardcore bands live and was hooked. I started listening to hardcore in 1981-82 and actually going to hardcore shows around 85.
Matt Henderson: I was first into punk-rock by way of being a fan of Joan Jett in 1981 (11 years old) and she was interviewed on the radio and mentioned the Sex Pistols as an influence and they played God Save The Queen. I was already aware of who the Sex Pistols were and was fascinated by their notoriety, but then hearing them and realizing THEY KICKED ASS I decided punk-rock was pretty cool. From there I met more kids heading in that direction and hardcore-punk started to evolve. Dead Kennedys, Black Flag, The Misfits, Bad Brains, Agnostic Front, Boston not LA comp. All of that. And then Cro-Mags and NYHC just exploded along with Metallica wearing punk-rock t-shirts and putting out great music. It was a fun time!
Rykers: What's your current line-up – who's in the band?
Matt Henderson – Guitar
Sergio Chavez – Vocals
Kevin Norton – Bass
Marc Jackson – Drums
Adam Blevins – Guitar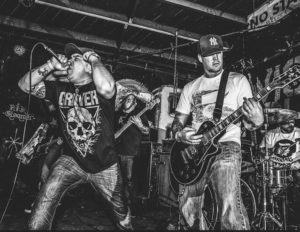 Rykers: What is/was your most special moment when you look back on your musical careers?
Kevin: First show, first record deal, first tour, playing in other countries all were amazing. Playing shows with and meeting my favorite bands. Starting to play again after a very long layoff and still doing it well. Any of those could be the answer but my favorite thing is the friendships that have come from meeting people involved in hardcore.
MH: Agree with Kevin. All those "first" experiences and the long-term friendships made. Of course, the millions of $$ was pretty cool too. JUST KIDDING!
Rykers: Have you ever had to interrupt and then break-up a 'flight' between 'Black-German' and a 'Hungarian-Cali-dude'?
MH: Ha. YES! That was a silly situation. So these "dudes" were both lead singers of bands and on tour together with Madball. There was a lot of testosterone and male ego back in those days, along with working out, some martial arts and, actual fighting. My memory was a friendly training session one day got a little out of hand and turned into a challenge to an actual fight. I will admit that I was in favor of the event at first but thankfully there was a good friend of mine there, who was in the same band as the 'Black-German' (and is also the same guy asking me this question J ), and he came up to me and said "Matt, this is stupid. We shouldn't be letting this happen." And HE WAS RIGHT! So we all talked it out, confirmed we were actually friends and should not be fighting and the tour went on. Hey, gotta have a little drama once in a while otherwise its too boring, right?!
Rykers: What comes to mind when you hear the words 'Scream for me Long Beach…'
Kevin: Iron Maiden's Live After Death album recorded at the Long Beach Arena. What a great record.
MH: Wasn't familiar with this, but will need to check it out now. I have had the pleasure of seeing Killswitch Engage, Lamb of God and Slayer at the Long Beach Arena years back and that was cool.
Rykers: What's the scene like in California and LB nowadays?
Kevin: (Pre-Covid-19) It is pretty damn big. On any given night you can have 5-6 punk, hardcore or metal shows going on. (We are essentially a part of the Metro Los Angeles area.) Long Beach is a place where punk rock, surfing, skateboarding are all so much of a part of the culture that punk shows can be very big. Right now, the only place consistently doing live hardcore shows is my bar Supply & Demand partnered up with SOS Booking doing live streams. No people inside just the band and crew streaming. We have been doing live streams every week since June. Find us at Twitch.tv/Sosbooking.
MH: Yeah, COVID sucks and has obviously halted the activities of what I consider to be a really strong scene. One of our main clubs, Chain Reaction in Anaheim, almost shut down and they setup a fund raiser for support. I showed up to donate and there was a line out the door and down the block! Thankfully they raised the money to avoid losing it and I hope we can start having shows again soon there, at Kevin's place Supply and Demand, Alex's Bar (the modern CBGB's of Long Beach) and all of the other great clubs in the SoCal area.
Rykers: And how was it when you guys started back then?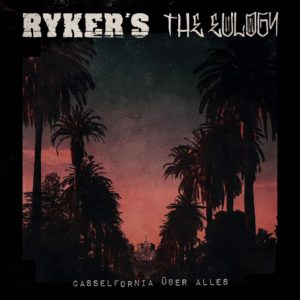 Kevin: A lot of us are not from here originally, Marc and Sergio are from the Inland Empire (California), Kevin is from Boston, Matty is NYHC (very early days Minneapolis/St. Paul), Adam is from the San Diego.
Rykers: All you guys played in bands that are considered as legendary… so what was the intention/the idea to start something all new from scratch?
Kevin: We were not trying to "start a band" we just started jamming and it sounded pretty good. Next, we started writing songs, recording and doing shows. All in small steps because of our other commitments. We do short tours and play shows when our friends come through California. We are very serious about the music but we are not worried about being successful. One of the things I realized is that just playing shows and doing small tours is success in itself.
5 Hardcore-Bands aus Südkalifornien mit Kevin Norton von THE EULOGY
MH: Yep. The idea for me was to get together with some good friends and play some jams. We all agreed to avoid putting the pressure on ourselves that usually comes with being in a full time band, and we get together when we can and keep it fun. And IT IS! I like how we all come together with our long history and experience as being fans and in bands and write what I consider to be some damn kick ass hardcore. At minimum we enjoy it and I think other people do too when they give it a listen.
Rykers: What's your favorite place in the US – what's a 'must see' for tourists?
Kevin: Sedona, Arizona for people that like to hike and love nature it is one of the most beautiful places on earth.
MH: I'm going with New York City. Even though its changed a lot and isn't the same as it was "back in the day" its still the birth place for so much amazing music (hardcore, hip-hop, jazz) as well as some interesting American history.
Rykers: People love stories '"rom the road" – any thoughtful stories you are willing to share without getting into trouble?
MH: You mean in addition to the almost fight between lead singers story? I'll add one more, and this is something Hoya and I talked about recently. Madball was winding down after some festival in Germany (don't remember which) and we heard Run DMC in the distance. It took a couple of minutes to realize that it was LIVE! We followed the sound and walked into this tent and sure as shit the legendary Run DMC is up on the stage and there was maybe 25 people in there. It was like our own private show and they killed it.
Rykers: What's the favorite song you (doesn't matter for which band) ever wrote?
Kevin: I think it might be The Trilogy by The Eulogy. We called the intro "The riff that wouldn't die" I kept bringing it up again and again because I believed in it. After playing all these different versions we finally nailed it and it's our hardest song yet.
MH: I'm going with Kevin on this one. I can say I'm proud of a lot of the music I've been involved in, and this new song we wrote is right up there with it all. We took our time and made it something special in my opinion. I'm excited for everyone to hear it.
Rykers: What's next on your bands agenda once this nightmare is over?
Kevin: Write more music, put out more records and do some more touring, are you ready Europe?
Rykers: Are there any plans for touring Europe at one point?
Kevin: Yes, we really would like to. Once the pandemic goes away it would be dope.
Rykers: …and some "pick one" questions!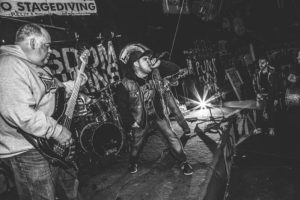 Red Socks or Yankees?
Kevin

: Red Sox

MH

: Yankees
Scorpions or Accept?
Kevin

: Accept

MH

: Scorpians
Shorts on stage or no shorts on stage?
Craft beer or Regular brews?
Kevin

: Regular (Modello Especial)

MH

: Sheesh, sorry, depends on the mood!
Classic Rock or Punk?
White Socks or Black Socks?
Kevin

: Black Socks

MH

: White Socks
Meat or no meat?
And most important KISS OR AC/DC?
Kevin

: KISS

MH

: Correct Kevin!
---
Die Split Casselfornia über alles von Rykers und The Eulogy wird am 05. Februar 2021 über UNITY Worldwide Records erscheinen. Unser Vorab-Review zur Platte findet ihr hier.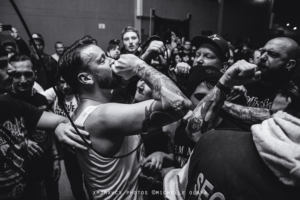 Rykers haben erst im vergangenen Jahr ihr neues Album The Beginning… über BDHW Records veröffentlicht, zu dem wir die Band auch bei uns im Interview hatten. Zudem gab das Hardcore-Urgestein aus Kassel erst vor kurzem die Nachholtermine für ihre geplante Tour bekannt, die ihr am Ende des Beitrags findet.
Seit ihrer Gründung im Jahr 2012 legte die Band mit der Besetzung Matt Henderson (Madball, Agnostic Front), Kevin Norton (Eye For An Eye, Straight Faced), Doug MacKinnon (Slapshot, Ignite) und Pete Reilly (Mouthpiece) vor fünf Jahren ihre Debüt-EP vor. 2017 folgte über Bridge Nine Records mit Last Days der bis dato letzte Output der Combo. Diese wird am 05. Februar 2021 jetzt mit der Split mit Rykers einen Nachfolger finden.
RYKERS, GROVE STREET FAMILIES & EYES OF TOMORROW – TOUR 2021